Wednesday marks the midway point of week 6 of the 120-day legislative session, with lawmakers poised to tackle issues including energy storage, public record access and payday loan regulations.
Here's what's on tap for Wednesday:
Southern Nevada mental health budget:
Lawmakers on a joint Senate and Assembly budget committee will take up the hot topic of mental health services in the Las Vegas area. Gov. Brian Sandoval's mental health budget calls for eliminating about 112 state-funded positions, many of them vacant, and leaning more heavily on federally funded care from Medicaid. That stoked concerns in an earlier hearing that addressed Northern Nevada mental health services.
Sandoval's budget also shifts resources away from civil psychiatric care that insured patients could obtain from a variety of sources and more toward caring for "forensic" patients who have had contact with the criminal justice system and generally can't get services from non-public hospitals.
Watch the hearing at 8 a.m. For background, check out our mental health budget primer.
Stash away solar for later:
Under SB204, the Public Utilities Commission would need to explore whether it should require utility companies to store energy. Storage is one way to deal with the flighty nature of the sun -- its energy can be captured by solar panels but must be used in the moment. Technology such as Tesla's home batteries can address that problem, allowing homeowners to stash away power for later, such as during the night when the sun isn't shining. It could also reduce the need for electric companies to build enough power plants to handle a high peak demand.
The bill, sponsored by Democratic Sen. Kelvin Atkinson, requires the commission to consider whether storage would make the electric grid more reliable and reduce carbon emissions. It also requires the commission to consider the costs and benefits of energy storage when it decides whether a requirement is worthwhile. Watch the hearing at 8 a.m. in the Senate Commerce and Labor Committee. Also, check out The Nevada Independent's primer on major energy issues this session.
Cough syrup for kids?
One Nevada senator wants to make it harder for children to get their hands on cough syrup.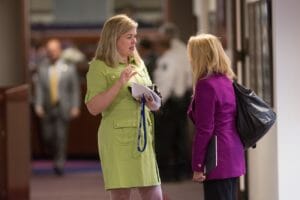 Independent Sen. Patricia Farley is the main sponsor of SB159, which would generally prohibit the sale of dextromethorphan — the active drug in Robitussin DM or Munix DM — to children under the age of 18 without a prescription. It would require businesses to check a person's ID before they purchase medicine or products containing dextromethorphan, and include a warning for a first offense and repeating $50 fine for continued violations of the law.
Watch the hearing at 3:30 p.m. in the Senate Health and Human Services Committee.
Sunshine & public records:
In the midst of the annual weekly celebration of public records — Sunshine Week — lawmakers will consider an ambitious overhaul of the rules that govern how members of the public and nonprofits can request public documents.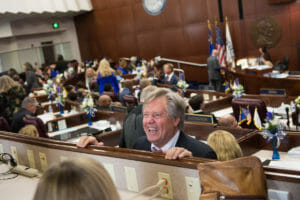 SB170, which is sponsored by Democratic Sen. Tick Segerblom and is being heavily pushed by the Nevada branch of the American Civil Liberties Union, would significantly shorten the period of time required before a government body has turn over a public record from a required five-day response and generally unrestricted amount of time to fulfill the request to a maximum request fulfillment of 35 days. It would generally waive most fees associated with public records unless they're for a commercial purpose or if the request requires an "extraordinary" use of personnel or state resources.
The ACLU is also seeking an amendment that would subject members of the Legislature to public records law, and remove request delays on requests that require "extraordinary" use of staff or resources. Several governmental bodies including the city of Reno, Attorney General's office and Department of Education responded to the bill saying the provisions would require them to hire an additional staff.
Watch the hearing at 1 p.m. in the Senate Government Affairs Committee meeting.
Payday lending:
Nevada lawmakers on the Assembly Commerce and Labor Committee are scheduled to hear two bills that would significantly raise regulations on high-interest short-term "payday loans," including the creation of a 36 percent cap on interest rates.
AB163, which is sponsored by Democratic Assemblyman Edgar Flores, would require payday lenders to take more factors into consideration when determining a customer's ability to repay a loan, and make it harder to extend loans through "grace periods" by creating stricter rules around when a customer can default on a loan, which triggers state law requiring a repayment plan with more lenient interest rates.
AB222 is sponsored by Democratic Assemblywoman Heidi Swank and would institute a 36 percent cap on short-term loans (average interest rate on such loans is about 521 percent in Nevada). It would also create a 30-day "cooling off" period between loans, require new payday lenders to be at least 1,320 feet apart from one another and create a statewide database on all such loans extended to customers.
Watch the hearings on both bills at 1:30 p.m.