Tuesday is another packed day for lawmakers, as committees plan to hear bills on topics ranging from vacating marijuana-related convictions to creating a constitutional right to hunt, trap and fish.
Here's what to expect on day 37 of the Legislature:
Vacating judgments for marijuana-related offenses
Nevada voters legalized the recreational use of marijuana by passing Question 2 in November. A bill put forward by Assemblyman Will McCurdy, AB259, would authorize courts to vacate judgments of convictions for marijuana offenses that are now lawful acts in the state as of January 1, when the law went into effect.
The legislation would require a court to grant a motion to vacate a judgment of conviction if someone was convicted of possessing one ounce or less of marijuana. The bill also allows courts to deviate from the prescribed minimum term of imprisonment if someone is convicted for possession and the normal penalty requires a minimum term of imprisonment.
STEM and STEAM seals on high school diplomas
High school students who graduate with a high level proficiency in a language other than English are awarded a diploma with a special seal of biliteracy affixed to it. Now, Democratic Sen. Joyce Woodhouse is seeking to create a similar seal for students who are highly proficient in science, technology, engineering and mathematics (STEM) or science, technology, engineering, the arts and mathematics (STEAM).
SB241, which will be heard in the Senate Education Committee at 3:30 p.m., would create two seal programs, one for STEM and one for STEAM. Students who have met the requirements of one of the programs would graduate with the appropriate seal affixed to their high school diplomas.
More confidentiality for GOED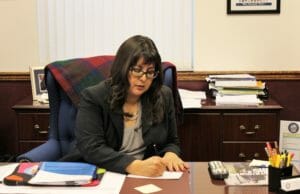 The Governor's Office of Economic Development would get more confidentiality while it's negotiating with businesses that might move to the state under AB231, which is sponsored by Democratic Assemblywoman Irene Bustamante Adams. The bill makes a broad swath of communications private, including correspondence between GOED employees or representatives and their clients. The secrecy involves proprietary information or that related to the business plans, proposed contracts or special knowledge and expertise of a client. That correspondence would be private only until the client publicly discloses that the client wants to locate their business in the state or submits an application for an economic development incentive. Watch the hearing at 4 p.m. in the Assembly Taxation Committee.
Constitutional changes
Two potential changes to the state's constitution will be up for discussion on Tuesday.
Members of the Assembly Committee on Legislative Operations and Elections are scheduled to hold a vote on SJR2, which would make Nevada the first state in more than three decades to ratify the Equal Rights Amendment. The state Senate approved the measure on a mostly party-line 13-8 vote two weeks ago, with Republican Sen. Heidi Gansert and Independent Sen. Patricia Farley supporting the measure. Gov. Brian Sandoval, a Republican, said he supports the ERA's passage (he does not have to sign because it is a resolution). Watch the committee hearing at 1:30 p.m.
Lawmakers will also hear a proposal enshrining the right to hunt, trap and fish in the state constitution. SJR11 was approved by Republican-led members of the Legislature during the 2015 session, and like other constitutional amendments needs to be approved again by lawmakers before going to voters in 2018. The amendment would preserve the "right to hunt, trap and fish" while specifically noting that it doesn't create a right to trespass on private property, affect any water right or prohibit enforcement of requirements to obtain a hunting or fishing license. Watch the Senate Committee on Natural Resources hearing at 1:30 p.m.