Early last year, Sophia Kim was browsing Instagram when she saw some news from home, back in South Korea. A new respiratory virus had emerged and rapidly devastated the Chinese city of Wuhan, and now it had started to spread east.
"I was reading about it, but I'm like, 'Oh, it's not gonna affect me, because I'm in America," she said, recounting the story from her apartment in Las Vegas.
By March, though, Kim said her mom was calling every day, asking whether she was fine, telling her she didn't want her in the U.S. and that she needed to come back. So, in the middle of the semester, Kim — a junior studying hospitality at UNLV in the midst of the vaunted Las Vegas Strip — went home, packing up her whole life in the process.
Across campus was Angelos Tsalafos, a Canadian student by way of Montreal, studying in Las Vegas because of a spot on UNLV's hockey team. He remembered waving the virus off, as so many did, when it seemed so far away.
"I saw that the virus was in Europe, that it was in Italy and in Asia, and I was like, 'Oh, it's gonna go away,'" he said. "They're going to be able to contain it, it's going to go away. We're going to be okay."
By the middle of spring break, Tsalafos was enjoying a rare bout of freedom as the normally spring-centric hockey season was canceled alongside with nearly all other sports. But even then, it was clear the virus was not contained.
Tsalafos was stressed, he said, as he worried along with his parents that he wouldn't be able to get back to Canada before the borders closed.
"I remember I booked the flight to go back to Montreal, and the flight gets canceled," Tsalafos said. "And then I'm freaking out, my mom's freaking out, we think I'm gonna get stranded — and the next flight gets canceled."
The third try was the charm; Tsalafos eventually made it back to Canada. There, he said he was "treated like a bacterium" as he and his parents drove separate cars, disinfected suitcases and settled into a two-week quarantine.
"At that point, it was just, I was in shock," he said.
For Kim and Tsalafos — who both eventually returned to the U.S. last year — the anxieties of March and the months that followed have become more and more distant in their memories, especially as conditions have improved stateside amid widespread vaccination efforts.
Even now, they both said they remain optimistic for what the fall semester could look like, should conditions continue to improve.
But their stories mirror those of thousands of international students across the country and across the globe, as colleges were forced to shutter their doors in a matter of days, just as dozens of international borders slammed shut.
Unending rules-changes, multiplying paperwork and the continuing specter of the virus itself has meant that even as colleges and universities prepare for a "new normal" this fall, complete with vastly increased in-person instruction and the return of the social experience, the number of international students expected to return remains far below pre-pandemic levels.
'Our logistics probably tripled'
As the pandemic forced government action early last year — upending an international education system that was never designed to operate under the conditions of forced isolation — there was a deluge of questions as students scrambled to assess the situation and decide what to do next. Should they return home? How long would they be stuck? Would they rather be stuck in the U.S. or in their home country? When would they be able to see their families again, no matter what they chose?
"So that happened, and a lot of folks decided that they wanted to go home," Ross Bryant, Executive Director of UNLV's Office of International Students and Scholars (OISS), said of the guidance change.
At UNR, even with enrollment numbers worsened by wholesale disruptions to exchange programs, the headcount of enrolled international students fell relatively modestly from roughly 650 to 490, according to Adilia Ross, assistant director of UNR's OISS.
But at UNLV, where the top-ranked hospitality school and proximity to the Las Vegas Strip have long been a major draw for such students, international enrollments plummeted from 1,200 pre-pandemic to just 750 after the dust had settled.
From an administrative perspective, the pandemic created a logistical nightmare as the mechanics of international study were caught in a sprawling web of tightening borders, closed consulates and amorphous rules from national governments.
"Our logistics probably tripled as far as tracking messaging, getting messaging out, hosting town halls, doing Instagram," Bryant said. "But also UNLV, because UNLV has never been structured for [these] kinds of national level changes that have hit, I mean, this is unprecedented."
At UNR, International Admissions and Recruitment Coordinator Mike Murry said paperwork for some students doubled or tripled as the university's OISS repeatedly re-enrolled students, re-issuing their documents every time.
And at UNLV, Bryant said local restrictions on non-essential work hit hundreds of international students working on the Strip, laying them off alongside thousands of other hospitality workers in one of the busiest tourist corridors in the world.
But as American workers leaned on state unemployment systems or pandemic relief checks for assistance, international students were left with little else but help from the university, which provided "internal emergency funds."
"[It was] not a lot, but a little bit, to where they could help international students who were not qualified for any of the CARES Act money or unemployment because they're not U.S. citizens," Bryant said. "But that had a huge financial impact on everybody."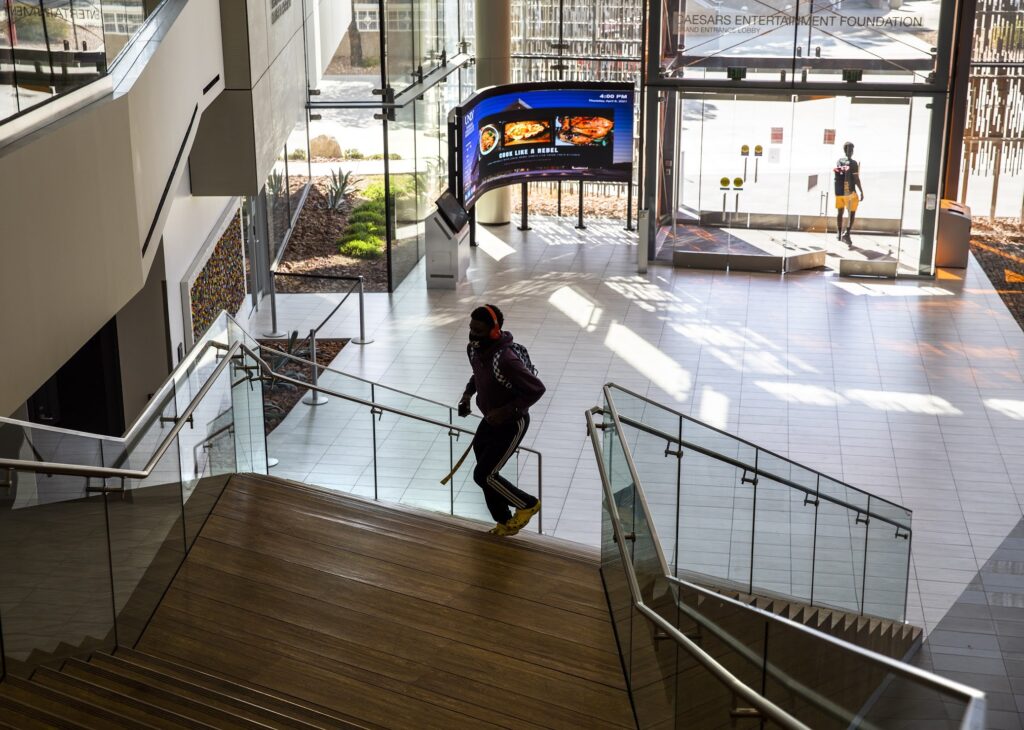 More than a year later, as universities actively prepare for a mostly-in-person fall schedule, getting back to some semblance of normality for international students will be a long process that largely sits outside university control, according to UNLV Vice President for Enrollment and Student Services Stephen McKellips.
Even as universities continue to send out I-20 forms — a federal certificate of eligibility granted to foreign students once they have been accepted into an American university — McKellips said that rolling delays for students looking to secure visas in their home countries will likely continue so long as widespread pandemic restrictions on travel remain.
"Around the world, availability of appointments is not the same in every country," McKellips said. "In China, there are a certain number of consulates to get a visa, maybe a half dozen or even a dozen cities that may have those visa locations available. But in other countries, they may only have one or two in the whole country, and you may have to drive eight hours."
McKellips said those logistics will play a key role in determining when or whether students can return, but in the short term, "there may not be enough calendar days to get them back before the fall."
To that end, Bryant said UNLV expects international enrollment to remain largely flat through the fall, something he said would "actually be a success."
Even so, students with I-20s are still in the system and new I-20s are still being issued. OISS officials at both universities said these students will more than likely return in the spring, with many already choosing to defer their enrollments. And at UNR, in particular, Ross said she expects enrollments to bounce back by the next academic year, likely stabilizing by the fall of 2022.
Beyond the upcoming academic year, administrators who spoke to The Indy were cautiously optimistic, saying in part that pent-up demand — both domestically and abroad — could spell increased enrollment even beyond pre-pandemic numbers.
"Really [enrollment is] flat, not because of what we're offering, and not because of our student supports, it is flat because of how difficult it is for them to get back here," Bryant said. "So I just think as those external factors go away, we're going to hit the ground running."
Research, interrupted
As administrators expect delays in the return of international students to campuses, many research faculty and graduate students who rely on international travel for studies, access to archives or collaborative research started well before the pandemic have been left "at a standstill."
Ian Hartshorn, an assistant professor of political science at UNR, said that social science programs alone have a bevy of international ties, be they research collaborations, overseas colleagues or even field research.
"So it's a lot," Hartshorn said. "And that varies, of course, by field across the university … but it's something that I think all of us have had to adapt to during the pandemic year. And it's something that looks like it's going to continue because, of course, the impacts of the pandemic are not equally distributed across the world. We're looking at dealing with ramifications of this, in terms of restrictions to travel, possibly for at least another year."
As COVID-19 has ravaged the world, killing millions globally and uprooting every major economy, there are few historical analogues for the scale of devastation — even in a sector like academia, which exists as just a small part of the totality of pandemic disruptions.
Hartshorn — who specializes in political studies of the Middle East — is no stranger to sudden and wide-reaching travel limitations. But even then, his only comparisons are to wars or revolutions, which still only create regional disruptions, not global.
"Certainly in my time, as a researcher, there's never been anything that affected this much of the global academic community at one time," he said. "I don't think there's been anything in living memory that comes close to this."
Added to these research timeline hiccups are the same visa processing issues plaguing undergraduate admissions. Also the incoming director of the political science department's graduate program, Hartshorn said that he is still waiting to find out whether students that have already been admitted into the program will be able to arrive in-person in the fall.
"That [wait] has downstream effects for what classes we offer, research — just trying to figure out exactly who's going to be able to be here, come the fall," Hartshorn said.
Ultimately, he said, the end result is a year or more of lost time eating away at the "ticking clock" of graduate and faculty research projects that often are tied to tight timelines required for grant funding.
"This really does have a kind of multi-year knock on effect in terms of people planning their research trajectory," Hartshorn said. "In the social sciences, it's not uncommon for our research trajectories to be two and three years. So one year lost, one summer lost to research for interviews or archival work, travel — things like that — could mean that there's two or three years to adjust what you expected to be doing."