After a glut of proposed laws introduced on Monday, Nevada lawmakers are continuing to slowly trickle out legislation on topics ranging from collective bargaining changes to mandating ethnic study classes in high school.
Here's a handful of interesting proposals brought forward this week.
Film tax credits
Democratic Assemblywoman Maggie Carlton is proposing to revise the state's tax breaks for film and television productions.
AB137, introduced Feb. 10, would set a $15 million limit on the amount of transferable tax credits available to film, television and other video projects. It comes after state lawmakers made the film tax credit program permanent in 2015 and removed a cap on how much the state could offer in tax incentives.
Official language?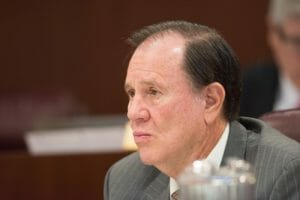 Nevada lawmakers had a few laughs Friday at the expense of AB131, a longshot bill sponsored by Republican Assemblyman Richard McArthur that outside of a few exceptions would require the state to use only English on official paperwork.
Majority Leader Teresa Benitez-Thompson briefly broke into Spanish (video) while referring the bill to a committee, before stopping herself and adding "I will make sure all comments remain in English."
Protecting tenants
Democratic Assemblyman Elliot Anderson is proposing a bill that would prohibit landlords from evicting, fining or taking other punitive action against tenants over requesting emergency assistance.
AB133, which was introduced Feb. 10, prohibits tenants from being punished for requesting emergency assistance (police, firefighters, emergency medical services for example) if they believed it necessary or had reasonable belief that a crime had occurred. It also exempts requests for emergency services from the state's definition of nuisance.
Evictions in Las Vegas have risen more than 43 percent between 2009 and 2016.
Dual language enrollment
Lawmakers could approve creation of dual language immersion courses in up to 30 elementary schools across the state.
AB139, which was introduced on Feb. 10, would allocate $600,000 over two years for grants related to starting dual language courses in schools, as well as $247,000 over the same period for two part-time positions.
The legislation also requires the state board of education to create regulations for dual language courses, which required coursework to be split between English and another language. It also allows parents to opt out of the program if they wish.
The bill creates a competitive grant program, with 20 grants allocated to elementary schools in Clark County, seven going to Washoe County and three for all other counties.
Educational mandates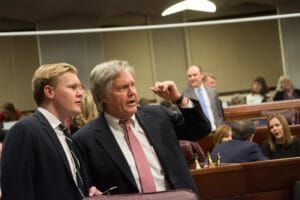 Students would be required to pass a course in ethnic or diversity studies to receive a high school diploma under a proposal submitted by Democratic Sen. Tick Segerblom. SB107, introduced Feb. 8, directs the state to designate "ethnic and diversity studies" as a core academic topic and require students to pass a course before graduating from high school.
Another proposal, SB108, would require public high schools in the state to include sections on criminal law in courses on government. The legislation, which was introduced on Feb. 8, specifically highlights "crimes that frequently involve persons under the age of 18 years," and includes crimes like sexual assault, stalking and destruction of property.
Students in middle and high school would be required to learn about organ and tissue donation "to the extent money is available" under a proposal brought by Democratic Sen. Julia Ratti and Republican Sen. Ben Kieckhefer. SB112, which was introduced on Feb. 9, has a personal meaning to Nevada Independent editor Jon Ralston.
Gender and changing names
Currently, Nevada law requires anyone who officially files paperwork to change his or her name to publish an announcement in a general circulation newspaper, unless it threatens their safety. SB110, a bill introduced by Democratic Sen. David Parks, would waive that requirement if the name change is being done to conform a name to a person's gender identity.
Collective bargaining
A proposal sought by Democratic Assemblyman Steven Yeager would beef up collective bargaining agreements in favor of unions, after Republicans modified the law last session.
AB121 would require local government employers to continue honoring the terms of collectively bargained agreements, including scheduled raises and other compensation, even after a previously agreed-upon agreement expires. Yeager said it adds to legislation passed in 2015, and after public employee unions complained that employees hired between negotiated contracts weren't subject to scheduled pay raises.
The legislation would also require, rather than allow, local governments to provide leave to employees engaged in union activities if the leave is paid for or negotiated in a collective bargaining agreement.
Republican Senate Leader Michael Roberson said the legislation was an attempt to "line the pockets of public sector unions at the taxpayer's expense."
"I would urge Democrats not to follow the divisive lead of those who have said they will work to repeal Republicans' historic reforms from the last session," he said.
Yeager responded to Roberson in a Twitter message, saying "You know you've done something right if Michael Roberson doesn't like it."
Concealed carry for active military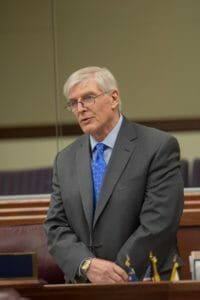 In a somewhat unusual move, a measure expanding access to firearms is being pursued by a Democrat.
Assemblyman Skip Daly is sponsoring AB118, which would allow people between 18 and 21 years of age to apply for concealed carry permits if they're an active member of the military, a National Guard member or have been honorably discharged from the service.
"It's one of those common sense types of issues," he said.
School construction taxes
Daly is also sponsoring legislation that would allow school districts in larger counties to ask developers to pay additional taxes for school construction projects.
AB120, introduced Feb. 10, would remove the population cap limit on counties that can impose a residential construction tax of not more than $1,600 on newly constructed apartments or residential dwelling units. The bill would open up the tax to Carson City, Clark and Washoe counties.
The legislation would require school districts provide an impact statement to the local county commission, which would have authority to approve the tax. It would require developers to submit copies of tentative maps with the local board of trustees, set aside land if a new school is needed and to work with the school board on infrastructure costs.
Daly said he introduced the bill in part due to complaints from residents over a ballot question in Washoe County that raised the local sales tax to pay for school construction. He said that he heard from multiple constituents that developers should help shoulder the cost as well.
Paying back donors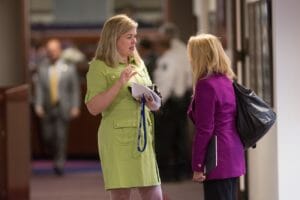 Nevada's only Independent lawmaker, Sen. Patricia Farley, is pushing for tougher punishments for candidates who file to run in districts they don't live in.
SB113, which was introduced on Feb. 9, prohibits candidates from being seated if they win an election but are found to have violated the state's 30-day residency requirement. It also requires candidates who are found to be running in a district they don't live in to return any monetary contributions over $100 to the original donor or to a nonprofit if the donor refuses to take back the money.
Farley told the Las Vegas Review-Journal that taking campaign cash while running in the wrong district is essentially stealing.
Microchip ban
One Nevada lawmaker wants to prohibit anyone from being microchipped.
Republican Sen. Becky Harris introduced SB109, legislation that would make requiring a microchip in any other a person a felony offense. She told the Las Vegas Review-Journal that she isn't aware of people being forcibly implanted with microchips, but wanted to be "proactive" in the face of new technology.
The bill is scheduled for a hearing on Monday, Feb. 13.
All photos by David Calvert.