State lawmakers ended the seventh day of the 2020 special session with little public movement on major budget decisions, but approved minor bills allowing the state to take out a line of credit in fiscal emergencies and a resolution asking Congress for a bailout.
After a virtual meeting of the Interim Finance Committee on Tuesday morning that saw lawmakers approve a $50 million commercial and residential rent assistance program, legislators took few steps in the afternoon and evening hours to deal with proposed bills closing the state's estimated $1.2 billion budget gap.
Asked whether they had come up with a budget agreement between the Assembly and Senate, Democratic leaders in both chambers said Tuesday evening that they were still in discussions.
"Obviously there's a lot there to take a look at," said Senate Majority Leader Nicole Cannizzaro, adding that "it's important that we make sure we're doing our job at the Legislature" of reviewing all potential cuts.
Lawmakers did vote to approve a symbolic resolution asking members of Congress to approve a bailout package for states, municipalities and tribal governments to help backfill revenue lost throughout the COVID-19 pandemic. They also signed off on a bill that would give the state options to take out a line of credit to meet short-term obligations if it faces a sudden shortage of cash.
Members of the Assembly, meanwhile, again delayed a vote on a state worker pay bill, AB1, that would freeze merit pay and implement once-a-month furloughs for state employees.
Here's a look at what the Legislature did on Tuesday: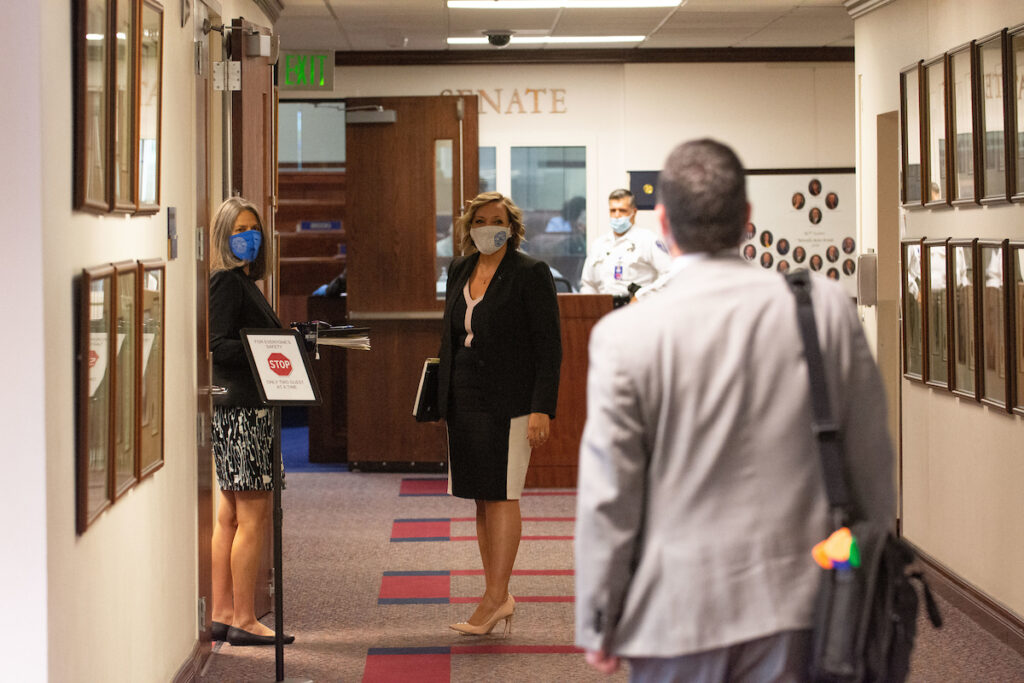 Legislature passes resolution asking for federal help to address budget shortfalls
Members of the Assembly unanimously passed a resolution on Tuesday asking Congress and President Donald Trump to authorize "flexible funding" as the Legislature tries to address a $1.2 billion shortfall in the current fiscal year.
In introducing Assembly Joint Resolution 1 on the floor, Democratic Assemblyman Howard Watts said CARES Act relief so far has been tailored to the direct effects of coronavirus, but something more flexible is needed to avert public sector cuts that he said are disproportionately falling on vulnerable people. He said it was time to send a clear message to Washington that more help is needed.
"Raising revenue is also an option, and I don't think it surprises anybody that I'm ready to have that conversation," he said. "But I think we can all agree that a special session is a less than ideal setting for these deliberations."
Republican Assembly Leader Robin Titus also spoke in favor of the measure, framing it as a vote of confidence in the Republican president. She said Trump has provided $13 billion in relief to the state so far.
"President Trump has been more than generous to Nevada," she said. "If our president blesses us with additional federal funding, I hope that we use it in the most responsible and transparent way possible."
The vote on the resolution was the first public action lawmakers took on Tuesday, the seventh day of a special session called to address the shortfall. Lawmakers have been working on refining a budget proposal submitted by Gov. Steve Sisolak's office, but Speaker Jason Frierson said the Assembly did not plan on hearing AB3 — the major bill enshrining the cuts — on Tuesday.
Sisolak issued a statement in support of the resolution.
"Without additional federal assistance, a slow recovery, or one in which Nevada lags behind the nation, the current economic and fiscal crises facing the State will be exacerbated," Sisolak said. "The time for flexible federal funding that can be used to replace billions in lost revenue is now." 
In the Senate, all lawmakers but Republican Sen. Ira Hansen voted in favor of the resolution. Hansen framed the bill as taking on Rep. Nancy Pelosi's agenda and endorsing the $3.5 trillion in proposed spending in the HEROES Act — something he said is against on fiscal conservative principles and "is going to fund the irresponsible actions of states like California and New York throughout this entire crisis."
Republicans who supported the measure argued that Nevada needed to take funds that were being offered it and were owed as much because the Silver State includes vast tracts of federal land and major military installations. Sen. Pete Goicoechea also disclosed that a friend had died this week of COVID-19 in rural Nevada.
"The COVID is real in the state of Nevada and we've got to protect ourselves, we've got to do what we can to protect our constituents … but we're going to have to spend it wisely," he said.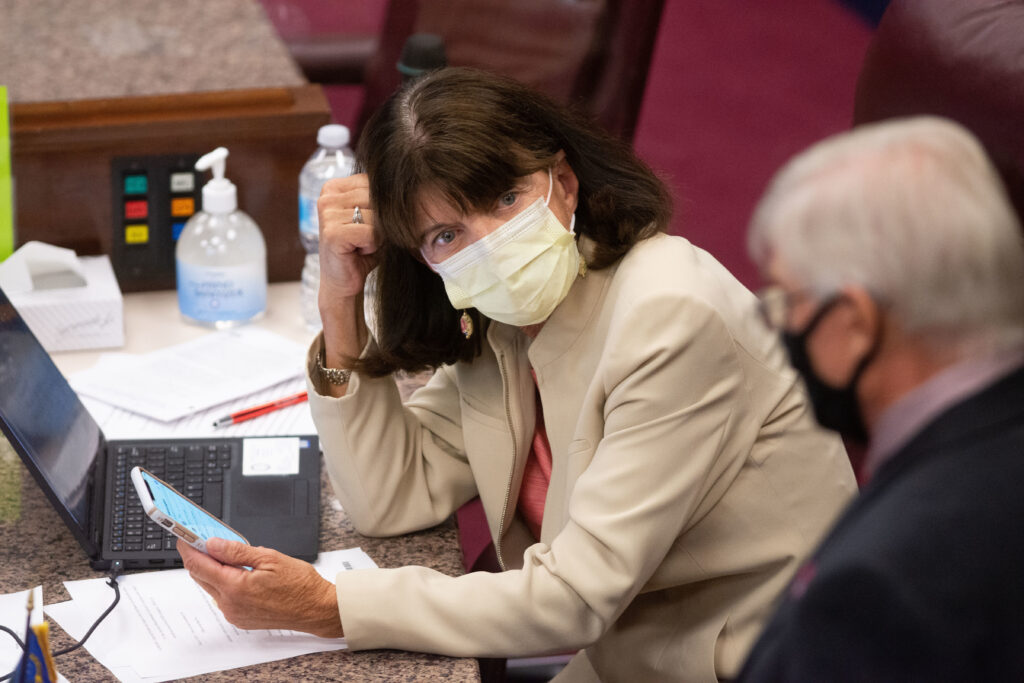 Line of credit bill
Lawmakers in the Senate and Assembly approved on Tuesday SB4, a bill that would give the state treasurer the ability to authorize general obligation bonds to act as a line of credit agreement for the state government in cases where the government is running low on cash to pay its bills or other obligations.
The bill, presented by Treasurer Zach Conine, would set a limit on the amount of bonds that can be issued at $150 million and is intended to cover cases of fiscal emergency where the state cannot make payments on legislatively approved debt or other obligations. Conine said during a previous hearing on the bill that it is intended for emergency use only as a way to cover short-term expenses, calling it "a tool, which we hope to never use."
An amendment introduced by Democratic Sen. Chris Brooks sets additional limits on the proposed mechanism in the bill. It creates a sunset date at the end of the 2021 fiscal year, which Brooks said would allow lawmakers to further vet during the normally scheduled 2021 legislative session.
It also limits use of the funding mechanism, requiring the state treasurer to first determine that the state's general budget fund cash balance is below 25 percent of its lowest average monthly balance for the proceeding 36 months or that the state will be unable to meet its debt obligations within the next 120 days. The office is also required to give notice to the Legislature and the State Board of Finance.
The bill passed unanimously out of the Senate and, shortly after, the Assembly heard and unanimously passed the bill as well. It now heads to the governor's desk for approval.