If the Las Vegas narrative of the Great Recession was one of gloom and doom, characterized by a high unemployment rate, foreclosed houses and abandoned construction projects, a new storyline has emerged in recent years.
A local economist presenting Tuesday at Preview Las Vegas, an annual gathering of the city's business community, painted a much rosier picture of its current state of affairs.
John Restrepo, principal of RCG Economics, pointed to jobs data as the first indication of a rebounding economy: The number of jobs in Southern Nevada fell 13 percent to 803,500 in February 2011, the depth of the recession. By the end of 2016, the region boasted 937,300 jobs and is expected to add 25,000 jobs this year, he said.
In other words, Southern Nevada has "recovered all the jobs lost" and then some, Restrepo said.
The region's housing market has experienced a similar upswing, he said, with a median new home price of $321,000 in 2016 — just below the pre-recession peak of $327,000 in 2007. Despite minor interest rate increases, new home prices are projected to rise by 6 percent and resale prices by 9 percent this year, Restrepo said.
The commercial real estate market, however, has been slower to fully recover. For instance, the office vacancy rate in Southern Nevada was 20 percent last year, just marginally better than 22 percent in 2012.
Office and anchored retail rents prices also have struggled in recent years and still remain below pre-recession levels, but Restrepo said he expects those to inch up over the next year.
All of those economic indicators could benefit from the passage of three ballot questions that legalize recreational marijuana, deregulate the energy market and pump more money into roadway projects, he said.
Recreational marijuana, alone, could stimulate $7.5 billion in economic activity from 2018 through 2024, creating 40,000 new jobs along the way and $464 million in new revenue from taxes and fees, Restrepo said.
"There are signs of development all over the valley — and traffic cones," said Mike PeQueen, managing director and partner of HighTower Las Vegas, a local investment firm.
Those signs of development activity include the Lucky Dragon Hotel and Casino, T-Mobile Arena and The Park, an outdoor dining and entertainment district between the Monte Carlo and New York-New York properties, said Clark County Commissioner Lawrence Weekly. All opened last year.
Hainan Airlines also launched nonstop service last year between Las Vegas and Beijing, which meshes well with the Las Vegas Convention and Visitor Authority's (LVCVA) efforts to boost tourism from China, said Weekly, who chairs the LVCVA's  Board of Directors.
Another international flight is on its way to McCarran International Airport as well: Qatar Airways has announced that it intends to provide service between Doha and Las Vegas starting next year, Weekly said.
"It's truly a great time to be a resident or even a visitor in Las Vegas," he said.
The tourism agency has been leveraging virtual-reality technology to provide potential tourists with 360-degree views of the famed Las Vegas Strip and its entertainment offerings, hoping the glimpse will motivate them to book a trip and see it in person, Weekly said.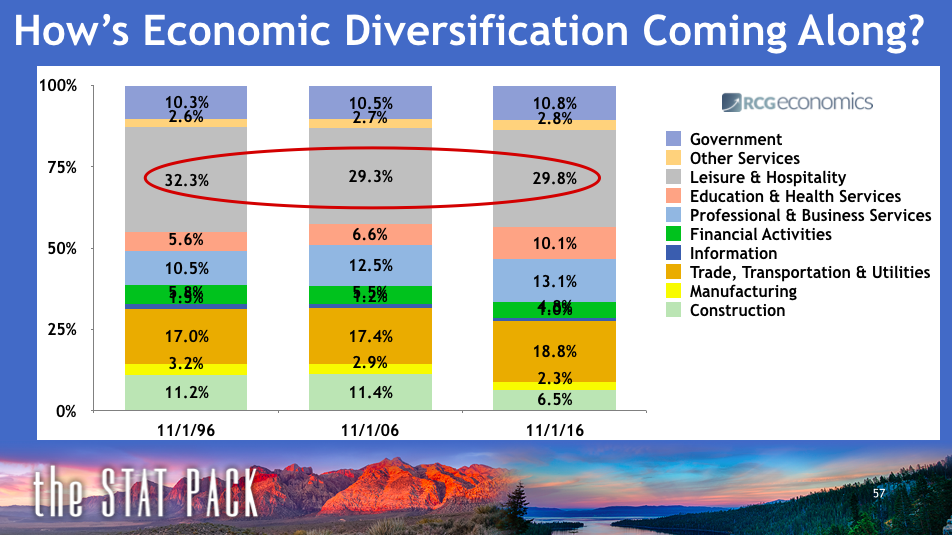 But if the recession proved anything, it was the need for Nevada to diversify its economy and not be so heavily reliant on the whims of tourism and discretionary spending.
Steve Hill, executive director of the Governor's Office of Economic Development, said the state remains focused on building an economy based on innovation.
Why? Companies and industries risk decline when they don't innovate, he said, and the same is true for regions and communities.
The progress Hill detailed includes being one of six states testing drones, developing a water technology industry and launching the Nevada Center for Advanced Mobility, among other initiatives.
Residents saw a tangible example of those efforts in May when Hyperloop One, an innovation-minded company, tested its propulsion technology in North Las Vegas. The company is building the prototype of its transportation platform — pneumatic tubes that contain high-speed pods — in the desert expanse of the city's northern suburb.
The futuristic-looking technology has caused some to wonder, "Will it work?"
"I wouldn't be sitting here today if I didn't think this was going to work," Brian Gaumer, Hyperloop One's vice president for test and development engineering, told Hill.
Gaumer said the company hopes to have its first fully-functioning "loop" within the next few months.
The technology company, and others like it, will help provide the path forward for Southern Nevada's economy, Hill said. "I'm excited about what's happening," he said. "I hope you are too."
The Las Vegas Metro Chamber of Commerce organizes Preview Las Vegas each year.  
---
Disclosure:  Mike PeQueen, a partner at HighTower Las Vegas, holds a seat on the five-member board of The Nevada Independent. HighTower Las Vegas is a client of E Thompson Media, a communications and public relations consulting firm owned by the managing editor of The Nevada Independent, Elizabeth Thompson. RCG Economics also was a client of her firm from 2014 through December 2016. Mike PeQueen and John Restrepo, Principal at RCG Economics, are co-publishers of an economic and business website called The Stat Pack, which is edited by E Thompson Media.
Photo Caption: Pedestrians walk along the Strip in front of the Palazzo Thursday, July 21, 2016. Photo courtesy of the Las Vegas News Bureau.