Bills rolled out in the first two days of the legislative session called for big policy changes -- such as raising the minimum wage and abolishing the Achievement School District that turns poor-performing schools into charters. But lawmakers also introduced some quirkier measures, like one restricting Botox, renaming Columbus Day and reminding welfare recipients that they can't use public benefits at a strip club. Here's a look at some of the more than 200 bills on the table in the Nevada Legislature (for the first installment of our roundup, click here).
Raising the minimum wage
Nevada's minimum wage would increase to $12 over a five-year period under a bill, SB106, backed by Senate Democrats. The state's current minimum wage is a tiered system of $7.25 an hour or $8.25 an hour based on whether or not the employer offers health insurance. See our full story on the new proposal here.
Blanket primary, where parties don't matter
Republican Sen. James Settelmeyer is proposing "blanket" primary elections where party affiliation doesn't matter. His bill, SB103, would do away with the existing system in which people must be registered with a major party to vote in that party's primary, and winners of those contests would advance to the general election. Instead, all candidates regardless of party affiliation would be on the ballot for the primary. The top two vote-getters would advance to the general.
Guns on campuses
Concealed carry permit holders could bring their weapons onto campuses in the Nevada System of Higher Education, as well as to public and private schools and child care facilities, under a bill proposed by Settelmeyer. Existing law prevents those permit holders from carrying their weapons to schools unless they have written permission from the principal, university president or an official at a daycare. The bill, SB102, requires the gun to be secured in a vehicle and out of sight while on a campus. The concept was hotly debated last session but failed to pass.
Abolishing the Achievement School District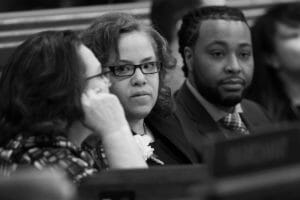 A state-run entity that aims to turn a handful of Nevada's lowest-performing schools into charter schools would disappear under a bill, AB103, proposed by Democratic Assemblywoman Dina Neal. The Achievement School District was among the package of education reforms that Gov. Brian Sandoval proposed and the Republican-controlled Legislature passed last year. Neal said parents at two schools in her district that are slated to become charters are clamoring against the controversial program, which has long lacked Democratic support.
Optional Voter ID
It's not your typical voter ID bill: Settelmeyer's "optional voter ID" bill would allow people to present proof of their identity at a polling place if they wish. Most polling places simply try to match a voter's signature with one they have on file, but the measure -- SB100 -- requires county clerks to create systems that would allow other evidence of ID. Traditional voter ID bills make it mandatory to show ID at the polls, but so far haven't been successful.
Anonymity for parents who surrender newborns
Parents who surrender a newborn to an emergency provider under Nevada's "Safe Haven Law" would stay even more anonymous under a bill proposed by Democratic Sen. Mark Manendo. The Safe Haven Law allows parents to give up babies with immunity if the child is 30 days old or younger. Hospital, firehouses, police stations and paramedics accept the babies. The bill, SB2, prohibits the agency that receives the baby to transfer any identifying information about the person who dropped the child off. It also removes the parent's right to learn whether the baby was placed in protective custody and to receive notice about the termination of parental rights.
Promoting dual-credit courses
A bill backed by the governor's office aims to promote dual-credit courses that allow high school students to take college courses simultaneously.The state education board can't unreasonably limit students' participation in dual-credit courses under the bill, SB19. Local school boards must notify students of dual-credit courses available to them, and each district must enter into an agreement with at least one community college to let students take dual credit courses.
Boycotting the Israel boycotters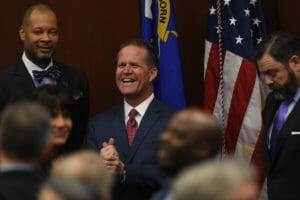 Nevada would avoid contracting with companies that are boycotting Israel under a bill requested by Lt. Gov. Mark Hutchison. The measure, SB26, would require the Public Employees' Retirement Board and the state treasurer to track which companies are boycotting Israel and then avoid working or investing with them. A resolution within the bill declares that boycotts have become a tool of economic warfare toward key allies and describes them as discriminatory on the basis of national origin. It adds that "Israel in particular is known for its dynamic and innovative approach in many business sectors, and a company's decision to discriminate against Israel, Israeli entities or entities that do business with Israel or in Israel is an unsound business practice making the company an unduly risky contracting partner or vehicle for investment."
More lucrative Medicaid rates
A bill requested by Nevada's Silver Haired Legislative Forum, SB28, called for the state to conduct an annual review on whether Medicaid is reimbursing providers here at adequate levels. The reimbursement rates can determine whether medical providers move to Nevada. Sandoval's work negotiating a higher reimbursement rate for psychiatric hospital care, for example, helped attract more providers to Nevada and alleviated severe strain on emergency rooms.
Banning foreclosure on servicemembers
Conducting a foreclosure sale on a servicemember who's on active duty or is fresh off a deployment would be banned under a law proposed by Nevada lawmakers. The bill, SB33, generally tells the court to put foreclosures on hold while a servicemember is on duty or deployed, unless the court determines that the borrower's military duty isn't affecting their ability to pay their mortgage.
Mandatory cursive lessons
A generation that's hooked on computers and touch screens will learn the art of cursive handwriting under a bill proposed by Republican Sen. Don Gustavson. The measure, SB86, would require children be able to read cursive by the time they finish third grade. He introduced similar legislation last year, but it didn't pass.
Refinancing student loans
This bill from Democratic Senate Leader Aaron Ford would allow residents of Nevada to refinance certain student loans. The measure, SB90 would call on Nevada's Department of Business and Industry to create the program and authorizes the issuance of revenue bonds to pay for it. Ford introduced a similar bill last session, but it didn't pass.
Teens pre-register to vote
Teenagers who can't wait to vote will have a new option under a bill backed by Ford. The measure, SB94, allows 17-year-olds to preregister to vote so when they turn 18, they'll be automatically registered. It also makes a variety of other changes to election law, including requiring permanent early voting sites to stay open for at least four hours each Sunday during the election period, and requiring, not just recommending, that clerks allow the option of email distribution for sample ballots. Ford introduced some of the same concepts in 2015 but they didn't pass.
No welfare benefits in strip clubs
State officials would have to make it abundantly clear to welfare recipients that they can't use their benefits at a liquor store, a casino or a strip club, according to a bill sponsored by Settelmeyer. Federal law already prohibits those uses, but the bill -- SB98 -- would require state welfare administrators to mention it when they work with recipients to develop a written "personal responsibility plan." The bill also bars people from knowingly accepting someone else's Electronic Benefits Transfer (EBT) card, which is how recipients receive and spend food stamps.
Cracking down on Botox
Dental hygienists and medical assistants would be banned from administering Botox if a bill backed by Republican Sen. Joe Hardy passes. The bill, SB101, would narrow existing law that allows doctors, dentists and their assistants to administer the popular injectable substance that reduces the appearance of wrinkles. Doctors who allow their assistants to do Botox treatments would face board discipline.
Help paying the internet bill
A fund designed to help low-income families pay for electricity and natural gas could also help them with internet service under a bill proposed by Democratic Assemblyman Tyrone Thompson. The proposal, AB111, alters rules on the Fund for Energy Assistance and Conservation, which is fed by mandatory surcharges on customers' energy bills. Seventy-five percent of the proceeds help with bill assistance, while 25 percent goes to energy efficiency programs.
More suicide prevention training for doctors
Doctors, therapists and other health care providers would have to take three hours of classes on suicide prevention under a bill proposed by Democratic Assemblyman Tyrone Thompson. AB105 would also remove the option for health professionals to substitute up to two of those hours with ethics classes.
Renaming Columbus Day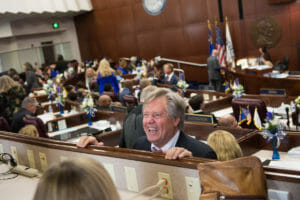 "Columbus Day" would be renamed "Indigenous Peoples Day" under a proposal from Democratic Sen. Tick Segerblom. The measure, SB105, would authorize the governor to proclaim the second Monday in October in honor of Native Americans and would remove authorization for him to name it after the explorer.