Clark County brought together government, business and social service leaders Friday for a forum where they discussed everything from moving food stamp recipients to jobs to expanding preschool options as part of a strategic plan to end systemic poverty in Southern Nevada.
The "Thriving Communities for a Better Southern Nevada" forum, sponsored by Clark County Commissioner Marilyn Kirkpatrick and the Office of Family Assistance, was the first event sponsored by the federal office in the Western region of the U.S. As a part of the forum, county leaders called on members of the public to sign a written pledge to do what they can to help fight poverty in Southern Nevada.
"If you are in this community and you have a neighbor, you are part of the system of change we need in order to address certain needs of our children and our families," Tim Burch, the Clark County human services administrator, said at a Thursday press conference.
The forum brought together more than 200 local community leaders and decision-makers to focus on three major areas in their efforts to fight poverty — increasing career opportunities for the underemployed, providing employment and mentoring programs for low-income youth and increasing economic mobility for impoverished single parents.
Dr. Tiffany Tyler-Garner, director of the Nevada Department of Employment, Training, and Rehabilitation (DETR), emphasized the importance of collaborations between elected officials, nonprofits and other sectors in getting to the root of problems with employment and education.
"We cannot divorce things like housing and food security from whether or not people can remain gainfully employed," Tyler-Garner said during the event.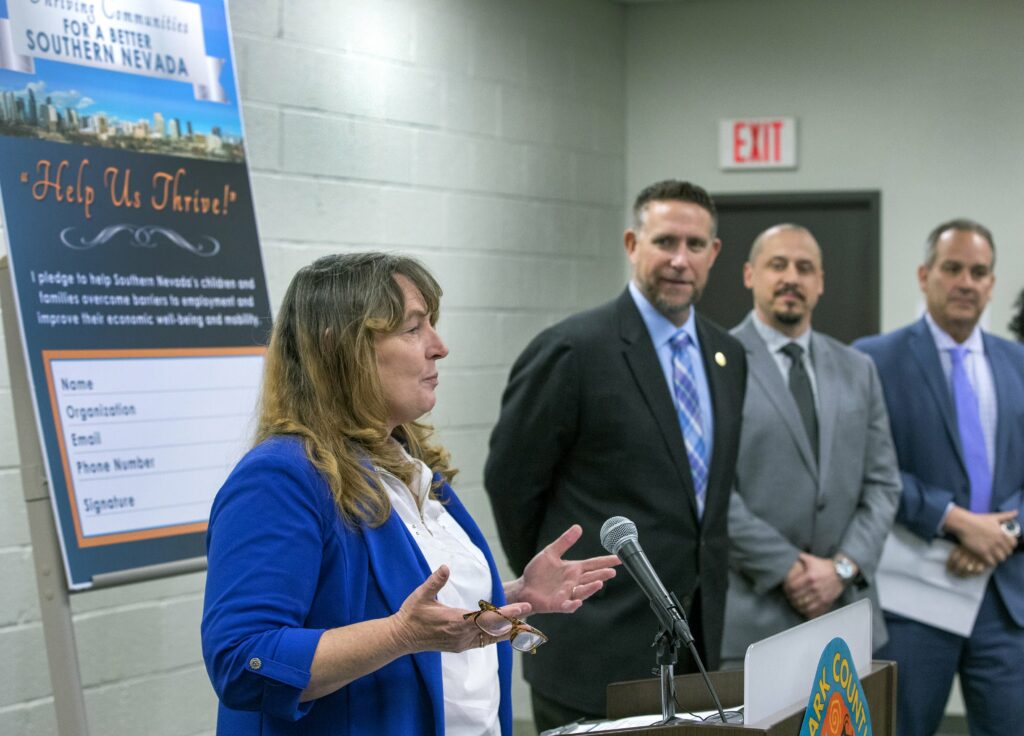 Speakers introduced several new initiatives at the forum, including DETR's Project Z, which provides assistance gaining employment to 16-24 year olds receiving SNAP benefits, and a desire to introduce universal Pre-K to the Clark County School District.
Clark County is the third community to be selected by the federal Office of Family Assistance for such a forum. According to Commissioner Kirkpatrick, Clark County was chosen as a host in part because of a successful history in bringing together agencies in realms such as social service, education, and business to collaborate and make change.
At the federal level, the initiative is facilitated by Clarence H. Carter, the director of the Office of Family Assistance at the U.S. Department of Health and Human Services. He founded the Institute for the Improvement of the Human Condition, an organization focused on working with state and local communities to meet the needs of vulnerable citizens.
After his work with various state and federal agencies, Carter said, he believes failures in many public safety net programs is not the result of budget but organization.
"It's not that we don't spend enough. It is that we have a dysfunctional design and we have no overarching intention," he said at the forum on Friday.
One of the examples of an anti-poverty program resulting from collaboration is the facility that hosted Thursday's press conference. The Harbor is a juvenile assessment center with two current locations in Clark County that provides services to at-risk juveniles and their families, helping them to identify the root cause of issues they face and providing them with the resources they need to resolve those issues.
The center works collaboratively with law enforcement, the Clark County School District, the district attorney's office and other entities to provide families with an easy one-stop destination to find real solutions for the problems they face. To date, the center has helped over 10,000 families and is planning to expand, adding four new locations around the county.
Carter said his goal is to rethink the American safety net system so that social safety net programs are a helping hand and not a destination. He said he hopes that efforts in Clark County are only the beginning of what wants to be nationwide reform.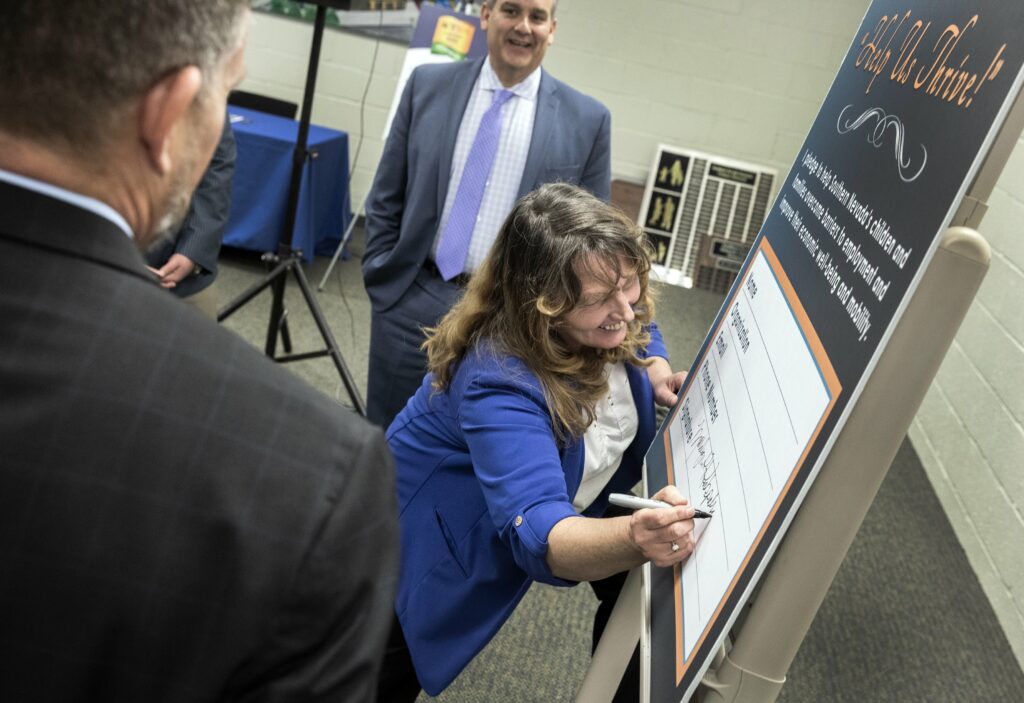 Alongside the forum, Kirkpatrick introduced the Thriving Communities Pledge, an opportunity for any citizen to get involved in the initiative. It asks community members to commit themselves either as individuals or as a part of a program, business, or agency to help with issues in the realms of underemployment, youth, and early childhood.
Kirkpatrick became the first to sign the pledge at a press conference held at The Harbor on Thursday morning.
The pledge asks people to check boxes on specific steps they would like to take to fight systemic poverty, ranging from using their personal time to mentor youth to hiring people from "alternative labor pools."
Pledge cards can be signed online. The PDF can also be emailed or mailed to Workforce Connections. At the forum on Friday, Kirkpatrick said that the commission will make every effort in helping individuals who take the pledge to find a way to get involved.