The Clark County School Board of Trustees hopes to appoint a replacement for Trustee Erin Cranor, who announced her resignation last week, in mid-August.
The seven-member board on Thursday finalized the timeline and details for how it will select a new trustee to represent District G, which covers the eastern valley and parts of Henderson. The appointed person will serve for the remainder of Cranor's second, four-year term, which began in January 2015.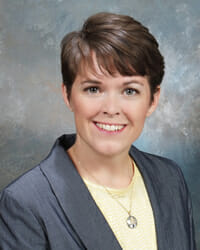 The school district will advertise for the trustee position starting July 9 and will accept applications until 4 p.m. July 28. People interested in serving on the school board — the elected governing body for the nation's fifth-largest school district — must be residents of District G for at least 30 days and registered voters there as well.
The board intends to interview candidates and then vote to appoint someone during a meeting Aug. 17.
Board President Deanna Wright said interested applicants should be willing to represent their constituents, listen to all sides of an issue and put in the large time commitment necessary for the role.
"If you come with an open mind, a caring heart and the intent to do good, there you have it," she said, describing the ideal candidate.
Two teachers who attended the meeting Thursday urged the board to consider appointing a Hispanic person to the position if someone of that ethnicity applies. They said that's a perspective often missing during board discussions.
Applications will be available on the school district's website soon after the Fourth of July, Wright said. Candidates can deliver completed applications in person, through the mail or electronically.
Cranor's last day as a trustee is Aug. 16. She's stepping down from her elected position because she received a fellowship to earn a joint law degree focused on social justice and civil rights at Brigham Young University.
The District G trustee seat will be up for election in 2018.
Feature photo: Clark County School District school buses line up to pick up special needs students at Variety School, 2800 E. Stewart Ave. on Thursday, Feb. 24, 2017. Photo by Jeff Scheid.