Tom Skancke has been "a skilled transformational specialist" for 24 years.  
So said a social media post by his company, TSC² Group, on Thursday. The tweet included a statement-as-bio from Skancke emphasizing his "fundamental problem identification skills."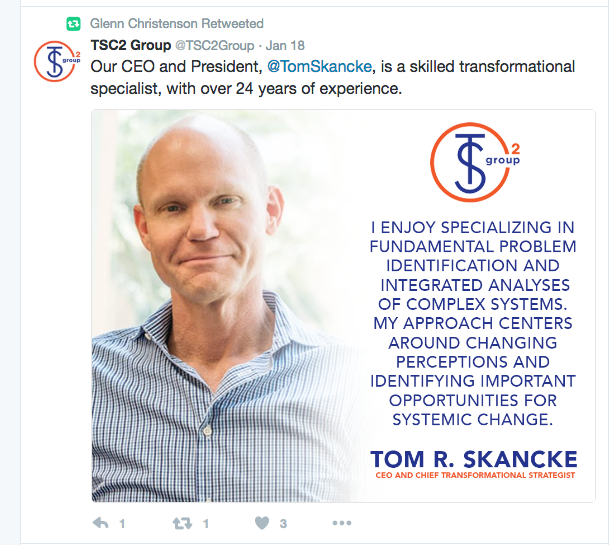 Skancke is the man whose consulting firm recently received a $1.2 million no-bid contract to help the Clark County School District reorganize. Whether Skancke's experience translates to the educational realm is a question school trustees and other community members have raised.
A Republican-controlled legislative committee approved the contract, requiring the school district to foot the bill, and created a Community Implementation Council (CIC) in October. The school district did not have a say in the matter.
The secretive nature of the process drew criticism along with doubts about TSC² Group's qualifications for the yearlong gig. Skancke and Glenn Christenson, a former Station Casinos CFO who was appointed to chair the CIC and advocated for the contract, finally spoke to The Nevada Independent for the first time Thursday after repeated requests for Skancke's resume over the past week.
The two men have worked closely together in the past, including at the Las Vegas Global Economic Alliance, where they pulled together leaders from the business and education sectors to talk about how to improve education in Southern Nevada.
"From any available information, it appears that the consultant does not have prior experience in education," said Tod Story, executive director of the ACLU of Nevada. "I cannot imagine the school district hiring someone based on that experience alone."
But Skancke said his involvement should not be construed as an education project. It's a business project designed to change the flow of money to give individual schools more budgeting and decision-making power, he said.
"We are changing the culture at the Clark County School District," Skancke said. "That is not easy and that does not require education experience. That requires someone who is a change agent and understands how to effectuate a cultural shift."
Skancke, who has been a business owner much of his career, still would not supply a resume or curriculum vitae. Instead, he passed along a list of career highlights.
Among them:   He led the Las Vegas Global Economic Alliance through a transformation, created a "vision framework" for the Interstate 11 effort, and has been involved in telecommunications industry deregulation, regional flood control initiatives, and K-12 education policy changes in Nevada. The document TSC² Group created for The Nevada Independent did not provide further detail about his involvement in K-12 policy.
Skancke points to his work as the former head of the LVGEA as proof of a successful turnaround. He said he rebranded the former Nevada Development Authority, increasing the budget from roughly $1 million to $3.5 million and more than tripling its number of employees — from six to 20.
The school district employs nearly 42,000 people, making it the second largest employer in the state.
Skancke, who also has worked on transportation projects across the country, dismissed the notion that the size of the school district affects his ability to reorganize it. He said he has a specific formula to effect cultural change, which he declined to detail, that encourages employees to think differently about their operations.
Skancke said his mantra is an Albert Einstein quote:  "Without changing our current patterns of thought, we will not be able to solve the problems we created with our current patterns of thought."
Decentralizing the school district and empowering principals, teachers and parents requires a new mindset within the giant organization, he said. So his task is changing the way people think and behave.
Skancke acknowledged the process is a "challenge" but said his passion for transforming education in this county is what drove him to accept the project.
"The children of our community and our country are the future of this nation, and we can't ignore them and we can't ignore certain groups of people," he said. "My personal reason for doing this is I don't want certain kids ignored. We must invest in these one- and two-star schools."
And he has a team of help surrounding him.
Skancke's two full-time employees at TSC² Group are heavily involved in the work. Michael Vannozzi, vice president of creative strategies, previously served as an aide to former Sen. Harry Reid and worked on K-12 and higher education issues. Andrew Doughman, vice president of communications strategies, is a former reporter who covered politics. (Doughman was an intern for the Nevada News Bureau, the parent company of The Nevada Independent, during the 2012 session of the Legislature.)
The group also is subcontracting with two education experts:
Michael Strembitsky, a Canadian educator who worked for the legislative committee and authored the reorganization plan.
Brian Knudsen, principal of BP2 Solutions, who previously worked on education initiatives with the city of Las Vegas and also served as president of the Boys & Girls Clubs of Southern Nevada.
In addition, Christenson said the group is working closely with Nevada Succeeds, the Nevada State Board of Trustees, Clark County School Board of Trustees, and the superintendent and district staff to implement the school system's reorganization.
"I can't stress enough — it's a team effort," Christenson said. "It's a connecting-the-dots effort."
The group has completed its initial fact-finding phase and has moved into the deployment of transition recommendations. The consultants have been training administrators and staff under the new organizational model, helping district officials evaluate new technology systems and coordinating parental engagement efforts, Christenson said.
Even so, Story questions whether a business-oriented consultant firm was ever really needed, especially at the expense of taxpayers. "This is not a business," he said. "This is a school district."
Felicia Ortiz, a State Board of Education member who sits on the Community Implementation Council, disagrees. She said it's crucial for the school district's departments to function more efficiently under the new organizational structure because that's how more money will wind up benefiting students in classrooms.
The district needed someone like Skancke with the business acumen to achieve that, she said.
"If (the school district) were to try and do all this work alone, they wouldn't have enough resources," she said.
School trustees filed a lawsuit, which mentions the consultants' contract, against the Nevada Department of Education and State Board of Education last month over the reorganization.
Christenson acknowledged the reorganization work got off to a "rocky start" with some members of the community, but he thinks relationships are on the mend. He hopes the council and consultants will "win them over" over in the end when the community begins to see academic progress in classrooms.
That will take time, though. And to that end, Skancke offered a plea to current and future lawmakers:  Give the reorganization a chance.
"Every time we try to undo something that has never been fully implemented, who gets hurt?" he said. "The kids. The teachers."
This story has been updated to say that Andrew Doughman was an intern for The Nevada Independent's parent company in 2012.
7:54 a.m. - 1/20/17
This story has been updated to take out the words "what he called" in the phrase "what he called a list of career highlights."
8:54 a.m. -1/20/17
Disclosure: Station Casinos has donated to The Nevada Independent. You can see a full list of donors here.