Defending itself against complicated, high-stakes lawsuits has caused the Clark County School District's outside legal expenses to soar in recent years, topping $3.3 million in 2015, according to records obtained by The Nevada Independent.
The school district spent just shy of $300,000 in 2011 for legal counsel provided by outside firms. That figure increased tenfold over the next few years, reaching $3,307,301 in 2015.
The good news for taxpayers: Outside legal expenses appear to have dropped last year. Through Nov. 10 of 2016, the district had spent $1,660,231 for outside legal counsel, said Carlos McDade, the district's general counsel. The full amount for last year was not readily available.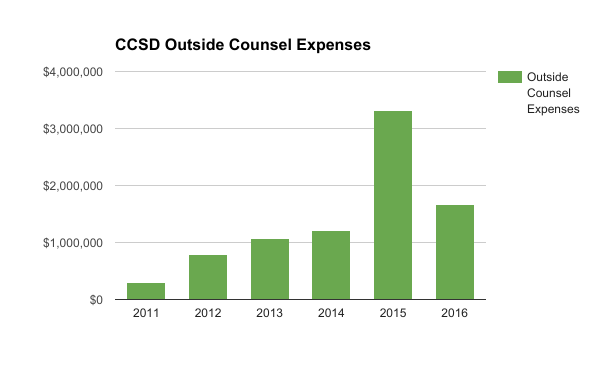 "As you can guess, there's no control over which cases are filed against us," McDade said Friday. "The cases that we've had since 2012 have become increasingly more complicated."
Some of the lawsuits against the district involved multiple employees and, because the district and employees had different interests to defend, the cases required the use of both internal and external lawyers to represent defendants, McDade said. The district's Office of the General Counsel contains 10 attorneys, and staffing has not changed despite bigger and more complicated litigation in recent years, he said.
One of the cases involving multiple employees was related to a 2009 drunken-driving accident that killed 24-year-old Angela Peterson. Kevin Miranda, the 18-year-old who was driving the vehicle that struck Peterson's car, had been drinking alcohol with employees of the school district's police department prior to the crash.
The victim's family sued the Clark County School District Police Department and several employees, triggering a civil case that wasn't fully resolved until last year. The Review-Journal reported that the school district paid $75,000 to the family as part of its settlement.
In recent years, the district also has been hit with other high-profile lawsuits related to allegations of bullying, staff misconduct with students and discrimination against employees, McDade said. The plaintiffs have sought — or are seeking — multimillion-dollar judgments in some cases; other cases are in federal court, where there is no limit on liability, he said.
"That makes the case more difficult to defend," McDade said, explaining the need for outside legal help. "There's more at stake."
The school district retained legal assistance from 10 law firms from 2011 through 2015. All the firms provided the district with discounted government rates and attorneys who live locally to work on the cases, McDade said. Those firms include, among others, Greenberg Traurig, Kolesar & Leatham, and Lewis Roca Rothgerber Christie.
Most litigation against the school district ends in a settlement rather than heading to a trial, McDade said. And when cases are frivolous, the district generally has success getting judges to dismiss them before they rack up steep legal expenses, he said.
To prevent litigation, the nation's fifth-largest school district has mandatory staff training each year on a variety of topics, such as driver safety, proper conduct with students, how to report bullying and civil rights, McDade said.
Despite the district's best efforts to prevent situations that could prompt litigation, new lawsuits inevitably find their way to McDade's office each year, he said. It's the nature of the beast for an organization — charged with educating more than 320,000 students — that has 41,000-some employees and thousands of vehicles under its purview, McDade said.
"Most of those employees come to work every day and do a great job taking care of the kids," McDade. "What my office does is deal with the few people who create litigation for us."
Money from the district's general fund covers expenses for outside legal help, he said.
CCSD Outside Counsel (2011 to 2015) by Jackie Valley on Scribd
Caption: The Clark County School District administrative offices on Monday, Jan 16, 2017. Photo by Sam Morris.