Thousands of miles away from the nation's capital, where Republican Sen. Dean Heller cast a confirmation vote Friday for the president's latest Cabinet pick, citizens gathered on a Las Vegas street corner with a variety of messages for him.
They want him to stand up against President Donald Trump.
They want him to protect funding for Planned Parenthood.
They want him to vote against any repeal of the Affordable Care Act.
And they want him to favor climate-friendly policies, among other issues.
Cheryl Keown, one of roughly 80 people who rallied at the corner of Rampart Boulevard and Alta Drive, said three issues compelled her to stand outside in the gloomy weather Friday morning: Trump's ethics, climate concerns and the uncertain future of the Affordable Care Act.
"The way to effectuate change is to focus on Dean Heller," Keown said, adding that she thinks he is probably a "good man" at heart. "When Heller realizes whose support is eroding, he will ultimately do the right thing."
A number of groups helped organize and spread the word about the rally, including Organizing for Action, For Nevada's Future, Planned Parenthood, Alliance for Health care Security and Progressive Leadership Alliance of Nevada, said Alicia Briancon, digital director at For Nevada's Future.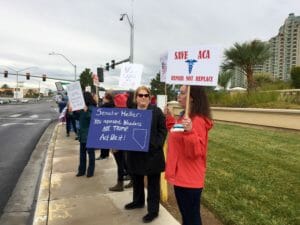 The gathering occurred shortly after Heller's vote helped confirm Oklahoma Attorney General Scott Pruitt as the new head of the Environmental Protection Agency. So far, Heller has supported all of Trump's cabinet and administration nominees.
Democratic Sen. Catherine Cortez Masto cast one of the dissenting votes, but the Republicans fueled Pruitt's confirmation with a 52-46 vote — despite a judge's ruling that the nominee must release next week 3,000 emails relating to his communications with oil, gas and coal companies. Democrats had tried to delay the vote on those grounds.
As a Republican senator from a state that turned blue in the November elections, Heller has been under pressure from constituents unhappy with his recent actions, including support for now-confirmed Education Secretary Betsy DeVos. Calls flooded Heller's office line, leading to this post Feb. 2 on his official Twitter account: "We are experiencing heavy call volumes in all our offices. Staff is answering as many as possible. Please continue calling to get through."
If Friday's rally is any indication, those calls may not be subsiding any time soon.
Las Vegas resident Seth Morrison said he called Heller's office multiple times to voice his displeasure with DeVos' nomination. Now, he's worried about the Republican senator voting for a repeal of the Affordable Care Act, which he says saves him about $2,000 a month.
Morrison transitioned from a full-time job to consulting work in 2010 and later enrolled in insurance coverage provided by former President Barack Obama's health care act. As someone with pre-existing health conditions, Morrison said he fears what might happen if Congress votes to repeal the Affordable Care Act.
"If he votes to repeal without a replacement, it will be royally screwing people like me," he said.
Linda Susan Ziskin, an attorney who owns her own law office and also receives coverage through the Affordable Care Act, urged the rally attendees to continue calling Heller's office and sharing their stories.
"He need to stand up to his caucus, and that's a hard thing to do," she said. But she offered this reason for why he might be inclined to do so: "He can't win in two years unless he has some Democrats voting for him."
The Nevada Independent reached out to Heller's staff for a response and did not immediately receive one.
Caption: About 80 people attended a rally Friday, Feb. 17, 2017, at the corner of Rampart Boulevard and Alta Drive to send a variety of messages to Republican Sen. Dean Heller. Photo by Jackie Valley.