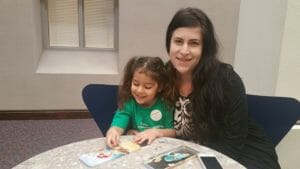 Emily Warren is a single mother raising her 4-year-old daughter, Bria, while also trying to improve their prospects by getting her master's degree in social work at UNLV.
But maintaining the full-time courseload, part-time job and internship she needs to graduate this summer comes at a hefty price. The bill for Bria's day care last year was almost $9,000  — so high that Warren has to take out loans to pay for it, live with her mother and sign up for food stamps to make ends meet.
"I paid less for my own tuition than for a toddler," said Warren, who was discouraged from seeking government help for the child care payments when she heard there was a two-year waiting list.
The energetic preschooler joined her mother and other child care advocates at the Legislature earlier this month to push for fixes in Nevada's patchy safety net for families. The state is among the least affordable in the nation for infant child care, which averages more than $10,000 a year.
The number of providers in the market is on the decline, exacerbated by low wages that average less than $11 an hour, and government help paying for it is exceedingly hard to come by. Families at 130 percent of the poverty level would have to pay 40 percent of their income to put a baby in child care and would be considered too wealthy for the state's subsidy program if they made any more money.
Lawmakers are exploring several routes to make life easier for working parents. That includes a tax credit for businesses that help their employees with child care and redirecting welfare funds to cover the growing costs of a subsidy program that has thousands of children on the waiting list.
But at the same time they're trying to cut the cost of child care, they're pursuing a goal that can be at odds with thrift: elevating early childhood programs into something far more than a room where kids plop in front of a TV and wait for their parents' shift to end. That means wider access to standards-based, high-quality pre-kindergarten and nudging child care centers to capitalize on the time they have with youngsters who are absorbent as sponges.
"We've looked at brain development and how much a child's brain changes from birth to five," said Patti Oya, director of Nevada's Office of Early Learning and Development. "If we miss that window, whether it's a language skill or a motor skill between birth to five years old, then really that child has a hard time catching up after that."
CHILD CARE SUBSIDIES HELP, BUT ONLY THE POOREST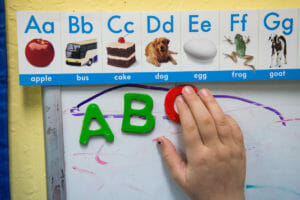 Nevada pools its money with the federal government to help its poorest families pay for child care, freeing parents to hold down a job and get back on their feet. But the $42 million-a-year grant that helps pay for subsidies is miniscule relative to the need: it serves a mere 2.3 percent of children who come from families making less than 200 percent of the poverty level (about $40,000 a year).
"So because there isn't enough money, those families go without," said independent Sen. Patricia Farley. "They either go on a waiting list or they don't even apply."
Families on the Temporary Assistance for Needy Families (TANF) welfare program are guaranteed a subsidy if they want it. While other low-income families are also eligible, those who make more than 130 percent of the poverty level can't even get on the waitlist.
"Right now it's pretty much 'special consideration.' It's for people that are homeless and have just despairing levels of special circumstances going on in their lives," said early childhood program director Marty Elquist of The Children's Cabinet, a Reno nonprofit that helps connect families with subsidies. "Then, they have to write to the childcare team at Division of Welfare and Supportive Services and plead their case."
As of December 2016, there were 7,671 children on the program, including 1,971 whose families are receiving TANF. But funding has hardly budged since the federal government approved the Child Care and Development Block Grant in 1996, in spite of inflation.
As of February, there were 2,256 children on the waiting list, according to the state.
Just to reach the national average and cover 6.3 percent of children who live below 200 percent of the poverty line, using 2015 market rates, Nevada would have to pay another $32 million a year.
"Right now Nevada is very cautious about opening up that waiting list because our funds," Elquist said. "We go through them very quickly because the need is so great."
FEDERAL MANDATES TIGHTEN THE SQUEEZE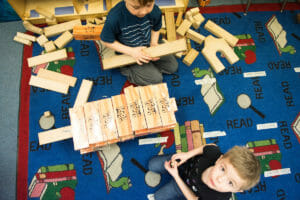 Congress revisited the child care issue in 2014 when it voted to reauthorize the Child Care and Development Block Grant for the first time in almost two decades. While the grant focused in the past on providing child care as a means to get parents working, the overhaul focused more on ensuring children using subsidies get high-quality care and education that can close the achievement gap between them and their more advantaged peers.
The updated legislation ushered in a host of new mandates — many that came without funding. That includes allowing families to stay on the subsidy rolls longer by reevaluating their income eligibility every year, rather than every three months. It also gradually phases out child care subsidies for families whose finances are improving — they can stay on the program as long as their pay doesn't exceed 85 percent of the state median income, which amounts to about $44,000 for a household.
"We were really caught up in the system that families were denying raises and they were denying increased hours," Elquist said. "They were denying these steps that would make them self-sufficient because the cost of childcare — for them to have to cover it — was way more than taking that raise."
The problem with letting children stay on the subsidy program longer is that fewer new ones can take their place. Without more of an investment, advocates say, families who can't access the subsidy might give up their jobs and go on public assistance.
Nevada plans to transfer more dollars from its welfare program this biennium to shore up its child care program, but even that will only cover inflation costs and won't increase capacity, state officials say.
"We're really only serving the families who are receiving welfare or TANF benefits," said Oya. "Those low-income, working families who aren't qualifying for subsidy really do have a difficult time trying to pay for quality care."
The federal legislation also requires states to give children on subsidies a similar quality of care as non-subsidy children, but that's not easy to do when Nevada is currently reimbursing providers at the 2004 market rates. Poorer families have little more to contribute to their child care providers than the amount the government offers, so they opt for cheaper, lower-quality centers.
Nevada may need to bring its reimbursements up to 2015 market rates to comply with the federal legislation. That would mean, for example, that the state would have to start paying a child care center in Clark County $48 a day to care for an infant, up from the $31 per day it's paying now.
If it were to start paying those newer, more generous rates just for the children already in the subsidy program, the state would need to pony up another $10.3 million a year.
To get around a huge lump sum like that, the state is implementing a graduated payment scale that allows child care centers to get the 2015 market rate for subsidy children only if they get five stars on the state's new ranking system. Programs with lower ratings — which is almost all the programs right now — get a smaller fraction of the payout.
CHILD CARE'S A ROUGH BUSINESS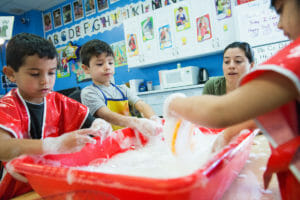 Those trying to fix Nevada's child care shortcomings face a tough financial reality: the cost of putting a child in daycare can be crushing for a family, but the workers at the centers themselves are often barely making enough to get by.
That contributes to a shortage of providers that appears to be getting worse. Overall licensed child care capacity in Nevada has fallen 11 percent from 2008 to 2015.
"Right now we don't see too many childcare facilities opening up because there is no money," said Farley. "Potentially, if you show there is a funding stream by the state, we may see quality daycares come in and start opening up."
About two-thirds of Nevada children under the age of 5 live in a household where all parents work. The number of slots in Nevada's child care system cover only about 22 percent of that need, according to an analysis by The Children's Cabinet.
Child care work isn't very well paid. The average wage for an early childhood teacher working in a licensed setting in Nevada is $10.75 an hour, or $22,880 a year. That's $7,535 less than Nevada's median income.
"They should make more. They have one of the toughest jobs in the world," Elquist said. "Somebody's got to absorb those costs. What that looks like, I don't know. All I can say is teachers deserve more and they deserve much more than $15 an hour, but parents can't burden that cost."
The annual employee turnover at a child care center is 22 percent. Some workers are young and see it as a stepping stone to something else.
"Sometimes when you have those kinds of working experiences, it causes you to think of other professions like going into social work or teaching," said Democratic Sen. Joyce Woodhouse.
Only 13 percent have a bachelor's degree or higher. With low wages, it's a challenge to keep highly educated employees, but they're a key part of a plan to elevate the profession.
"It is difficult to find childcare providers who go to school, get a bachelor's degree in early childhood and want to stay in a child care center," Oya said. "They generally want to go work at the district pre-K program, for example, where they'll get the benefits and the pay that kind of align with that."
IMPROVING CHILD CARE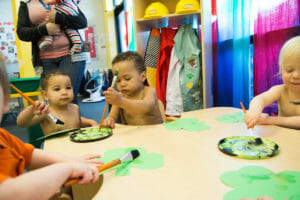 Nevada's embarking on a mission to improve its child care centers through the Quality Rating Improvement System (QRIS), which ranks facilities using a five-star scale. Child care centers now must participate if they're taking children on subsidies, but even those that don't are encouraged to sign up and perfect their craft.
"If you're a licensed child care provider, they look at the basic health and safety of the center ... 'quality' generally looks at things above and beyond that," Oya explained. "Quality care versus poor care — and there's quite a bit out there — really does make that difference in a child's ability to be school-ready."
Coaches visit the centers and offer critiques on everything from an employee policy manual to finding a room arrangement that promotes good behavior. After 18 months of coaching, providers get a star rating.
"Sometimes it's as simple as really good proper handwashing techniques or cleaning the toys well, all the way to how the room is set up," Oya said. "Our biggest concern, obviously, is teacher-child interactions because that makes the most difference. How are teachers talking to children? or are they kind of just directing them: 'Stop running. Sit down.'"
While 45 percent of Nevada licensed child care programs, or 185 individual programs, are participating in QRIS, just six have a 5-star rating. Seventy-five programs are in the initial coaching period and aren't rated, while another 61 are waiting for QRIS coaching.
Some programs reach even higher — for national accreditation. Fifty licensees have a national mark such as accreditation from the National Association for the Education of Young Children.
Centers that earn that distinction must use a curriculum, assess children's learning and employ a highly educated staff.
A SAFER ENVIRONMENT
Concerned that bad actors can slip through the cracks and take advantage of the high demand and low supply of child care, some lawmakers are pushing for more providers to get background checks. Sen. Joyce Woodhouse is ramping up checks for licensed providers through her bill SB189, and Democratic Assemblywoman Amber Joiner is targeting unregulated, small-time providers who take care of four or fewer children.
"We specifically tried to just make it for people who are running daycare centers essentially out of their homes," Joiner said about her bill, AB346.
The informal child care sector includes people who might be taking care of a handful of neighbor children and may not even make enough money to require a business licenses. State officials have no clear idea how big the industry is; Joiner's bill requires small-time providers to register with the state and could help officials get a better grasp on it.
Joiner said she strived to ensure the provisions aren't too heavy-handed for people just trying to find care.
"There are exemptions for family members. And, if you've seen the bill, we're not trying to stop people from helping friends for short term," Joiner said. "But there are a certain number of days that they have to be watched, for profit, not in their own home, who are not family members."
But there's history of smaller providers pushing back on child care regulations. A similar background check bill Woodhouse introduced last session session died amid concerns that it would put them out of business.
She hasn't heard that kind of pushback this session yet.
"Maybe we're all realizing that our children are precious, so they (should be) safe in these locations," Woodhouse said.
MAKING CHILD CARE MAKE SENSE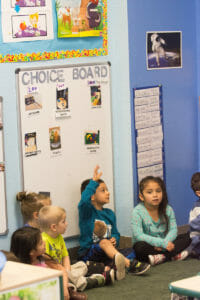 With subsidy funds so scarce, some lawmakers hope to persuade businesses to carry more of the child care burden. Farley and Democratic Sen. Pat Spearman are sponsoring legislation that would give businesses a state tax credit if they kicked in money for child care.
"It's my belief that the government needs to do less and the community needs to do more," Farley said. "So technically if we have this problem with our workforce, the business owners need to be participating."
Companies such as Patagonia, which offers on-site child care, have an easy time recruiting and retaining workers because of the perk, Farley said. It's possible because they leverage tax write-offs that many companies probably aren't aware of.
"The problem is businesses aren't educated on family friendly work environments," she said.
But the benefits are lower turnover, reduced costs for retraining, and employees who miss less work and do their job better because they're closer to their children, said Spearman, who's bill gives employers a credit of up to $2,500 per employee, per year.
"Imagine what happens if you have employers who say, it's $2,500, but I'm going to do this because that means that I have my employees at work and they're not worried about their kids," Spearman said.
Critics worry the state could end up giving out too many tax credits and throw the budget out of whack. They've suggested a cap, and perhaps limiting participation to people who are at 85 percent of the poverty level so limited resources get to the people who need it most.
MAKING THE CASE
While programs for the youngest Nevadans have long received short shrift in the budget, proponents hope to increase the investment by appealing to policymakers' pocketbooks.
They point to research by Nobel laureate James Heckman that found that high-quality birth-to-five programs delivered a 13 percent per child, per year return on investment through better academic performance, health and social behavior. That in turn can reduce taxpayer costs and prepare a stronger workforce.
Nevada is starting to implement the Infinite Campus software in its child care centers in hopes of better tracking the performance of students who get services during their most formative year and making a more direct case for early childhood spending. It's easier to build stronger children than fix adults, advocates say, but it also doesn't bring instant gratification.
"I think we all do such a lousy job investing in our future, even our own futures," Elquist said. "People don't even invest in their own retirement, let alone make decisions as a society to invest in our kids. Because that is our retirement."
"We need to be healthy as a society, and it starts with birth to five," she said.
LEGISLATION ON CHILD CARE:
The following are some of the child care-related bills introduced so far in the 2017 legislative session:
SB46 - Aligns Nevada law on background checks for child care providers with federal changes from 2014 Child Care and Development Block Grant. Adds more offenses to the list of those that disqualify someone from working at a child care facility. Proposed by the Department of Health and Human Services.
SB147 - Authorizes up to $2,500 per employee, per year in tax credits for businesses that help their employees with child care. Sponsored by Democratic Sen. Pat Spearman.
SB189 - Ramps up background check requirements for child care providers, adds to the list of crimes that can disqualify someone from working there, increasing child care worker training requirements. Sponsored by Democratic Sen. Joyce Woodhouse.
SB102 - Allows concealed carry permit holders to keep handguns in secured cars at child care facility. Sponsored by Republican Sen. James Settelmeyer.
AB186 - Requires all Nevada public schools to maintain a pre-kindergarten program. Sponsored by Democratic Assemblywoman Olivia Diaz.
AB200 - Requires parents are notified when a child at a child care facility is skipping immunizations. Sponsored by Republican Assemblywoman Melissa Woodbury.
AB346 - Requires background checks and state registration for people providing child care to four or fewer children. Sponsored by Democratic Assemblywoman Amber Joiner.
Feature photo: Children play at the Sierra Nevada Academy Charter School preschool on March 14, 2017. Photo by David Calvert.