By Riley Snyder and Megan Messerly
Senate Democrats have introduced a bill to raise the minimum wage in Nevada to $12 over a five-year period.
The bill, which was introduced on Monday as SB106, would incrementally raise the state's minimum wage by 75 cents a year for five years until it reaches $12 an hour for employers who don't offer their employees health insurance or $11 an hour if they do.
The state's current minimum wage is a tiered system of $7.25 an hour or $8.25 an hour based on whether or not the employer offers health insurance. That current wage was set in place via a constitutional amendment passed in 2006.
Senate Majority Leader Aaron Ford promised in a floor speech on Monday that Democrats would raise the minimum wage in 2017.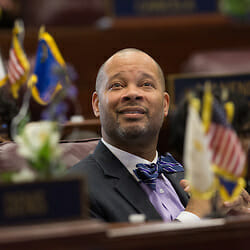 "Back then, I was a teenager working to buy a pair of Jordans," he said, referring to a past job at a Dallas Burger King. "Now, too many minimum wage workers are trying to raise teenagers named Jordan."
Speaker Jason Frierson also touted the importance of establishing a "living wage" in a speech to the Assembly Monday morning, along with a host of other programs to create economic security.
"We have to create that economic security for families by addressing the need for a living wage, paid family leave and a continuation of the efforts to diversify our economic opportunities with new high tech and clean energy jobs," Frierson said.
Gov. Brian Sandoval's spokesman Mari St. Martin said in a statement Tuesday afternoon that the governor would not comment on specific legislation until it undergoes legislative review but that he has "historically opposed" legislative attempts to increase the minimum wage.
"Due to the predicted loss of jobs and harm to small businesses, the potential to block young people and individuals with less work experience from open positions, and an increase in consumer prices, the Governor has historically opposed a legislative mandate to increase the minimum wage," she said in the statement. "The Governor believes a better strategy to raise wages is an investment in workforce development and education programs which have proven success and also increase household prosperity."
12:00 p.m. This story has been updated to correct the Burger King that Sen. Aaron Ford previously worked at. It was in Dallas, not Houston.
4:52 p.m. This story has been updated to include a statement from Gov. Brian Sandoval's office.