They dream of staying in the United States, these youngsters who arrived here as children, undocumented through no fault of their own. They grew up without knowing of any walls or any borders.
The Spanish-language version of The Nevada Independent will publish interviews with three young DREAMers from Las Vegas, who provide insight into their lives before and after the recent immigration measures imposed by the federal government.

This is the second interview in the series, this one with Karla Rodríguez, Citizenship and Naturalization organizer at the Progressive Leadership Alliance of Nevada (PLAN).
There is determination behind the words of Karla Rodriguez as she speaks about the future she wants for herself. At 22, and covered under the DACA policy, she knows that the journey that began when she was brought to the United States is not over yet.
She arrived in Las Vegas from Guadalajara, Mexico. What she remembers most from her childhood is learning how to ride a bike. Then a memory flashes before her eyes of when her family gradually began coming to this country. She was 10 years old and was undocumented.
The change was drastic, and she felt it on her first day of school.
"I arrived here and began fifth grade. They put me in a class where nobody spoke Spanish. It was very scary," she remembered. "That same day they moved me to a class where everyone spoke Spanish. When I think back about that, I now ask myself "Hmm, why were we all separated?" It took her a little less than a year to learn English.
The dreamers
Despite her age, Rodriguez knew she had no Social Security number nor the benefits of being a U.S. citizen. It wasn't easy to call herself a DREAMer.
"I thought that the DREAMers were children who came here when they were six months old. It took a long time to tell myself that I am a DREAMer, because on television it always showed that there were children coming here when they were six months old, where the only country they had ever known about was the United States and they didn't speak much Spanish," she said.
Rodríguez began to identify herself as being a part of that group when, through social networks, she found out about PLAN, the Progressive Leadership Alliance of Nevada, a progressive activist group founded in 1994. She was drawn to the fact that they were making calls in support of the DREAM Act and decided that, if she wanted to receive its benefits, then she had to come on board.
She graduated from high school, started studying at the College of Southern Nevada, and since 2012 she has been a volunteer at PLAN.
"That made me feel like I had a little bit of power," Rodríguez said. "I could not vote, but I could do something for my community."
From out of the shadows
The rollercoaster of life does not discriminate by age. Despite her youth, Rodríguez is once more facing changes that will affect her future.
One of the biggest ones came November 2016 — the day of the elections.
"After knowing that someone who doesn't have anything good to say about immigrants was going to be the new president, I got very scared," she said.
Rodríguez said that after talking to a teacher when the elections were over, she regained hope.
"She told me not to give up, we've been through worse things."
It has also been difficult to see her plans come to a halt. Rodríguez wanted to get a doctorate and someday become a teacher. Despite her current immigration circumstances, she decided not to remain silent and instead to pin her name to her convictions.
"We have to fight. If we always stay within the shadows, nothing will ever happen. It is important that we all fight for our families and for our rights," she said.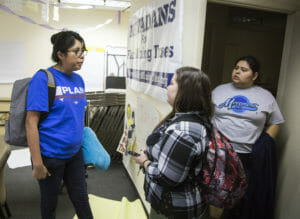 This was exactly what she did on March 15, when she traveled to Carson City with other PLAN members, fast food workers, immigrants, students and environmentalists as part of Action Day 2017. They met with legislators to push for their priorities in the current legislative session, including raising the minimum wage, keeping immigrant families together and protecting the environment.
"We want to ask our elected officials to support some of the current bills, such as some of those of Senator Cancela or Assemblyman Flores, who have both drafted bills to protect the immigrant community," she said.
One of those bills is AB142, presented by Edgar Flores, Democratic Assemblyman for District 28 in Las Vegas. The bill would help unaccompanied minors get federal immigration relief.
Another bill related to the immigrant community is SB223, presented by Yvanna Cancela, Democratic State Senator. The bill sought to restrain police agencies from doing immigration enforcement tasks.
Now, determined as ever, she continues the life that began at the age of 10. She yearns to study literature at the University of California in Los Angeles or to City University in New York.
Karla Rodríguez has not stopped dreaming.
Feature photo of Karla by reporter Jeff Scheid.