Former Nevada Assemblywoman Michele Fiore, who's vying for the Ward 6 council seat in Las Vegas, set the record straight Wednesday morning about why she opposes sanctuary cities.
It's about keeping criminals out of Las Vegas — not deporting undocumented immigrants who are leading honest lives, she said during an event hosted by the Las Vegas Latin Chamber of Commerce. The chamber's president, Peter Guzman, moderated the half-hour discussion.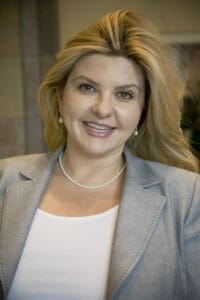 "The chick that got deported because she fraudulently forged checks and she has got two kids? Too bad. She committed a crime. She's a criminal. She's out," Fiore said.
As for undocumented immigrants who are living here and not committing crimes, Fiore said they should feel safe. She dismissed the notion that Republicans want to deport anyone residing in this country illegally. "We're not arresting you and we're not sending you back," she said.
Her remarks come less than a month before early voting begins for the city's primary election April 4.
Fiore, a colorful Republican politician who has earned a reputation as someone not afraid to speak her mind, is running against nine other candidates for the Las Vegas City Council seat representing Ward 6, which covers the northwest part of the city. Her competition includes Kelli Ross, wife of current Ward 6 Councilman Steve Ross, and Chris Garvey, a Clark County School Board member.
Fiore said her priorities include making the city safe and attractive to small-business owners, the latter of which hinges on less taxation and regulation. She also wants to see smaller class sizes within the Clark County School District and more affordable housing downtown.
Fiore touched on her working style as well and said she intends to surround herself with people who come from different backgrounds or harbor other viewpoints. Those people will serve as trusted counselors, so to speak, and help guide her decisions.
When asked about her relationship with the Latino community, Fiore described it as "fabulous."
"What I definitely will say to folks is watch me, watch our team and watch what we do and accomplish," she said. "Because it's all about you and not about me."
Fiore also called Ward 6 a "sweet, red spot" in the city that consistently votes for Republican candidates. If residents aren't familiar with her, Fiore said her door is always open — in fact, she prides herself on being viewed as an accessible politician who frequently serves pasta, wine and cannoli at her house.
"When you come to my house, you eat pasta with me, you drink wine with me," she said, clarifying in her signature light-hearted way the she serves nonalcoholic beverages as well. "I'm as real as it gets, you guys. Period."
Caption: The Las Vegas Latin Chamber of Commerce on Wednesday, Feb. 22, 2017. Photo by Jackie Valley.