A rebound in the hospitality sector, driven primarily by jobs in food and drink businesses, accounted for about 80 percent of the job growth in Nevada from March to April — and that was before counties were handed control over COVID restrictions and broader reopening kicked in in May.
The Nevada Department of Employment, Training and Rehabilitation (DETR) reported this week that the state notched an 8 percent unemployment rate in April, slightly down from 8.1 percent in March but still above the national rate of 6.1 percent. That's after adding 17,100 jobs over the month, about double the gains typical this time of year and the biggest increase since last September.
"This month's employment gains were led by accommodation & food services, concentrated in the Las Vegas area as restaurants and hotel casinos ramp up hiring as the COVID-19 restrictions are eased," wrote David Schmidt, chief economist at DETR. "Despite this encouraging news, employment remains down nearly 134,000 jobs from pre-pandemic levels."
Other bright spots for job growth include the construction industry in Reno, where high demand for housing has rapidly pushed prices up, and the manufacturing sector in Las Vegas.
The agency nodded to the fact that the labor force participation rate — which includes people who are either working or actively looking for work — remains low, at 62 percent instead of the nearly 65 percent just before the pandemic hit. But officials did not jump into the fraught discussion about why.
"While there are many factors prohibiting a full economic recovery, many Americans have different presumptions on what those factors might be," said an agency report issued on Thursday. "Because the labor market is the product of many individual decisions, the reason for low labor force participation rates are complex."
Relative to other states, Nevada had the sixth highest unemployment rate in March, with Hawaii, New York, Connecticut, New Mexico and California worse off.
Jobless claims activity is ticking down, with 223,888 claims filed through the four unemployment programs last week — down more than 6,000 from the previous week. The number of claims being filed is equivalent to about 14 percent of the state's labor force.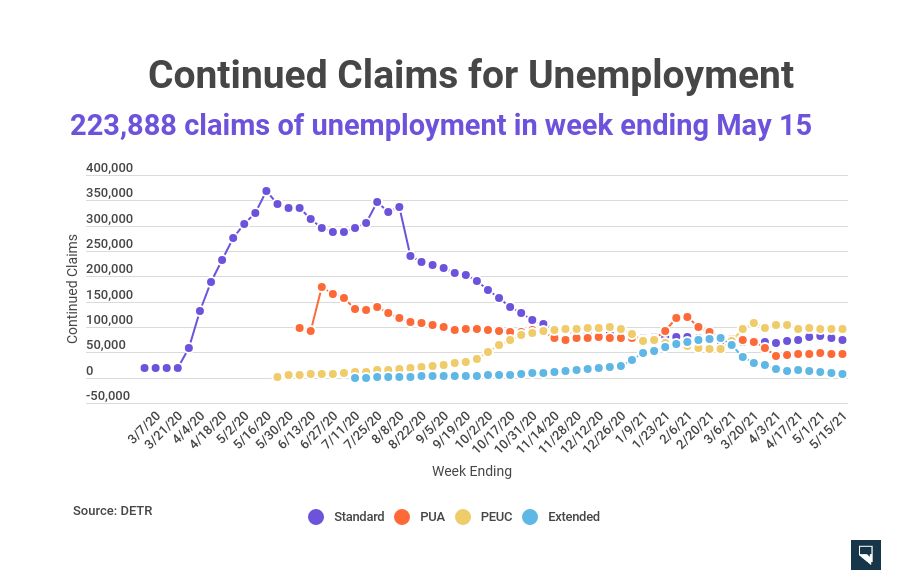 Unlike 22 other states that are led by Republican governors, Nevada has no plans to withdraw from federal programs that are supplying most of the state's unemployment dollars, according to Democratic Gov. Steve Sisolak's office. But the state has reinstated its requirement that claimants search for work to qualify for benefits; DETR estimates that about 90 percent of applicants have completed the work search process successfully.
Initial claims from the newly unemployed are noticeably down. In the most recent week, there were 4,178 regular initial claims filed — the lowest number since before the pandemic began — and the number of Pandemic Unemployment Assistance (PUA) initial claims fell to 288. It's the seventh straight week with fewer than 400 new PUA claims filed in Nevada and a sharp drop from a peak earlier this year when nearly 112,000 claims were filed with the program by gig workers and the self-employed in a single week.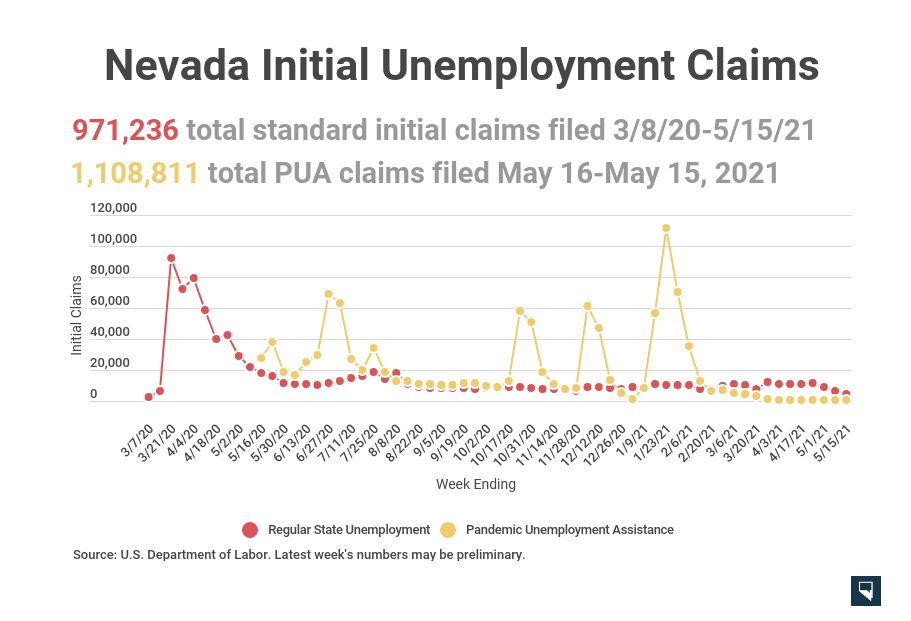 In a sign of the times, DETR announced that this weekend will be the last that its PUA call center will be open on a Saturday. The agency is discontinuing the half-day service hours and limiting its services to weekdays.
That's not to say all problems at the agency have been resolved. DETR reported that as of last week, there were 1,864 regular unemployment appeals pending review, which are projected to take about two months to clear.
Another 24,050 appeals in the PUA program need to be reviewed before they can proceed to the full appeal process.
Meanwhile, lawmakers are moving forward with plans to modernize the unemployment system so it's better equipped to handle any future crises. While they shut down a Republican bill seeking to improve DETR, Democratic leaders this week introduced a bill, AB484, that will allocate $54 million to the system — contingent on the federal government providing money allowed for that purpose.
For regular updates on the state's financial picture, check out the Nevada Recovery Dashboard on our site.