As in sessions past, The Nevada Independent is publishing a series of profiles featuring new state lawmakers. This is the thirteenth installment in the series. Check out our other profiles for additional stories on new legislators' backgrounds, interests and policy positions.
Freshman Democrat who succeeds Assemblyman Tyrone Thompson (D-North Las Vegas), a four-term assemblyman and longtime education advocate who passed away while in office in 2019
Represents District 17, located in North Las Vegas
District 17 leaned heavily Democratic (48 percent Democratic, 21 percent Republican and 25 percent nonpartisan) in the 2020 election
Thomas ran unopposed in the 2020 Democratic primary and then defeated Republican Jack Polcyn in the general election with 66.2 percent of the vote.
She will sit on the Government Affairs, Health and Human Services and Legislative Operations and Elections committees.
FAMILY AND EDUCATION
Thomas came to Southern Nevada in 1982 while she was serving in the Air Force as an air traffic controller. After 20 years of service, she retired and decided to settle in Las Vegas. Thomas then pursued higher education, working two jobs to put herself through school and raise her two children.
Thomas holds an associate's degree from the College of Southern Nevada and earned a bachelor's in psychology and then a master's in public administration from UNLV. In her free time, she enjoys babysitting and spoiling her grandchildren.
CAREER
An Air Force veteran, Thomas now works as a court clerk in the Clark County district attorney's office and is a member of the SEIU (Service Employees International Union) Local 1107.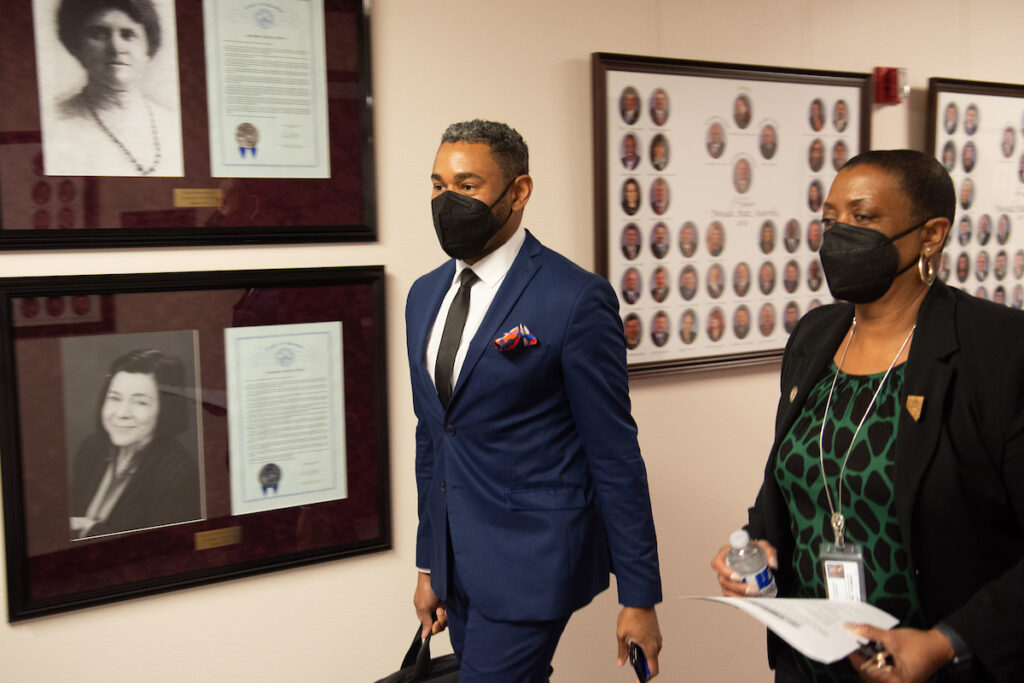 PROFILE
When Thunderbirds fly across the sky, jet streams trailing behind, Thomas said she feels a sense of pride, duty, excitement and hope.
A retired air traffic controller with the Air Force, Thomas said that the feeling of watching Thunderbird flyovers is how she describes the feeling of the start of the 81st legislative session as a first-time lawmaker.
Thomas never intended to run for political office. She loved spending time with her grandchildren, working as a member of several Democratic Party groups and as a volunteer with various organizations, including the Rape Crisis Center of Southern Nevada.
But that all changed after Assemblyman Tyrone Thompson unexpectedly passed away during the 2019 legislative session.
Suddenly, a larger-than-life figure who supported legislation prioritizing education, homeless people and veterans was gone, leaving behind a gaping hole that needed to be filled, Thomas said.
"He was promoting all of these things, making us aware and bringing everything to the forefront, especially education … I was extremely concerned," she said.
Thomas said she hoped that someone would run to fill the empty seat, but after a few months of waiting and asking leadership whether someone had decided to run, the answer remained the same: no one was coming forward.
"I was like ... if no one steps up, I'd like to step up. And from that point, I threw my hat in the ring," Thomas said.
Though there are many areas that Thomas wants to focus on, she said she is prioritizing health care, education and veteran's affairs.
"I'm a vet of 20 years, and I think that it's important for us to pay back our veterans," Thomas said. "I work around the courthouse and to see the homelessness and knowing that a lot of them are vets — breaks my heart."
With ongoing discrimination and educational disparities based on race or socioeconomic status, Thomas said she also wants to create a better future for her grandchildren and other young people and be part of a state that is setting a historic precedent.
"We're making a name for ourselves, this little state that people took for granted," Thomas said. "We elected the first Latina senator ... Cortez Masto. Jacky Rosen. It's Susie Lee, Dina Titus .... women that are going forward and making our country what it should be."
To create effective change, Thomas said she and other legislators are going to have to work together.
"I'm one of those believers that in order to get anything done, you actually have to have a cohesive group," Thomas said. "Everyone doesn't believe the same thing, but as far as our politics is concerned, we have different religions, we have different ways of raising a family, but collectively we come together for the betterment of a group."
One of Thomas's favorite areas of study is history because it holds lessons for the present moment. She said that she is looking forward to bringing her expertise and knowledge to the table, learning from other more experienced legislators and making decisions to help the state.
"I'm just excited to be there and to work and to just forge ahead and make things better for people that are in dire need right now because we have a lot of people that are in dire need."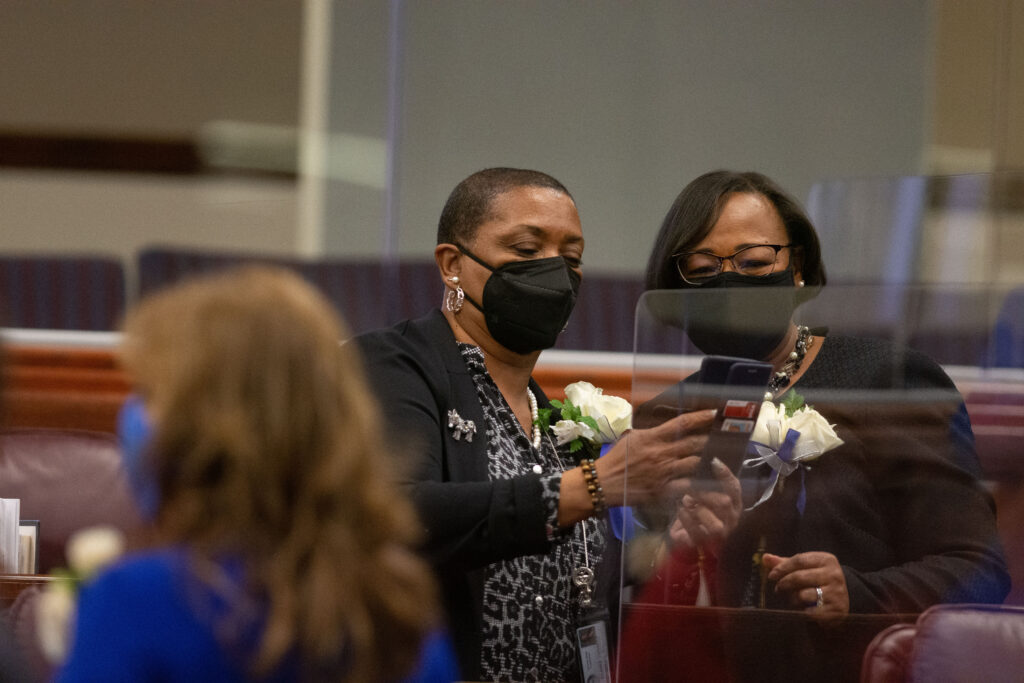 ON THE ISSUES
Early childhood education
One of Thomas's priorities is increasing access to early childhood and pre-kindergarten education.
"I believe in early education. And my group of kids that I adore are from the ages of two and four, because they are like sponges and they tell you what's on their mind because they don't know any different, they only know truth," Thomas said. "And I love that."
Affluent families can afford to give their children early educational opportunities. Children from lower-income families often do not have access to that and are therefore disadvantaged before school even begins, Thomas said.
"Our children deserve no less [than early education]," Thomas said. "Every child in every state of the union deserves to be educated and be competitive because as time goes by, we need to be competitive with the rest of the world. Just that simple."
Criminal justice reform
Thomas said she remembers teaching her son what to do if a police officer approached him, warning him that if an officer ever told him to do a jumping jack, then he was going to do a jumping jack.
"Why am I telling my son that? Why am I feeling that my son, when he goes out, that he has to be more compliant to an officer … why is he different?" Thomas said.
Though she did not discuss any specific reform measures, Thomas said she is following legislation around criminal justice reform and looking for ways to increase equality.
Election reform
Thomas applauded the state's ability to increase access to voting and successfully carry out an election amid a pandemic.
"We had a record number of people voting in the state. That's something that's great," Thomas said. "We had young people, 18, voting, out there getting their family members to vote who never vote."
She said that claims of voter fraud have not been supported in court and using mail-in voting increased people's opportunities to participate.
"That's something that we should have been doing for years and being a military member, we voted that way … so why was that fraudulent? It wasn't," Thomas said. "I'm proud of the fact that Nevada's secretary of state, who's a Republican, just embraced that, our local leaders embraced it and we made it work."