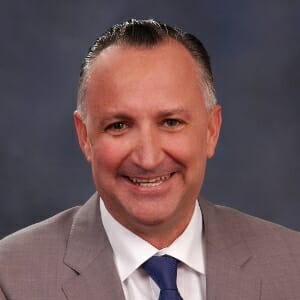 ASSEMBLYMAN CHRIS BROOKS
Freshman Democrat who succeeds Republican Shelly Shelton, whom he defeated in the general election.

Represents District 10 in Las Vegas near the intersection of Interstate 15 and U.S. 95.

District 10 learns heavily Democratic (49 percent Democratic, 23 percent Republican and 22 percent nonpartisan in the 2016 election.)

Brooks defeated Democrat German Castellanos by 43 points, or 885 votes, in the primary election.

He defeated Shelton by about 27 points, or 4,637 votes, in the general election.

Sitting on Commerce and Labor; Government Affairs; and Natural Resources, Agriculture and Mining.
FAMILY AND EDUCATION:
A fourth-generation Nevadan, Chris Brooks was born in 1972 in Las Vegas, the son of an electrical contractor and a seamstress who sewed costumes for shows on the Strip. He's spent most of his life in and around his district, where his kids, his parents and grandparents have all lived at some point as well. His grandparents initially moved to Nevada from New Mexico to work at the Nevada Test Site, his grandfather working as a construction engineer. His other set of grandparents moved to Nevada in the early 1950's to do electrical work. He is married to Michelle White, former deputy state director for Hillary Clinton's presidential campaign in Nevada, and has three children: Arielle, Alan and Calvin.
CAREER:
Brooks says he has known he wanted to work in energy since he was a kid and that's all he's ever done — from electrical distribution to gas pipelines to renewable energy. He is currently an energy consultant at his own consulting firm, Brooks Consulting. He founded Las Vegas Solar Electric, where he worked from 2001 to 2004, was executive vice president of Valley Electric Association from 2014 to 2015. He was also on the Nevada Renewable Energy and Energy Conservation Task Force as a solar industry representative from 2007 to 2009. He received the AFL-CIO's contractor of the year award in 2009 and is a member of the International Brotherhood of Electrical Workers.
ON NEVADA AND THE ISSUES:
What about Nevada are you proud of? Does anything embarrass you about Nevada?
It's almost the same answer, right? The thing I love the most about Nevada is we have this really unique independence and a unique ability to just allow folks to reinvent themselves. You can be successful in this state regardless of your background or regardless of the economic situation you find yourself in. Nevada allows you to be successful. It creates opportunities. One of the things that, I don't know if I would say embarrassed, but one of the things we need to work on is that independent spirit is what makes us so different from other states and it also makes us a little behind the times on a lot of issues. A lot of our government is behind the curve on some issues. I think there are a lot of areas in the state of Nevada that show that and that's one of the reasons why I wanted to represent Assembly District 10 and be a legislator in the state of Nevada is because we really need to get with the times on some things and modernizing energy policy was one of the things I recognized from my point of view that could really help us move forward.
What are your top priorities in the 2017 session?
Based on my area of expertise and my background I want to focus on modernizing Nevada's energy policies and that goes hand in hand with the other priorities I have which are diversifying the economy in the state of Nevada through modernizing our energy policies and by doing that we create opportunities for working families here in Nevada. Taking care of our children, getting them the best education they possibly can have, and providing opportunities for all Nevadans to make a living wage, that's my priority. I think all three of them go hand in hand.

We've done a good job I think of putting renewable energy and the clean energy economy on the forefront of our priorities and I think that it's time for the next chapter and so prioritizing our resources that we have here in the state which are renewable resources. Sun, wind, geothermal, putting them first and putting Nevada energy producers first I think is something that we can do here in the state, we can expand upon. We're a leader in renewable energy, we're a leader in solar. I don't want to lose that position and I think as a state we can't solidify that position and keep on growing.
Should we raise taxes, and under what circumstances?
We need to approach every budget process every legislative session looking for efficiencies, looking for places we can do things better, looking for places where we can maybe spend less money and then identifying areas of the state budget that need more funding, I'm sure there are several. We need to always be looking to be a more efficient, leaner government, but where we're falling short we need to make that up. I wouldn't be opposed to taxes if that were what we needed to keep the government working.
Where might we need to expand or reduce the budget?
There's a lot of folks here in Nevada and a lot of folks in my district that need some help. When I think about things like mental health and public education I think we can always do better.
How do you plan to diversify Nevada's economy and create more jobs?
I have a unique background in that I, as a result of really good policy from the state of Nevada over a decade and a half ago, I was able to create one of the first solar utility companies in the country and I did it right here in Southern Nevada. There were some great policy decisions made by this Legislature years and years ago that created an environment where a new industry, a fledgling industry like the one I got involved with and the company I started where it could succeed. I think that we should expand upon that and look to replicate that to other industries. There were procurement targets, there were portfolio standards, there were tax abatements available for creating good Nevada jobs that were based on the performance of these projects that I thought were incredibly successful. I want to continue to work on those while I'm here and also see if we can replicate some of those successes to other industries while potentially learning from some of our mistakes. In your attempt to lure industries to different states sometimes the policies miss their mark. We can look back on some of the things we've done and hopefully learn from them.
What should we do next on solar?
My personal goal is to see us expand the use of renewable energy and solar being one of those types of renewable energy and through maybe expanding our portfolio standard the requirements for Nevada to purchase or produce renewable energy in the state, but also from a business standpoint to provide some consistency and a long term plan for the state of Nevada that lets industries here in the state but also industries that are looking at locating in the state of Nevada that lets them know where we're going and what our commitment to renewable energy is, so a little bit of long term stability and consistency is what I think the industry wants to see, and I think it's something we can do as a state.

One of the first steps is that, for instance, the Nevada Assembly created through Commerce, Labor and Energy an energy subcommittee, so one of the first things the speaker did was create an energy subcommittee and I'm privileged to be the chair of that Energy subcommittee, so we are going to take energy issues incredibly seriously. We're going to build upon a lot of the great successes we've had here in the Legislature that have come out of the Governor's Office of Energy and some of those recommendations. We're going to build upon those and expand upon that and move forward with just prioritizing energy policy.

I just know that I have an extensive background in energy and in renewable energy and I would love to be able to lend that expertise to this process. By working with an energy subcommittee I think that's a great way to do it.
What should Nevada's next step be on the stalled Education Savings Account program?
That's a tough one. Obviously I don't think I necessarily agree with the methods, with the program, school choice, as it currently exists and what was done in the last legislative session. But what I do understand is that there is a tremendous amount of frustration with parents that are just trying to find the best education for their kids. I think we need to keep all of our options on the table and I think we need to really spend some time this legislative session finding creative solutions that take care of all of our kids and don't necessarily put one child above another in finding those solutions. But honestly I look forward to working with the folks in this building that really know this issue a lot better than I do to find those solutions. I think we should look for every opportunity we can to provide as many options to parents as we can but not at the detriment to other students in our state.
What should Nevada's minimum wage be?
I absolutely think it should be raised and I think that across the board that folks that are working for minimum wage right now need to have a wage that allows them to live with dignity and allows them to try to raise themselves out of poverty. I don't know what that number is. I don't know that it's the same for every industry. I don't know that it's the same for every place but it definitely needs to raise. We need to do what we can to make sure that such a large portion of our population in Nevada that is struggling so hard has a fighting chance to succeed here in the state. Almost everyone in my district agrees it needs to be raised. What that dollar amount is is yet to be determined based on what industry can support. We need to make sure we're taking care of the small businesses that employ the folks that are earning this minimum wage so they are healthy and successful so they can maintain that employment and continue to hire folks in our state. that will be a balance that hopefully we can find. At the end of the day working Nevadans absolutely need a raise.
Will you work across the aisle, and on what issues?
Every issue. I know that kind of sounds a little generic but I mean that. I think that we have a unique, not only the folks I've known up here for years but the new folks coming up in this freshman class, we have a unique ability here in the state and especially with the good people we have in this Legislature this year and years past as well that we have a unique opportunity in Nevada that doesn't exist in some states and definitely doesn't exist in the federal government where we can work with each other because at the end of the day everyone I've met throughout this entire process has the same goal in mind and that's to have a better Nevada. Sometimes we disagree on how we get there but I believe that everybody in this building has the same goal.
This interview has been edited for length and clarity.