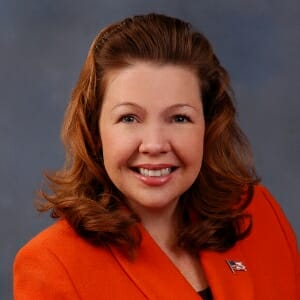 ASSEMBLYWOMAN SHANNON BILBRAY-AXELROD
Freshman Democrat who fills open seat of one-term Republican Assemblywoman Victoria Seaman, who made an unsuccessful bid for the state Senate.

Represents District 34, which straddles Summerlin Parkway and lies mostly to the west of the U.S. 95.

District 34 leans solidly Democratic (44 percent Democrat, 29 percent Republican and 21 percent nonpartisan in the 2016 election).

Bilbray-Axelrod narrowly defeated businessman Zach Conine and Manny Garcia in a crowded Democratic primary.

Bilbray-Axelrod won 59 percent of the vote in the 2016 general election against Republican Matt Williams.

Serving on

Government Affairs; Legislative Operations and Elections; Transportation

committees in the 2017 session.
FAMILY AND EDUCATION:
Shannon Bilbray-Axelrod is a third-generation Nevadan who was born in Las Vegas in 1973. Her father is Jim Bilbray, who served in the Nevada Senate starting in 1981 and then as a Democratic member of Congress from 1987 to 1995, before losing to Republican John Ensign. Her sisters are Erin Bilbray, who's active in Democratic politics and made an unsuccessful bid for Congress in 2014, and Bridget Bilbray-Phillips, the executive director of Doral Academy of Nevada. Bilbray-Axelrod studied political science and government at the University of San Diego. Her husband, Danny Axelrod, and fourth-grade daughter Molly are joining her in Carson City for the session.
CAREER:
While she grew up around politics, this was Bilbray-Axelrod's first run for office.
"Political service is just something that just runs very deep in my family -- just that thought that if you don't like the way it's going, stand up and make a change," she said. "It was really that last legislative session that put the fire under me to go ahead and throw my hat into the ring."
She got her political start after college working for Illinois Sen. Dick Durbin's first senatorial campaign. She interned in the Clinton White House and then-Sen. Joe Biden's office, and was Congresswoman Dina Titus' liaison for veteran's affairs, environmental, and education issues from 2009 to 2011. During the 2008 cycle, she served as a surrogate for Biden's presidential campaign, and spoke on his behalf at the Nevada State Democratic Candidates Forum.
She works as the director of new business development for Organized Karma, a lobbying, marketing and campaign strategy firm. Her latest project there has centered around the 100th anniversary of the park system -- "showing how important the park system is to this nation and why it's so important to keep it up," she said.
ON NEVADA AND THE ISSUES:
Does anything embarrass you about Nevada?
"I'm not embarrassed by anything in Nevada. Not to say that we don't have areas that we can improve -- our education, mental health .. there's areas of improvement but every state has that. I guess that's something about being third-generation and being my father's daughter, but I have a tremendous amount of pride for this  state."
What are you most proud of about Nevada?
"It's nice to be able to go to a grocery store at any time of the night! I jest. But the beauty of this state. For my daughter's spring break we decided to start in Death Valley, drive up to Austin, go over to Berlin to see the Ichthyosaurus, to Ely to see Great Basin (National Park) and back down through Alamo and back to Vegas. For me it was so important for her to see how we kind of have everything. And now we're living up here and it's been snowing day after day after day so we haven't even made it to Tahoe yet. Her mind's going to explode."
Top priorities in the 2017 session:
"To be the most effective freshman legislator I can be. I'm not up here to light the world on fire this session. I want to be effective ... It's 120 days, but it's a long game for me."
Should we raise taxes, and under what circumstances?
"I have to see the governor's budget and see what he's asking for. It's hard to make those kinds of statements because the devil is in the details."
What might we cut in the budget?
"I'm in support of the weighted formula for education. I think we're going to have to appropriate more dollars to education for that. Also, anyone who knows me knows I'm kind of an efficiency expert in my own house. I think there are going to be opportunities for us to find areas where it's been done the same way for years, but we can probably go in there and be a little bit more efficient and save some dollars."
How do you plan to diversify Nevada's economy and create more jobs?
"This is one of those  areas where I think it's so important to work across party lines … I'll just speak to my own freshman class -- we have some really incredible people and we're all moving to make Nevada better. So I think you're going to see some great things come out of this session."
What should we do next on solar?
"I think the way we need to approach it is to let that subcommittee on solar energy come down and make the recommendations. That issue -- while I'm very much in support of renewables -- is so incredibly nuanced. We could be leading the nation when it comes to that and so I am very anxious to see what comes out of that subcommittee."
What should Nevada's next step be on the stalled Education Savings Account program?
"I do not think that we should be taking any more money out of our very, very struggling school system for a voucher system."
What should Nevada's minimum wage be?
"I think that anyone working full-time should not live under the poverty line. Period. That being said, I think we're going to have to bring all sides to the table and hammer this out to see what level it should be at. At its current level you could work full-time and live under the poverty line and that to me is fundamentally wrong."
Will you work across the aisle, and on what issues?
"We're Nevadans. I'd work across party lines on any issue."
Where do you stand on recreational marijuana?
"I believe the legalization of small amounts of recreational marijuana will generate revenue for the state for underfunded areas like education," she told the Las Vegas Review-Journal before Nevada's Question 2 passed. "Additionally, it will keep low-level, non-violent offenders from overcrowding our prisons and allow our cops to focus on the real issues. We can look to states like Colorado and Washington and use best practices with regard to implementation and taxation."
Do you support expanded gun background checks?
"I, like the vast majority of American gun owners, support expanding background checks," she told the newspaper. "Millions of guns change hands, essentially between strangers with no background check and no questions asked. This proposal will make the current law apply equally to gun store owners and private dealers alike."
How does Nevada improve its poorly ranked education system?
"Nevada schools, especially those in Clark County, have been woefully underfunded for decades. While the last legislative session began to address the problem, we still have much work to do," she told the Review-Journal. "Nevada has the lowest rate of children enrolled in preschool in the nation. Those rates can be directly related to achievement in later years. We need to prioritize early childhood education and full day kindergarten. We should partner with and expand upon non-profits who have been successful in these areas such as Family to Family Connection and continue to champion legislative programs such as Read by 3."