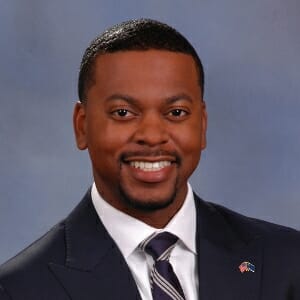 ASSEMBLYMAN WILLIAM MCCURDY II
Freshman Democrat, defeated Republican Carlo Maffatt in the general election. He succeeds longtime Democratic Assemblyman Harvey Munford, who was barred by term limits from seeking re-election.

Represents District 6, which lies in historic West Las Vegas.

District 6 leans strongly Democratic (63 percent Democrat, 9 percent Republican, 22 percent nonpartisan in the 2016 election.)

McCurdy won 62.1 percent of the vote in the 2016 primary, defeating Democrats Macon Jackson, Valencia Burch and Arrick "Kerm" Foster.

McCurdy won 87.2 percent of the vote against Maffat.

Serving on Education; Government Affairs; and Health and Human Services in the 2017 session.
FAMILY, EDUCATION & CAREER:
A lifelong Nevada resident, William McCurdy was born in 1988 in Las Vegas, the son of a pastor, who also has been politically active for decades, and a Clark County Schools teaching assistant. McCurdy dropped out of high school when his first son was born and had his second child by the time he was 20. He worked as a construction foreman for a brief period before going back to complete his high school diploma and graduate from the College of Southern Nevada with an associate's degree.
At CSN, McCurdy was student body president and received the Dr. Martin Luther King Jr. Scholarship Committee's President's Award. He advocated against tuition hikes, supported the state's first need-based aid program, the Silver State Opportunity Grant and bussed students to the Carson City to lobby the Legislature.
Now, McCurdy is a union organizer with the Service Employees International Union. He also attends UNLV where he is pursuing a bachelor's degree in public administration with the aim of graduating in the fall. His two sons are named William III and Charles.
ON NEVADA AND THE ISSUES:
What about Nevada are you most proud of? What about Nevada embarrasses you most?
I'm proud to be a Nevadan, I'm proud of everything about Nevada, but I do see areas around having the ranking we do in education — that's something we have to focus on especially if we're going to continue to grow and attract new industries to ultimately contribute to the revenues in the state. Not only pre-K through 12 but the amount of graduates we're producing. Are we on track with what the future industry would demand?
Please list your top three priorities for the 2017 Legislative Session and explain. (Feel free to reference specific BDRs or group BDRs together by general policy area.)
The top three issues I learned about while canvassing during the election cycle were criminal justice reform — we've got to take up the criminal justice system — economic development, and education.
Coming from the district, nearly 70 percent of my constituency who are 25 and older have no form of higher education. I have a great sense of pride knowing I would be able to help in terms of addressing education inequities, looking at economic development in the district, attracting new industries to the district and being able to represent and do it in a real way because I experienced the district.
I went from a high school dropout growing up in a very tough neighborhood, to working construction as a teenage father and going back to get my high school diploma at 24 years old and even going back to get my college degree from CSN and graduating with honors. I know the struggles of people in the district and I know what they need and are looking for.
Teen dropout rates are high. Teen unemployment rates are high as well. I hope I can just be a beacon of light and show what is possible.
Under what circumstances should Nevada raise taxes? Would you support a tax increase this session?
I wouldn't be able to answer that right now. We're still going through orientation. I feel like I'm drinking out of a fire hose with all of that information.
What programs/parts of the state would be best to cut? What programs/areas need more funding in 2017?
There's always going to be areas where we need to fund and plug those holes, but just from my perspective, where my district is, we need to reduce the amount of money we spend on incarceration especially for low-level drug-related offenses. That would drive down this mass incarceration problem nationwide.
Nearly all legislators list diversifying Nevada's economy and creating new, permanent jobs for Nevadans among their highest priorities. What specifically do you personally plan to do to help accomplish that?
I'm going to spend a lot of concentrated attention on our community colleges and ensuring that they have the funding they need to continue to build to meet the demand of the workforce, now and in the future. That would help dramatically to make sure we're on track. We need to make sure the programs we're providing are on track with what we're going to be providing in the future. With new industries, recreational marijuana being passed, it'll be interesting to see what that's going to do.
What should be Nevada's next move on solar policy?
I think that we are going to be able to continue to grow the industry. What that looks like as of right now I am not quite sure. I am not an energy expert, but I plan to gain more information about how we can continue to attract not only solar but other renewables to the state. We have geothermal up here, up north. How can we expand on that? I just want to make sure that we're looking at all options, but I've just not been too dialed in on this one.
In September, the Nevada Supreme Court blocked funding for the state's school choice program. What legislative changes do you think should be made to the program this session?
The Supreme Court did block funding, but my priority is ensuring the children in my district have the quality education they need. There's a lot of debate about taxpayer money and where it should be going. We'll see a lot of this this upcoming legislative session. Every parent should have the right and choice to say what type of education their children receives, especially being a father. But we have to do what's right for all children as well. Education in entire state is one that should and probably can definitely be better. We have to do a better job of looking at how to do that.
Should Nevada change its minimum wage? If yes, at what level should it be set?
I strongly support increasing the minimum wage. No one who works full time in Nevada or America should live in poverty. If you work at a job in America you shouldn't be living in poverty. We need to raise the floor a little bit. I don't know what that dollar amount should be. There's not a one size fits all solution and it has to be incremental change. We don't want to shock the market overnight by mandating a sudden dollar amount. I'm looking forward to talking to my colleagues and members in the community.
Are there any particular issues on which you see yourself working across party lines? If so, which ones? If not, why not?
I think with every bill that's presented there should be some bipartisan support. I want to work across the lines with everything. That's the only time that things get done. We can't be so stuck on our party affiliation that the people suffer. We have a great opportunity to do some great things this legislative session. I've been building relationships and this freshman class, it is amazing. We have developed a strong bond in this group of people from both parties, and I see a lot of common interest.
This interview has been edited for length and clarity.