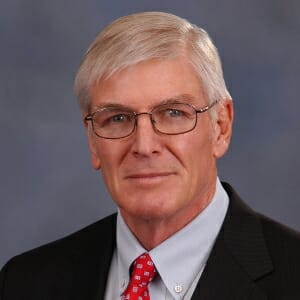 ASSEMBLYMAN SKIP DALY
Democrat who served in the Assembly for the 2011 and 2013 sessions before losing to Republican Assemblywoman Jill Dickman. Returns to the Assembly after defeating Dickman by 36 votes in an election so close there was a recount.  

Represents Assembly District 31, which covers portions of Washoe County including Sparks and Lemmon Valley.

District 31 leans Republican (40 percent Republican, 34 percent Democrat and 19 percent nonpartisan in the 2016 election).

Daly didn't have a Democratic primary opponent.

Daly won a race against incumbent Dickman by about one-tenth of a percentage point.

Serving on Commerce and Labor; Government Affairs; Legislative Operations and Elections committees in the 2017 session.
FAMILY AND EDUCATION:
Richard "Skip" Daly was born in Reno in 1959. He attended Reed High School in Sparks and has an associate's degree from Truckee Meadows Community College in Reno, according to his legislative biography. He's been married to his wife Lisa for three decades and has two adult children -- Sarah and Brian. His interests include traveling, golfing, hunting and sports.
CAREER
Daly spend 18 years as a journeyman laborer before becoming the business manager for the Laborers Local 169 union. He was registered as a lobbyist for the union during the 2015 legislative session. In the community, he's served on the board of the United Way of Northern Nevada, the Sparks Citizens Advisory Committee and the Sparks Charter Committee.
ON NEVADA AND THE ISSUES:
Daly did not respond to a questionnaire and declined to answer detailed questions about his policy positions during a brief interview with The Nevada Independent in January, saying Nevadans will have to watch how he votes during the session. Commentary below is taken from his campaign website.
Does anything embarrass you about Nevada?
Declined to answer.
Top priorities in the 2017 session:
Declined to answer.
Should we raise taxes, and under what circumstances?
Declined to answer.
What might we cut in the budget?
Declined to answer.
How do you plan to diversify Nevada's economy and create more jobs?
Declined to answer, but said on his website that "I was proud to support legislation in 2011 to revamp our economic development efforts, enabling our state to successfully compete for new businesses. I have also fought hard for accountability measures to ensure that local workers get hired and for more educational opportunities to help workers get trained or re-trained.
As we expand our economy, we must also ensure our existing businesses and industries, such as tourism, recreational opportunities, and small businesses, progress."
What should we do next on solar?
Declined to answer.
What should Nevada's next step be on the stalled Education Savings Account program?
Declined to answer, but said the following about education in general on his website:
"As the father of two children who went through Washoe County Schools, I have always worked hard to find ways to improve education in our state, whether it was volunteering my time with the school district or supporting legislation to properly fund our schools and to demand more accountability from them.
I believe my opponent failed to represent our kids when she was one of only a handful of members of the Nevada Assembly to vote against funding many of Governor Sandoval's education reforms.
I am committed to building on the progress made for education in the last legislative session.
As we implement the reforms passed in the last session, we must also focus on strengthening vocational and technical education in our high schools and community colleges. Our community colleges play a critical role in responding to the needs of a fast-changing job market by providing students the Job Ready skills they need to fill the new jobs coming to our state."
What should Nevada's minimum wage be?
Declined to answer.
Will you work across the aisle, and on what issues?
Declined to answer.