Feisty Harriet Trudell was a foot soldier for social justice and Democratic Party candidates and causes. Her progressive issues were innumerable, her energy almost inexhaustible.
But I think what made her so lovable, and what her friends will miss so much with her recent passing, is the joy she brought to the arduous and endless journey toward a fairer America. She fought ferociously and fearlessly, but she did so with a sense of humor and a Southern charm. A celebration of Trudell's life is scheduled for 11 a.m. Monday at St. Viator Catholic Church at 2461 E. Flamingo Road.
Beginning in the 1960s in Nevada when the population was a mere 285,000, she worked for school desegregation, civil rights, women's rights, welfare rights, and workers' rights. Now that it's 2020 and the state has surpassed 3 million in population, it occurs to me that many of the state's residents might not recognize her name. That's a shame. Harriet's story, and those of a generation of strong women who courageously forced their way into an almost exclusively male political dynamic, should be heralded in every school in the Silver State.
Born Harriet Hope Hardbarger in 1932 in St. Petersburg, Florida, she inherited a passion for shoe-leather activism from her father, a union plumber and organizer who knew to his soul that a more perfect Union was only possible if the least fortunate were given a real chance to succeed. And during the Great Depression those opportunities materialized, thanks to Democrat Franklin Delano Roosevelt in the White House. "Remember children," she recalled her father saying over supper, "you know what meat tastes like because there's a man named Franklin Roosevelt."
By her father's side at the 1948 Democratic National Convention in Philadelphia, Harriet listened as Minnesota's Hubert H. Humphrey spoke in support of the party's "new Emancipation Proclamation" on civil rights in America because "good conscience, deep morality, demands it."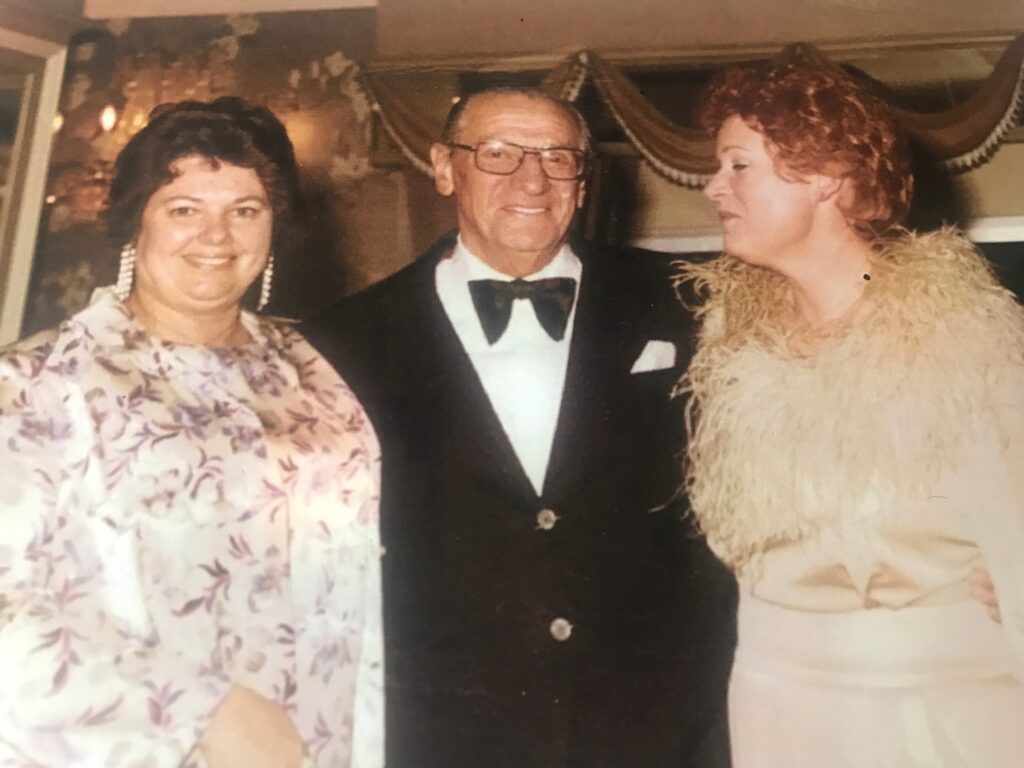 She left the convention, as she put it in her oral history, a 16-year-old girl turned "a wild woman," stoked with a fire for social justice that grew in intensity in 1962 after moving to Las Vegas as a young mother that would remain for the rest of her life. Whether organizing for a trade union through the AFL-CIO, or joining in the historic West Las Vegas welfare mothers' march on the Strip, she missed few opportunities to roll up her sleeves and go to work on behalf of those with a blue collar or none at all. Even if it meant getting up before dawn to greet Nevada Test Site employees at the bus stop to campaign for presidential candidate Humphrey in 1968. As Harriet's daughter Cindy Trudell recalls, "She'd drag me out of bed at 4:00 in the morning and take me to the bus stop to talk to the electricians about the candidates and hand out things for Humphrey. She never stopped working for people. People sometimes forget how hard my mom worked to support the [Democratic] Party and to make Nevada a better place."
The legendary Las Vegas attorney George Foley nicknamed the diminutive Harriet "6 and 7/8ths," and Democratic stalwart Ralph Denton called her "Boss Tweed" as an homage to the legendary New York political fixer who got things done.  She was not shy about sharing her opinions, and not just at bus stops and union halls. There isn't a top Nevada Democrat of her generation who didn't catch hell from Harriet when she thought they'd gone soft on a campaign promise or faltered at the altar of progressive change.
That candor didn't change in 1968 when she led the unsuccessful effort to get a Humphrey victory against Richard Nixon. It cooled not the slightest in her four years as Nevada Gov. Mike O'Callaghan's top aide in Southern Nevada. (Legend has it some of their arguments could be heard for miles.) It remained her style as foreign affairs aide in Washington, D.C. on behalf of then-Congressman Harry Reid.
Whether as a board member of the National Organization for Women, as a leader of the Feminist Majority Foundation, or as the Nevada Democratic Party's political director in Clark County, Harriet's opinions came unvarnished – albeit with a twinkle in her eye.
Her success wasn't rooted in political positioning, but in people and the strength of her personality. As her longtime friend Karin Siena Rogers puts it, "Harriet didn't need jobs or titles. She had followers. She was a leader. If Harriet called up and needed help, even to this day 100 people would come running. She had that quality. She believed in her causes. On the outside, you would think she was stern and hard, but on the inside she was sweet and kind and caring for the underdog. She had a very soft streak that wasn't immediately recognizable because her fight for justice was so overwhelming. The fact is, you couldn't argue with her causes because her causes were social justice and human rights."
For Mikey Bilbray, wife of former Congressman Jim Bilbray, Harriet was a "fearless warrior, passionate…so passionate about her beliefs." The two became close friends during Trudell's successful effort to elect Mikey's husband to Congress. "Much has been made of her work on women's issues, but women's issues are human issues, and really with Harriet it was always about human rights."
Once the Bilbrays got to Washington, Harriet left no doubt about where she stood on issues. During one dinner with the Bilbrays and then-Congressman Reid, Harriet peppered her commentary with "Jimmy baby" and "Harry baby" for good measure. "She had no problem holding them accountable," Mikey recalls.
Former Congressman Bilbray is adamant about Trudell's outsize role in his political success. Their door-to-door marathons were withering, but effective – and a learning experience for Bilbray.
"She was just a great woman," he says. "I wouldn't have won without her. I'll always be grateful for Harriet. We're going to miss her."
For his part, Reid would go on to higher office and political fame as Senate majority leader. He remains indebted to Trudell.
"She's a legend," Reid says. "She was involved in every cause known to woman. She was involved in everything. She was a spokesperson for the underprivileged and the underdog."
Through good times and bad.
Her friend Karin Rogers reflects tearfully, "Of all the people I've met in my whole life, Harriet Trudell was the most loyal to her principles and to her friends. She stuck by people to the end."
John L. Smith is an author and longtime columnist. He was born in Henderson and his family's Nevada roots go back to 1881. His stories have appeared in Time, Readers Digest, The Daily Beast, Reuters, Ruralite and Desert Companion, among others. He also offers weekly commentary on Nevada Public Radio station KNPR. His newest book—a biography of iconic Nevada civil rights and political leader, Joe Neal—"Westside Slugger: Joe Neal's Lifelong Fight for Social Justice" is published by University of Nevada Press and is available at Amazon.com. Contact him at jlnevadasmith@gmail.com. On Twitter: @jlnevadasmith