The 79th session of the Legislature has begun. For 120 days, senators, assemblymen and assemblywomen will work on initiatives that could become the new laws for the Nevada community.
The Nevada Independent – En Espanol is publishing a series of interviews with Latino leaders who hold leadership positions in the Assembly and Senate. These Q&A pieces focus on their respective backgrounds, challenges, and points of view regarding several current issues, as well as how they rank the Hispanic community in importance in terms of their work agenda.
We will be providing English translations of those interviews. This is the fourth interview in the series.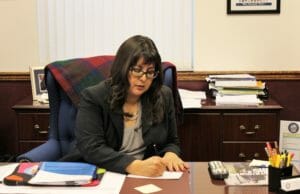 Question (Q): I would like to talk to you a little about your family and your background, because I read that you worked in the agricultural sector. How was it that you came from the fields to the office you hold today?
Answer (A): That's true. I was raised in an immigrant family of farm workers. My dad is from Chihuahua, Mexico. And my mother was born in New Mexico. They both settled in California. They had five children and we all worked in the fields. I thought that it was normal and that all families were the same.
My parents are amazing people because my mom went back to school to get her GED (General Educational Development - considered a high school diploma equivalent) when she was 38 and my dad got his citizenship and learned English. They overcame their challenges.
My parents became involved on a committee for migrant farmworkers and through this they got me scholarships to study. Well, I had no idea I wanted to go to college. That was until they planted the seed and got me a scholarship. This is how I ended up going to college.
Since I was the first in my family to go to college, I was granted what is known as a Summer Bridge Program, which allowed me to be on campus during the summer months before classes commenced.
Back then, I had a little work while I was going to my classes. This is a way to help those who are the first in their family to go to college. For this reason, I am a big supporter and I recommend these sorts of programs, because they helped me and they continue guiding others along a different path from where they came.
All of us five kids were able to get our college degrees. I am very proud of my parents because, even though they did not have access to education, they knew they wanted to steer their five children in that direction. And they did by getting involved. Although my dad's English was not his forte, my parents went to the meetings and learned how to advocate for themselves and their children. So, this is how I got the scholarship.
Q: About your university life, what happened next for you to get where you are right now?
A: That's also a very interesting story. When my scholarship funding ended, I went to the financial aid office and they sent me to the department of football, where they needed an assistant. So, the head coach took me under his wing and gave me a scholarship, a job and they paid for the remaining three years I was at Fresno State.
All the football team coaches pooled their money together so I could go to Las Vegas, because I wanted to study Hospitality and get my Masters Degree. I am very fortunate and blessed to have such people in my life, because they have always paved the way for what was to come next.
Q: How important are your Latin roots for you?
A: Very important. Now I realize that everything I learned, my work ethics, the importance of having a reputation and my constant curiosity for learning come from my Hispanic heritage. I am very proud of everything I've gone through and, although it was not easy, I would not change it for anything because it has really made me to be the person I am now.
Q: When did you decide to get into politics?
A: That's another interesting story. I had a very successful career in the private sector, when working for MGM Resorts International and it was a combination of things. My younger brother died in an accident and that made me see what else I could do in the short time we have on this earth, something that really took me out of my comfort zone. So, I decided to run for office.
Q: What are some of the bills that you have worked on since you started and those that you are going to work on during this legislative session?
A: I am an advocate for small businesses. My parents were entrepreneurs, although they wouldn't call themselves that. They were always selling tacos or something when we worked out in the field.
I also own a small business, so most of the legislation has been focused on that - to remove barriers in obtaining licenses, helping small entrepreneurs to obtain state and local government contracts.
This session, I will be doing much of the same - promoting business efficiency, looking at state taxes and how much we are really providing. So, focusing on these aspects is usually my area of ​​expertise.
Q: The Hispanic community not only wants to know who their representatives are, but particularly what they can do for them. What would you say to that?
A: I think that the Hispanic community's priority is – as they have made it clear to us – education. So, we will be overseeing to ensure that there is funding for full-day kindergarten, to continue the funding for English Language Learners, to look at funding for Victory Schools where poverty is prevalent, affecting many Latinos.
We have also been asked to look at matters on court interpreters, so that when they go to court there could be someone who speaks their language. I'm not at the helm of these bills, but we of the Nevada Hispanic Legislative Caucus are involved in such matters.
So, some way or another, they give us an idea where they would like to focus, but education is ranked as number one, according to discussions with the community.
Q: Many people in the Hispanic community are concerned that President Trump could sign an executive order on border security and immigration. What would you like to say about that?
A: I would say that now is the time to get involved, if you haven't yet. And it doesn't matter if your English is not great or not perfect. One of the most inspiring moments was when several Hispanic women came to testify and, in fact, it was regarding a bill concerning education and they did it in Spanish. They were housewives and not senior executives. There are several groups that are working on making sure our voices are heard.
Disclosure: We accept donations from anyone who wishes to support our work. MGM Resorts International has donated $250,000 to The Nevada Independent.