The 79th session of the Legislature has begun. For 120 days, senators, assemblymen and assemblywomen will work on initiatives that could become the new laws for the Nevada community.
The Nevada Independent – En Espanol will be publishing a series of interviews with Latino leaders who hold leadership positions at the State Assembly and Senate. These Q&A pieces will focus on their respective backgrounds, challenges, and points of view regarding several current issues, as well as how they rank the Hispanic community in importance in terms of their work agenda.
We will be providing English translations of those interviews. This is the second interview in the series.
Mo Denis- State Democratic Senator- District 2 in Las Vegas. President Pro Tempore of the Senate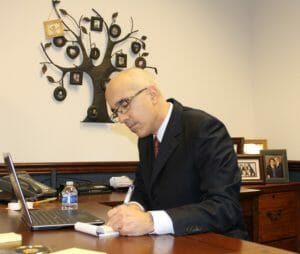 Q: One of the reasons why we are conducting these interviews is so that the Hispanic community can get know who their representatives are. Let's begin with your Latin roots, your family.
A: I am the son of Cuban parents. My parents arrived from Cuba many years ago. I was the first in my family to have been born here, in the United States. I was born in Brooklyn, New York, and then we moved to Miami and then to Las Vegas, which is where I have been for the past 40 or so years.
Q: What does Las Vegas mean for you?
This is home. This is where I went to school. For most of my life I've been here. Well, I started going to school in Arlington, Virginia, from kindergarten through to fourth grade and then we left Nevada and we returned when I was in 7th grade, and I have been here ever since.
When I left home to go to college, I studied music. It was also when I also got married. When I returned, I moved near my parents, so I was close to them and my in-laws, here in Las Vegas.
Q: You have lived in Las Vegas for so many years. How do you see the city now? The good and the bad.
A: The city is much bigger now, but at the same time it still gives off the feeling of a small community. I live in the center of town, not where all the hotels are on the Strip, but Downtown, on Fremont Street.  I represent that side of town and also the center of North Las Vegas and the Eastside, almost up to the Nellis Air Force Base.
The community has changed quite a bit. As a child there were not many Latinos, not like there are now. The community has grown a lot. It has been a good opportunity to see growth for businesses within the community.
For a long time, education was a hurdle in order to become successful, because we have been growing so quickly, but at the same time there has been a lot of work, especially for our community in the hotel and construction industries. However, even though we are still growing, it is not as fast. I think the Hispanic community accounts for around 28 percent, and there is much more for the community now.
Years ago, I was the first Hispanic member on the Library District Board of Trustees. But they were only spending $15,000 on books - that's it! Now it's much more than that; that was when we started to make changes for the community. Latinos did not go to libraries much, because of the word "library", which is very similar to "librería", or bookstore, so many people thought they had to pay. But, then they realized they didn't have to and they could bring their families and participate in something as important as reading and education. So, I've seen a big change in that sense.
Q: What is something you might label as something you "don't like" and that might now be in your hands to change...?
A: Well, what I do not like is what I still see - there are many people who do not feel comfortable with those that are different than them, such as Latinos, who speak another language and come from a culture that is a little different. There are still people who feel uncomfortable with that, although I am seeing a change in this, but we still have much to do.
The fact is that we didn't have many opportunities in the past. When I was first elected for the Legislature, I was the only Latino in the Assembly. Then later, Ruben Kihuen was elected, making it two of us. It was back then, 14 years ago, when I was first elected.
Out of a total of 63, there are only nine of us, but there are many more of us now. And not only that, from when I started, and even before then, when there were other Latinos, but we were not in a leadership position. However, now I have served as a majority leader.
We are all members of the Hispanic Caucus. We all hold a leading role on committees or a leadership position. Although I am not the leader of the majority, I am what is called the Senate President Tempore, which is similar to the Vice President of the Senate, also being the first Latino in the history of Nevada to fill this role. It is the third highest leadership position in the state, the first being the governor, then the lieutenant governor, followed by the president tempore. So, there are still opportunities.
We also have Irene Bustamante Adams, who is also serving in the same position in the Assembly. So, good things have also happened, but there is still a lot more to go.
There are still people who are afraid and they want to blame immigrants for our problems here in the country, when in fact it is not us, but rather technology and other matters that cause them. But, they cannot see this, so they want to blame it on someone else. It is sad that there are people who think this way.
Q: I would like to take advantage of asking you the following: Since we now have the new change of the administration at the federal level, with President Trump, and as you know, he has signed executive orders on border security and immigration. The immigrant community, in general, feels uncertainty. What message would you send out to this community and, also, are there bills on this subject that you are working on this session?
A: We need to keep faith that good things can still happen, even if there is a lot of fear right now. I have faith that there is someone much bigger than all of us – God – who is looking out for us. We do not know what will happen with the new presidency or what he's talking about, but we have to take a stand, let our voices be heard.
In the Legislature, we are working on laws to protect our information, so that the federal government cannot use it for immigration data to deport people or the like. We will continue doing things to improve education, which helps students who need to learn English or receive extra help, because half of students are from our community. We will continue striving for jobs, so that people can support their families.
Q: Are you referring to the minimum wage increase that is being discussed right now?
A: Yes, we are going to start a debate on that, which will help, because there are many from our community who work two or three part-time jobs and this will help, so they can support their families better. What is important for the State is that we have strong and united families, so they have what they need, because this is what keeps the state solid.
We will also work on health issues. I know once again we have a bill on obesity, so that it can be declared as a chronic disease, so as to allocate more resources and to see what we can do to help. Because, in our community, especially for our children, this is a big problem – it's causing health issues for kids and adults.
Q: I know that education is a very important issue for you. And during this session you have presided over hearings on this subject. So, tell me more about this issue that is also in the interest of the community.
A: There are several things that we will discuss. For the past 10 years, I know there are several aspects in education that need improving. For example, Zoom Schools, which assist those who need to learn English.
This has made a huge change and I know it is good for our students, but we must keep going and push for extra funding and, also, those in schools that are called Title One, those who come from families where incomes are low and who need a little extra, because they do not have what other students have.
Q: Even though Governor Sandoval mentioned, in his State of the State Address on January 17 and in his 2017-2019 Budget for the State of Nevada, that Zoom and Victory Schools would receive extra funding, do you think they still need more?
A: Yes. It does help, but many of our students are not attending the Zoom and Victory Schools, maybe they are going to others, so we have to find a way to change the form of the schools and help them.