Good morning from Las Vegas!
It's a busy week and there are a lot of updates, so I'm keeping the newsletter brief today with a few quick hits. As always, if you have any criticism or tips, email me at daniel@thenvindy.com.
---
Snow tells: The results are in.
Last week, the Natural Resources Conservation Service conducted its first snow survey of the year at Mt. Rose. The findings in short: Snowpack is starting the year at about the average of where it normally is across the state (with the exception of the Walker Basin). But it's important to consider when that snow fell. Most of it came between Thanksgiving and mid-December. In fact, in October and November were dry, leaving the soil drier than usual. Why that matters: When the soil is less moist, it means that runoff is often less efficient — i.e. less snow makes it to rivers and streams. As the service's water supply report notes: "Expect reduced runoff efficiency this spring due to the need to fill the soil profile." For more on this, you can read the full report. 
What's going on the Colorado River? The report compiles snow and water supply data for most of the state's mountain ranges. And it's important because many of our rivers and streams are fed from melting snows. But Las Vegas is largely dependent on snow that falls outside of the state's borders — snow from the Rocky Mountains and travels down the Colorado River. A similar dynamic is playing out there. Snowpack is high. Soil is dry. KUNC has more.
There is a big caveat to all of this. It's still early in the season. A lot can change.
The state of the Fallon expansion: Last week, the military released its final environmental analysis outlining its proposed 600,000-acre expansion of the Naval Air Station Fallon to train for modern combat. To get a sense of how sweeping the proposal is, it would affect private and public land in four counties (Churchill, Mineral, Pershing and Nye). We wrote about it in 2018 and I'm hoping to do a deep-dive in the coming weeks as local governments and groups review the new analysis. There will be a public meeting on Jan. 28 in Fallon. Both the Sandoval and Sisolak administrations have sent counter-proposals, but the Navy plans have not shifted in a significant way, despite some concessions. The main takeaway: Eventually this is heading to Congress, and the delegation could play a role in what the military's proposal might look like.
An expected appeal: At least one developer has asked a court to appeal a ruling we recently wrote about to place a temporary ban on new groundwater pumping in a valley north of Reno. The situation is an interesting one for many reasons, and there are several moving parts. The appeal from Woodland Village North and Bordertown was first reported by the Reno Gazette Journal. It was one of several filed by the developers, and it's not unexpected. At its core, the arguments test the discretion of Nevada's top regulator and what evidence should be weighed in decision-making. The legal filing said the state engineer "created an artificial problem."
---
Google + NV Energy = Solar: "Google and Nevada utility NV Energy have joined up on an energy supply agreement to power an under-construction data center outside Las Vegas, with future capacity that rivals the largest corporate solar power-purchase agreement announced to date in the U.S." Online trade publication Greentech Media has more information on the deal.
Solar and… Nevada officials released an inventory of greenhouse gas emissions. It concludes that the state needs new policies to meet the climate change goals laid out by the Legislature in 2019. My colleague Riley Snyder has more on the political implications of this.
Clark remainders: On Wednesday, we published a story looking at the changing conversation around Clark County's federal legislative proposal to expand its growth boundary while meeting its requirement to protect the Mojave desert tortoise. The story focuses on 1) a new legislative draft introduced by Sen. Cortez Masto and 2) groups shifting the debate to climate change.
Three things I'll be thinking about going ahead:
The bill language involving endangered species policy
Infrastructure costs in a Las Vegas looking to grow
Other pressures on federal land, including solar
This headline caught my eye: "Trump proposes change to environmental rules to speed up highway projects, pipelines and more" — Washington Post. This would be a very big deal for Nevada, a state where the federal government manages about 85 percent of the land. If the change is upheld in court, where it will likely go. Interesting note: The National Environmental Policy Act was at the heart of the state's original lawsuit over the secret plutonium shipment.
Nature for all? This is a very thoughtful piece about inclusivity and outdoor recreation — and it's centered around Red Rock National Canyon Conservation Area. Reading it made me think about myself in a more critical way, and that's the point. I recommend spending time with this.
On deck: With our photographer David Calvert, we drove to Pyramid Lake on Monday for the state's first translocation of bighorn sheep on tribal land. It was an incredibly moving event for the Pyramid Lake Paiute Tribe, which has worked for decades to restore native wildlife. Colton Lochhead with the Review-Journal was there and wrote this story. I'll be writing more about the event in the coming days. For now, David has shared a stunning photo he took of the release.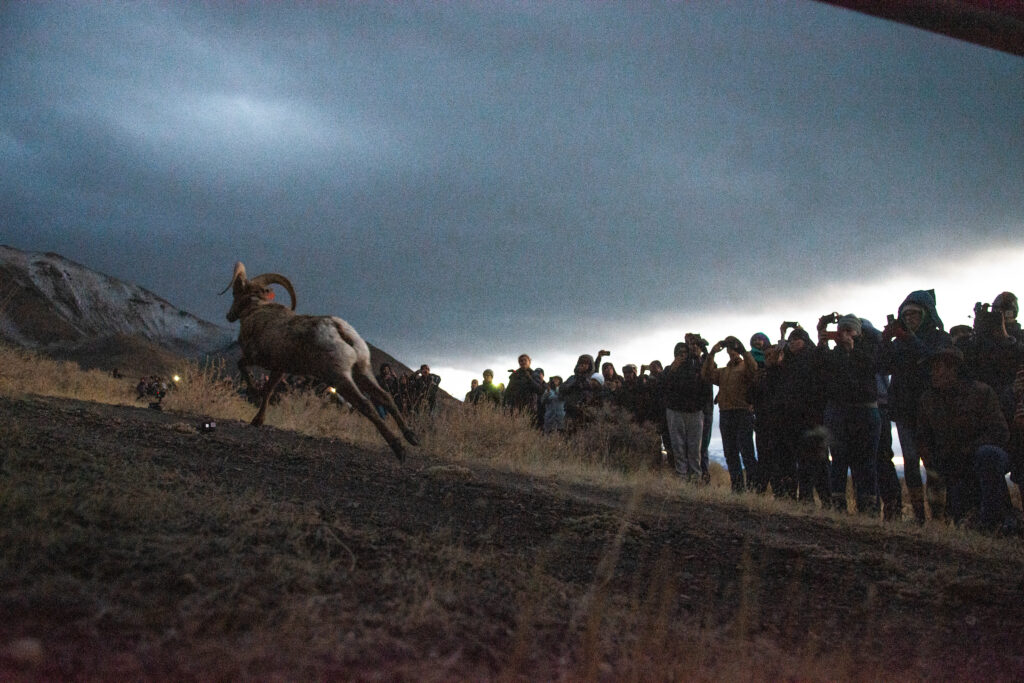 ---
Clips from the news:
Bristlecone read: The past and future of the Earth's oldest trees (The New Yorker)
A $1 billion solar plant (in Nevada) was obsolete before it went online (Bloomberg). But new technology involves risk. How aggressive should public investment be?
Climate change, and our response, is making life hard for desert tortoises (KUNC)
Burning Man grumbles about Gerlach's 2-cent water rate increase (RGJ)
Deal protects rare Nevada desert flower around proposed mine (Review-Journal)