By John Restrepo
The Great Recession revealed the vulnerabilities of a state economy that is heavily reliant on construction and tourism. In its wake, political and business leaders have taken up the banner of economic diversification. The last three special sessions of the Nevada Legislature were held for that express purpose, and Governor Sandoval's vision for the "New Nevada" has focused on attracting new and large businesses to the state.
While some of these large projects fall outside the region's traditional areas of strength, they are primarily economic development efforts that bring expansion through new and high quality jobs. Economic development is surely needed, but it's distinct from diversification, which adds new sectors of economic output to the community -- and do not necessarily create skilled jobs that pay higher wages. Successful development creates a regional engine of innovation that supports the creation and relocation of new jobs and companies of all sizes in these new industries.
So, what is the state of economic development in Nevada?
Despite our significant recent investments in economic development, Nevada is ranked 45th in the nation on the Milken Institute's Technology & Science Index. Las Vegas is ranked 97th of the top 100 metro areas by Brookings for its share of jobs in advanced industries – those intensive in STEM (science, technology, engineering, and mathematics) and R&D (research and development). The largest subset of those jobs is not biomedical or tech, but architecture and engineering.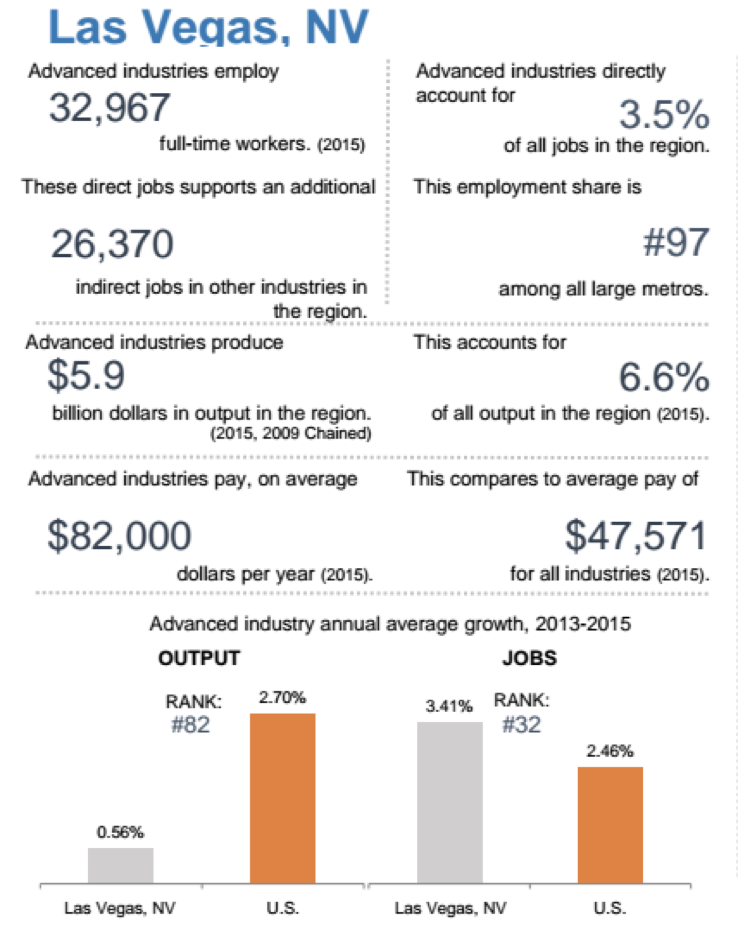 There's a role for both the public and private sectors to play in diversifying the economy. One metric to study is investment by state agencies and entities in R&D.
The results of the latest national survey on state R&D spending by the National Science Foundation is cause for concern. Nevada was tied for last in the percent of its gross state product spent on research and development, at just 0.001%. Our state contributes only 0.2% of R&D spending in the nation, well under what would be expected for our percentage of the US population.
We're second from the bottom in per-capita expenditures, as well as in absolute dollars spent by academic institutions, which does not bode well for UNLV's bid to become a Tier 1 research institution. From 2009-2013, while on average state R&D spending rose by 30% across the country, Nevada's rose only 9%.
We're one of a handful of states that is investing nothing in basic research – the generation of new knowledge and theories as opposed to research for specific applications. And finally, we are over-specialized, with more funds concentrated in one area than any other state. More than 97% of our state R&D spending is going into transportation, with the remainder split among health, energy, agriculture, resources, and other subjects.
It's clear:  Nevada is under-investing in research and development.
John Restrepo is the principal of RCG Economics, a consulting firm specializing in market research, regional economics, and forecasting in Nevada and the Mountain West. He is also a co-publisher of the Stat Pack, which is a client of the media consulting firm owned by The Nevada Independent's managing editor, Elizabeth Thompson.