The new year begins on Sunrise Avenue with an unlikely sign of hope for a Las Vegas few care to see
Back on the street in a land of plenty, it's a new year and a time generally set aside for audacious predictions and the flattering of famous men.
The view from Sunrise Avenue around 21st Street seems much the same. 
Down where East Fremont Street shivs into the four corners, Sunrise is lined with dilapidation and decay. Multiplex apartments, lucrative investments for out-of-state slumlords, teem with dysfunction, drugs, despair. Between the dope dealing and domestic violence, bodies drop here on a regular basis.
The pay phone is always available. The receiver was torn from it long ago. 
There's little need to call a cop. Metro black-and-whites cruise the neighborhood like clockwork. Officers from the Downtown Area Command know the neighborhood kids and criminal element by name.
Late last year, a man with a history of gang affiliation and drug dealing was shot to death just a ricochet from Hollingsworth Elementary School, one of Clark County's most challenged outposts of optimism. As old school urban cops used to say, the knife-and-gun club meets regularly here. The children who play outside risk more than a scuffed knee.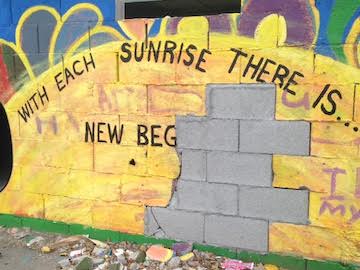 In the new Las Vegas, Sunrise Avenue and troubled streets like it are easy to avoid. And it seems that every year my plea for Southern Nevada remains the same. See these places, and ask yourself:  Is this the best we can do with the least of our community?
Some church groups don't think so. Neither do charitable organizations such as the Three Square Food Bank. At Hollingsworth, dedicated teachers and administrators battle uphill every day, balancing social work with instruction. City Councilman Bob Coffin was raised just a few blocks away and hasn't given up on the place. With pressure from the city, a few lazy absentee landlords appear to have taken a hint. Plywood covers fewer windows, and the garbage piles are smaller.
Down a long stretch of back alley that separates a row of apartments from another development, a sign of hope. A  community wall mural splashes color against the gray. Children's hand prints and their sweet sketches remind you that the stakes are high. The neighborhood's mixed cultures are represented. Some of the work is very good. A few sentiments call for hope against long odds: "Vida es bien," "Teach Them Well!" "Be a Good Dad," and one partially obscured means to say, "With each sunrise there is a new beginning."
 Just across from the Best Muffler and around the corner from the last homicide, the remarkable Arnold Stalk has managed to open drug-gun-and-alcohol-free Veterans Village 2. That's 200 sparkling living units with a host of social services coming.
Stalk sees through the desperation and despair on Sunrise Avenue and finds the potential for grassroots redevelopment in the fallow soil.
"The neighborhood to me is a great area," he says. "It has significant challenges. A lot of people don't see it. But through my eyes, I see a neighborhood rich with families, working families, veterans, seniors who have lived in the area for decades."
It doesn't happen without broad-based support. Metro plays a key role -- and not only in a law enforcement capacity.
Metro Capt. Andrew Walsh is the downtown bureau commander. He knows what questions are coming. I've asked them before.
"It's like dragging a boat anchor uphill around here sometimes, but I think we're making progress," Walsh says, noting that his officers try to have face time with residents between calls for service. "We work with a number of families and people living down there. They're good people in a tough place. We've actually developed some goodwill and some trust with their police department."
And the mural?
It's the result of many weeks of a community effort, businesses and charities and neighbors helping out on weekends. Local stores such as Home Depot have donated materials.
"It may seem like a small thing, but the relentless showing up every weekend I think has had an impact," Walsh says. "I don't know that we had that relationship five years ago in that neighborhood."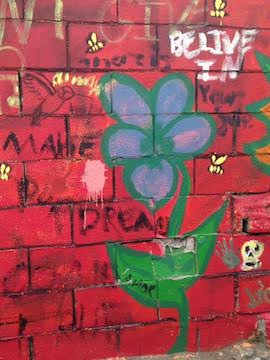 Walsh, Stalk and others with time and sweat equity invested in the area know a couple facts that sometimes get lost in the politics and the posturing. They know that no child ever asked to be born into a slum neighborhood. They know that most others who wind up in an overcrowded, unsafe and care-worn apartment in a drug-and-gang-infested area rarely prefer the view.
Say what goes on there isn't your problem. Talk about poor choices and boot straps, bad karma and tough luck. Steer clear of there at every cost.
But if you're ever serious about neighborhood redevelopment in the new Las Vegas, consider this the place to start.
John L. Smith is a longtime Las Vegas journalist and author. He was inducted into the Nevada Newspaper Hall of Fame in 2016. Contact him at 702 523-1332, jlnevadasmith@gmail.com, or on Twitter @jlnevadasmith.