The pace at which Nevada is sending unemployment dollars out the door for claimants of the Pandemic Unemployment Assistance (PUA) program dropped precipitously in the last week even as new applications roll in at a rapid pace, although it wasn't immediately clear what was driving the change.
Officials at the Department of Employment, Training and Rehabilitation said at a weekly videoconference press briefing on Friday that 105,207 PUA claimants had started receiving payment, up about 900 from last week's update. Meanwhile, about 35,000 more PUA claims were filed in the last week, for a total of 307,749 claims filed since the federally funded program — geared toward independent contractors and the self-employed — launched less than two months ago.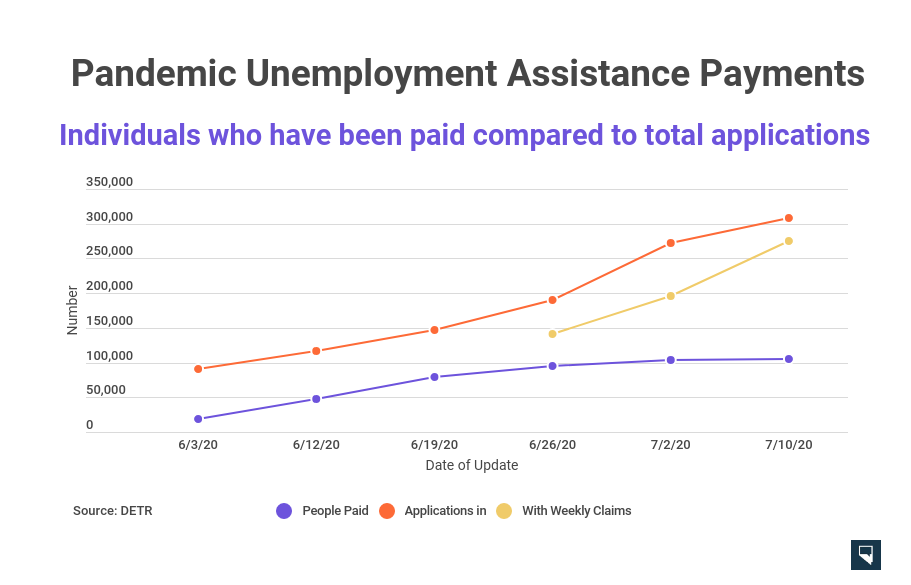 Citing time constraints, DETR officials did not answer questions submitted via email by the media this week, including about what they think is driving the surge in initial PUA claims and why the gap between claims filed and claims paid grew significantly in the last week. They did say the rapid growth in claims is "questionable" and discussed fraud prevention steps at length.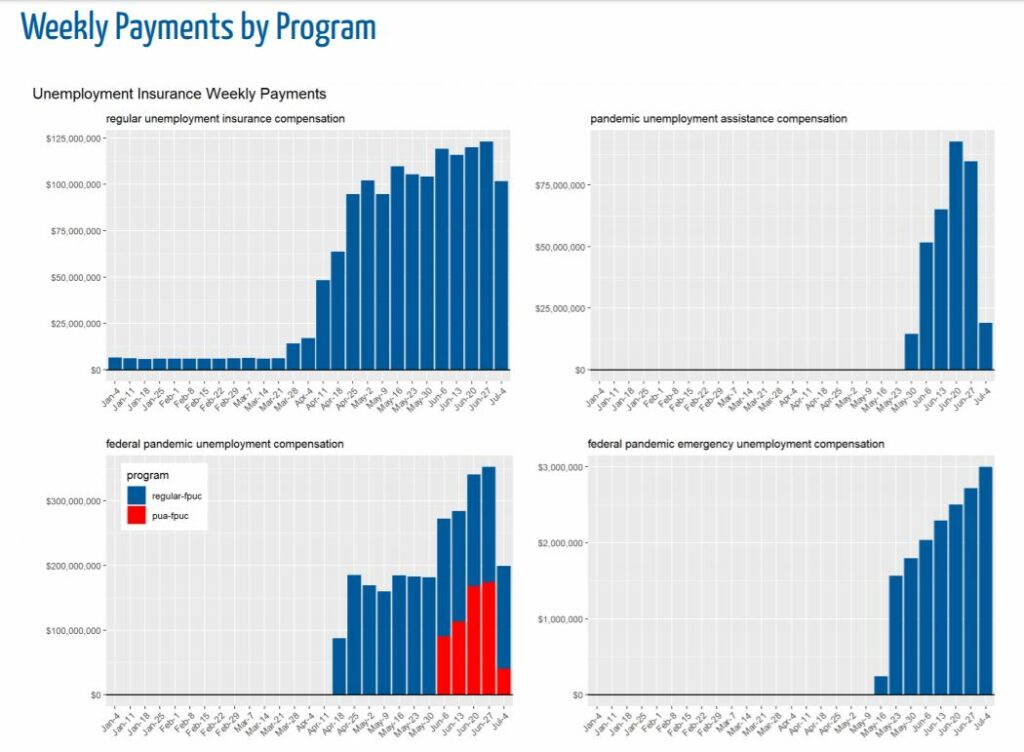 But in the briefing, they did point to another potential hurdle for claimants — a federal requirement that they review each PUA claim to see whether the person has become eligible for regular, state-paid unemployment as a result of the quarter change. Benefit eligibility is based on a group of preceding quarters called the "base period," and crossing into July 1 created a new window on which to base eligibility.
The agency said it expected to launch functionality on the PUA site this weekend to screen for a change in eligibility. DETR plans to start issuing determinations next week for people whose status has changed, and those people will be directed to file a claim through the standard unemployment system.
The briefing came as an effort to review DETR's processes and search for bottlenecks is in full swing. Washoe County Judge Barry Breslow, presiding over a lawsuit filed by PUA claimants who say their payments were late or still haven't come in, appointed Reno lawyer Jason Guinasso as special master to conduct a review and turn in a report next week.
In just the first day since his appointment earlier this week, Guinasso reported he had received hundreds of emails from claimants reporting a variety of holdups to their payments. Breslow said Tuesday that claimants hadn't proven that the state was arbitrary and capricious in its processes to vet claims, but that he would use Guinasso's fact-finding in determining whether he needed to issue an order compelling DETR to somehow change course.
Jasae Jasae, an Uber driver in Las Vegas who applied for PUA benefits on May 16, the first day possible, said the hardship of not being paid yet has been "overwhelming." A variety of messages have popped up in the system indicating a delay, and Jasae thought it was resolved after reaching an adjudicator June 29, affirming that she did not leave the country and re-uploading a driver's license.
But after being told payment would clear in 5-7 days, still nothing has come through. Her rideshare insurance policy has lapsed, as has her business license. She said she doesn't have any money for monthly bills.
She's lost weight because of "the intensity of thinking about everything that can happen if/when the city shuts back down, and not [being] prepared with the most basic necessity of all — food," she said. "If I got paid I could stop worrying about money. I don't want to think about money. I just want to get on with regular daily activities and be prepared for the next wave of COVID-19."
Asked about the court case and backlog of unpaid claims at a press conference on Thursday, Gov. Steve Sisolak said if the state doesn't follow Department of Labor guidelines for cross-checking to confirm which program a person is eligible for, he would put the "entire system and everybody's funds in jeopardy."
"If they come in and say you didn't screen people, you didn't vet them, you're cut off and you have to pay a fine," he said. "Now if I were to do that and just pay everybody, I'm going to be getting the same criticism. People are going to say 'why did you do that, governor?'"
Kimberly Gaa, administrator of the Employment Security Division that handles unemployment, attested in court documents that her agency believes there are upwards of 100,000 fraudulent filings in the PUA system, although the agency has declined to share many details, citing an effort not to tip off bad actors. The Washoe County Sheriff's Office also issued a warning on Friday, saying it had documented 37 separate instances of people's Social Security numbers being used to fraudulently file for benefits.
Sisolak said DETR is doing the best it can about the situation, including adding more staff and technology.
"I know people are frustrated. I appreciate that," he said. "I know they say that's not enough, my apology is not enough. I don't have any more to give."
Claims Metrics
Initial claims for unemployment ticked up for standard benefits and ticked down but remained elevated for PUA claims. There were 12,484 initial claims for regular unemployment in the week ending July 4, bringing the total claims filed in 2020 to 562,486.
There were 62,810 initial claims for PUA filed last week, slightly down from the week earlier but still a near-record. Almost half of PUA claims have been filed in the two most recent weeks — an acceleration that prompted DETR to put holds on tens of thousands of claims, with DETR staff expressing suspicion that underlying economic conditions justify the rush.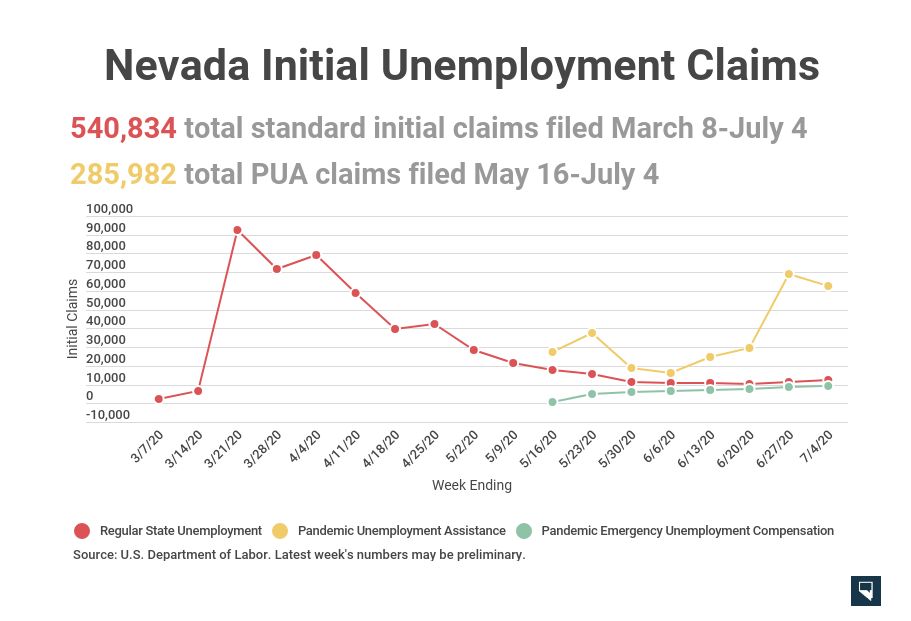 Continued claims, or those filed as part of a series after an initial claim, increased slightly to 287,968 in the standard unemployment system. It's the first time that figure rose since the phased reopening of businesses began in Nevada.
PUA continued claims numbered 157,196, a drop of 36,720 from the prior week.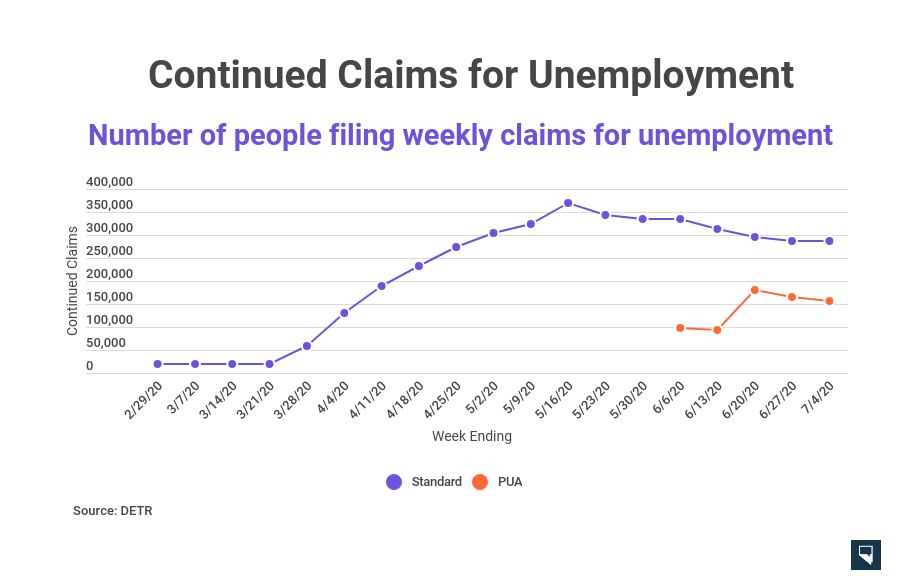 Through July 4, the state has paid more than $4.3 billion in benefits year to date, including the $600 weekly benefits provided by the federal government in conjunction with base unemployment pay.
The state's trust fund balance has dropped to just under $800 million, which is enough to pay about eight weeks of regular unemployment benefits. If the state runs out, it's likely to borrow from the federal government to keep benefits flowing.