New York Sen. and presidential hopeful Kirsten Gillibrand doubled down on her plans to break up U.S. Immigrations and Custom Enforcement while visiting Las Vegas on Thursday, saying she would only allow ICE's anti-terrorism function to remain standing.
Gillibrand, 52, said immigration enforcement and removals should be taken out of the Department of Homeland Security and moved under the U.S. Justice Department.
"I would make a much more humane process," she said. "They should have more spots available for people seeking asylum in this country. I'd raise the caps on immigration overall because diversity has always been our strength."
Her comments about ICE came as she participated — pen and notebook in hand — in a roundtable discussion with professors and students at the UNLV Immigration Clinic. Among other services, the legal clinic provides deportation defense to unaccompanied children who landed in Nevada after fleeing violence in their native countries.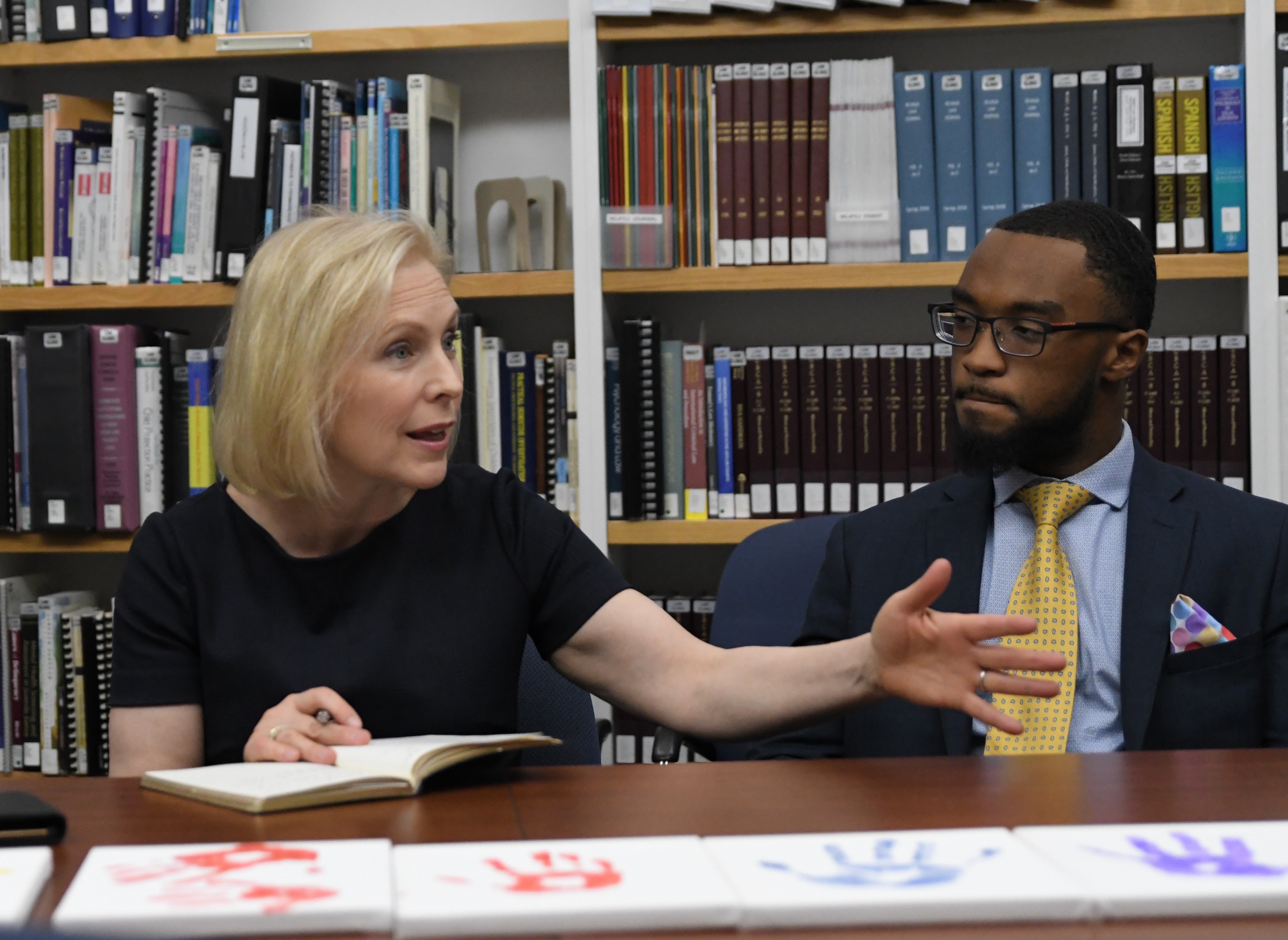 Gillibrand, an outspoken critic of President Donald Trump, told reporters she disagrees with how he has handled immigration issues and thinks he has "manufactured" a crisis at the border. She called family separations "inhumane" and "not representative of who we should be as Americans."
She also suggested guaranteeing asylum seekers an attorney and creating Article I immigration judges. Immigration courts currently are housed within the Justice Department, but critics have called for an independent court system that does not report to the attorney general.
"We want unbiased judges that are appointed for life," Gillibrand said.
The senator said it was important for her to hear from people involved in these issues on a daily basis, which is why it was her first stop in Nevada as an official presidential candidate. During her second campaign event Thursday — a meet and greet at Atomic Liquors — Gillibrand told voters how she got her start in politics: tagging along with the grandmother to campaign events.
Originally from upstate New York, Gillibrand moved back there after serving in the U.S. Department of Housing and Urban Development in Washington, D.C. She ran for Congress in 2006 and won that election. Three years later, she was appointed to the U.S. Senate, replacing Hillary Clinton, who became secretary of state. Gillibrand has won re-election twice.
Gillibrand formally entered the presidential race earlier this week after spending more than a month meeting voters across the country. She plans a "campaign kick-off speech" Sunday outside the Trump International Hotel in New York.
She pointed to her underdog status in her first congressional race as proof of why she can win the presidential election.
"The funny thing about this is he never took me seriously," she said, referring to her opponent, Republican incumbent John Sweeney. "His biggest mistake was he never took me seriously."
As president, Gillibrand said she would champion voter expansion efforts, including same-day voter registration, online voter registration, early voting and absentee voting. On the education front, she supports universal pre-kindergarten, affordable day care and efforts to divorce property taxes from school funding to equalize education.
The senator also called for essentially expanding the GI Bill. Gillibrand said anyone who completes a year of public service — whether in health care, education, law enforcement or otherwise — should receive two years of free education at a community college or state university. People who do two years of public service would be eligible for four years of free education, she said.
"I really think what America is looking for is someone who has a bolder and better vision for this country," she said.
During her pitch to Nevada voters, Gillibrand repeatedly referenced bravery, the theme that coursed through her campaign announcement video. She said Trump ran as the "disrupter" but failed to deliver the help he promised Americans who felt left behind by the government.
The person who defeats him in 2020, she said, will be someone with a plan to actually fulfill that promise.
"It matters whether you will fight for other people's families as hard as you fight for your own," she said. "And it matters that you listen and you understand and you absorb those fears and worries and anxieties and overcome them — and actually have a vision for how to overcome them."
Gillibrand followed a string of other presidential contenders who have visited Nevada, an early caucus state, in recent weeks. The 2020 candidate parade continues this weekend. Former Texas Congressman Beto O'Rourke plans a swing through Las Vegas, with events Saturday and Sunday.