LaVena Ward-Fowler had a "gut feeling" the Oakland Raiders would wind up calling Las Vegas home, so she wanted to do the same.
Last month, the lifelong Raiders fan took a gamble and bought a $234,900 condominium at One Las Vegas, a property comprised of two high-rise towers along Las Vegas Boulevard South. It's a mere four miles south of the proposed stadium site.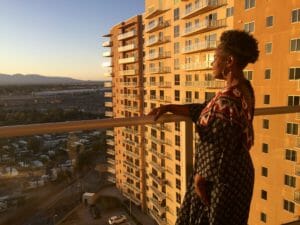 A San Francisco native, Ward-Fowler moved into her 16th-floor dwelling Feb. 28 and then waited. On Monday, the city's new resident received the news that she, quite literally, had banked on: The Raiders are headed to Las Vegas.
"My phone was blowing up because everyone back home knows that I'm a Raiders fan, and my motivation for moving here was because of the Raiders," she said.
She wasn't the only football-motivated buyer. Las Vegas resident Tom Gini decided to take the plunge and place an offer on a One Las Vegas condo the same day the NFL approved the team's relocation bid. For Gini, the decision was more about property-value potential than the Raiders. He's actually a Patriots fan.
"If that would have fallen through," he said, referring to the Raiders' move, "I might have still bought one, but I doubt it."
Dave Tina, president of the Greater Las Vegas Association of Realtors (GLVAR), calls these recent property transactions the "Raiders Effect." While he doesn't expect hordes of buyers like Ward-Fowler and Gini to storm the region looking for homes near the stadium, Tina said the Raiders' pending move to Las Vegas can only bolster the real-estate market, which has been on an upward trend.
The GLVAR reported that February sales were up 6.5 percent for homes and 0.4 percent for condos and townhomes compared to one year ago. A total of 2,815 existing homes, condos and townhomes were sold last month, up from 2,676 in February 2016.
The median price of single-family homes has also been steadily increasing in recent years — going from $121,000 in February 2012 to $240,000 last month. The median price of condos and townhomes sold in February was $118,000, which is up 4 percent from January but down 2.9 percent from last year at this time.
"We're doing great even without the Raiders," he said. "The Raiders is like the cherry on top for Las Vegas."
Tina, who owns Urban Nest Realty with his father, predicts a trickle-down effect from professional hockey and football's entry into the Las Vegas market: If companies or people are on the fence about moving to Southern Nevada, the recent sporting acquisitions could buoy them into making the leap because it indicates economic strength.
"It's a safety-net, I believe, for a lot of businesses and people," he said. "It puts a nice shine on the city."
The Raiders have their sights set on roughly 62 acres of land near Russell Road and Interstate 15. Should that acreage become the stadium site, Tina said land and real-estate prices in the vicinity will inevitably increase as well. He also wouldn't be surprised to see entrepreneurial buyers try to scoop up homes near there, thinking they can rent them out to football fans who visit for the weekend. (Technically, they can't. Unincorporated Clark County prohibits short-term rentals in residential areas.)
The staff at One Las Vegas noticed an uptick of website registrants from the Bay Area starting in the fall, said Uri Vaknin, a partner at KRE Capital, which is part of a joint venture — DK Las Vegas — that owns the property. There's no way to know for sure, but they're speculating that it's tied to the Raiders' relocation, he said.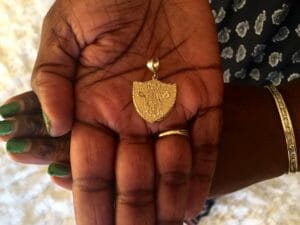 After all, that's what prompted Ward-Fowler to buy her condo. The recently retired court reporter had spent years caring for ill family members, including her parents and husband, before they passed away. She figured it was finally time to do something for herself, and buying a second home in a high-rise tower near her beloved team seemed like an exciting new life chapter.
The 58-year-old grew up watching the Raiders with her father and then, later, her husband. No, her new condo isn't decked out in team gear, but she does wear her late husband's gold Raiders emblem as a necklace.
"I'm so looking forward to going to games," she said.
Ward-Fowler is in San Francisco visiting her son, but she has a one-way ticket booked back to Las Vegas.
Feature photo caption: This vacant piece of land at Russell Road and Interstate 15 is the possible site of the new football stadium. The NFL owners voted Monday to let the Oakland Raiders relocate to Las Vegas. Photo by Jeff Scheid.