Voters chose existing city leaders to serve as mayor of North Las Vegas and Henderson, but a shake-up of the Las Vegas City Council remains a possibility after Tuesday's primary elections.
Final results, which indicated turnout was startlingly low and in single digits, showed North Las Vegas Mayor John Lee coasted easily to re-election, capturing more than 80 percent of the vote.
Henderson City Councilwoman Debra March won the suburb's mayoral election after securing more than 55 percent of the vote. Of the six other candidates who ran against her, city employee Rick Workman — who unsuccessfully ran for Henderson mayor in 2013 — proved to be her biggest competition. He took 36 percent of the vote.
While the biggest races in those two municipalities ended in outright winners, the battle for two Las Vegas City Council seats continues. The top contenders for the Ward 2 and Ward 6 seats will face off in June's general election.
Incumbent Bob Beers garnered just under 43 percent of the vote in Ward 2, followed by challengers Steve Seroka (29 percent) and Christina Roush (26 percent). Beers and Seroka will be in the June runoff.
In Ward 6, former Assemblywoman Michele Fiore took 46 percent of the vote, and Kelli Ross — wife of incumbent Steve Ross — had 31 percent of the vote. They, too, will face each other in June.
Councilman Stavros Anthony, who represents Ward 4 in Las Vegas, clinched his re-election after receiving more than 73 percent of the vote.
A North Las Vegas City Council race will have a June runoff as well. Incumbent Anita Wood, who represents Ward 3, secured about 30 percent of the vote, but one of her challengers, Scott Black, had received 33 percent. Former Clark County Commissioner Tom Collins, who was trying to re-enter local politics,  received about 11 percent of the vote and was fourth out of five candidates.
Incumbent Isaac Barron, who represents Ward 1 in North Las Vegas, also sailed to re-election, with more than 80 percent of the vote.
The race for the Ward 3 City Council seat in Henderson was also not decided Tuesday. Incumbent John Marz led with 43 percent of the vote, and Carrie Cox edged out Matthew DeFalco to make the runoff with 28 percent.
Two months after municipal candidates filed for office, a steady trickle of Southern Nevada residents headed to voting centers Tuesday to cast their ballots for prospective mayors, city council members and judges.
Chances are, voters didn't encounter a line: That's because municipal primary elections typically draw a meager voter turnout. During the 2015 primary election, only 15 percent of registered voters cast a ballot in Las Vegas., along with 11 percent of registered voters in Henderson and 9 percent of registered voters in North Las Vegas.
The Clark County Election Department reported that 55,867 people — or 9.5 percent of all registered voters in the county — participated in the primary elections Tuesday.
And usually more than half of those people make their selection during the two-week period of early voting, which ended Friday. So as early voting results roll in this evening, those numbers will likely indicate the winners and losers in this primary election.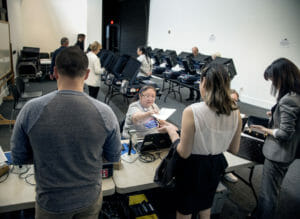 In Las Vegas, council seats in Wards 2, 4 and 6 are up for grabs as well as two municipal court judge positions. In Henderson, voters will choose a new mayor and a Ward 3 council member. Meanwhile, North Las Vegas residents will decide whether to keep Mayor John Lee in office and who should represent them in Wards 1 and 3. Two city council seats in Boulder City are up for election as well.
Although people tend to discount municipal races — perhaps because of "election fatigue" following presidential campaigns — these are the elected officials who, arguably, have the most effect on residents' day-to-day lives. They make decisions about land use and development as well as address pesky problems like graffiti and potholes.
Discontent with the outcome of the November general election, however, gave some people the extra motivation to vote in the local races.
"I hate Donald Trump," said Judy Cutler, who voted Tuesday at Green Valley Library in Henderson. "I have to do anything I can to get as many Democrats in as possible to get rid of him."
Another reason why the municipal primaries matter: If a candidate receives the majority of votes in any race, he or she is declared the outright winner, rendering a general election unnecessary. If that doesn't happen, the two candidates in each race who garner the most votes face off during the general election in June.
Las Vegas resident Bill Mize was among those who trekked to Sahara West Library — one of the city's voting centers — Tuesday morning to cast his votes in the primary election. He hasn't missed participating in an election since he moved to Las Vegas in 1981.
"You've gotta pick the right people to serve the public," Mize said as he exited the library. He voted for Steve Seroka, an Air Force veteran, who's challenging incumbent Bob Beers for the Ward 2 Las Vegas council seat. "I'll always vote for a military guy."
Beers has faced criticism in recent months after he voted in favor of a contentious development plan for the shuttered Badlands Golf Club, which is nestled within the high-end Queensridge neighborhood. His opponents include Seroka, Christina Roush and Laura Feher. Seroka and Roush, whose background is in commercial real estate, tried to leverage residents' unhappiness with the Queensridge-area development project during a candidate forum earlier this month.
Given the often small turnout for primary elections, significant participation from voters in that neighborhood could spell trouble for Beers, who has held the Ward 2 city council seat since March 2012.
But he can count on former Gov. Robert List among those who support him. List cast his ballot for Beers on Tuesday morning at Sahara West Library. His rationale:  Beers was simply acknowledging the developers' property rights when he voted in February to allow several hundred condominiums be built on one edge of the golf course.
"I feel like he's taking a bad rap over this Queensridge thing," the former governor said. "I think he's following the law."
Even so, List said he feared Queensridge residents might turn out in force and oust Beers from office. "It could be a tough night for Bob," he said. "I hope not."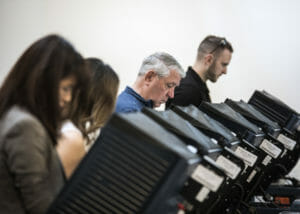 In Ward 6, all eyes will be on whether former state Assemblywoman Michele Fiore makes her political comeback tonight. She's running for the seat currently held by Mayor Pro Tem Steve Ross, who's barred from seeking re-election because of term limits; however, the incumbent's wife, Kelli Ross, is running for that seat.
It's a crowded field: There are 10 candidates, including Kelli Ross and Fiore,  who are vying to represent northwest Las Vegas in Ward 6. That race logged the most participation among all Las Vegas wards during early voting, with 3,356 people casting ballots.
Incumbent Stavros Anthony, who represents Ward 4 in Las Vegas, also is trying to retain his seat. He has three challengers: Jon Edge, Deborah Harris and Sean Lyttle.
In North Las Vegas, former Clark County Commissioner Tom Collins has his sights set on re-entering the local-government scene by ousting incumbent Anita Wood from her Ward 3 seat. That race drew 1,959 voters to the polls during early voting.
Down in Henderson, City Councilwoman Debra March is hoping to land the mayoral gig. The city's two-term mayor, Andy Hafen, can't seek run for office again. March is up against six opponents, including city employee Rick Workman, who ran against Hafen in 2013 but lost.
Feature photo caption: A couple walks past a voting sign during primary election day at Sahara West Library on Tuesday, April 4, 2017. Photo by Jeff Scheid.