Congresswoman Jacky Rosen, a former synagogue president, said she's deeply concerned about the rise of hatred across the country that's targeting so many different groups, including the Jewish community.
Her comments came a day after the newly minted congresswoman, who represents Nevada's 3rd District, announced she's joining the Bipartisan Taskforce for Combatting Anti-Semitism. Rosen, a former president of Congregation Ner Tamid in Henderson, said anti-Semitism isn't anything new, but she's saddened by the uptick in recent weeks and months.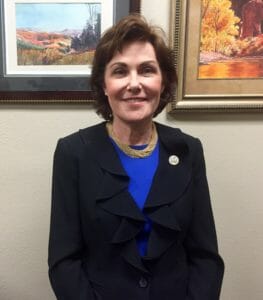 She spoke to The Nevada Independent on Wednesday evening at the grand opening of her office in southeast Las Vegas.
"I'm really upset and dismayed about the anti-Semitism because I think what they've opened is a Pandora's box of hatred," she said, adding that she's just as disheartened by hatred directed at other groups as well. "Everywhere we see hate, we all have to band together and fight it. It's not more wrong for one group than another. It's all wrong."
Anti-Semitism garnered national attention this week after vandals struck more than 170 Jewish gravesites in Missouri. Meanwhile, the Anti-Defamation League announced that Jewish Community Centers in multiple states have received additional bomb threats, the fourth series of such threats that began earlier this year. A Chabad in Southern Nevada also was the target of vandalism earlier this month.
But the acts of hatred happening inside schools also worry the congresswoman. Rosen said a regional ADL representative told her the organization has received more calls lately from Southern Nevada schools reporting hate crimes and bullying.
"It's really awful, and it's really tough on kids," she said.
Rosen said she hopes the Congressional task force makes progress partnering with various organizations around the nation to promote anti-hate messages. Political leaders, including President Donald Trump and his administration, also need to set forth a better example to impressionable children watching their actions on television or the Internet, she said.
"Respect is always the way to treat people," she said. "... We have to fight hate no matter where it is."