Democratic Rep. Jacky Rosen is doubling down on her support for a $15 federal minimum wage, attempting to draw a sharp contrast to Republican Sen. Dean Heller with less than 90 days to go before the general election.
At a roundtable hosted at the Service Employees International Union Local 1107 office, Rosen and a score of union members, home health-care workers and teachers union representatives alternatively discussed the need to raise the federal minimum wage of $7.25 an hour and slammed Heller's comments last week at a Latin Chamber of Commerce event in Las Vegas that he didn't "think there ought to be a national minimum wage," preferring for states to set their own wage floors.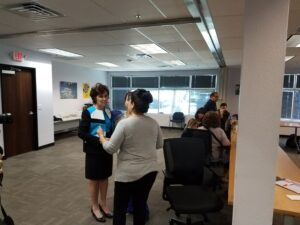 Rosen — who was endorsed by the SEIU in March — said that home health-care aides were "my angels" during the last years of her parent's lives, and she said her personal experience helped her appreciate the need to increase wages across the board.
"You gave our loved ones dignity and decency by your love and your care, and you deserve the very same," she said.
Nevada's minimum wage is set at $7.25 — the federal minimum wage — for employers who don't offer health insurance to their employees and $8.25 otherwise. As of 2017, roughly 44,000 workers statewide earn less than $8.25 an hour.
Speakers at the roundtable included Kismet Evans, a nonprofit executive who said she moved to Nevada from California to take care of her elderly parents but that the low wages paid to home health-care workers in the state made her situation difficult
"I don't know how you split $12 amongst all the other things that we have to do," she said. "There's no mileage, there's no medical, there's no safety net for if something happens to my parents, and I don't make work that day, that's hours and time and money that I lose that comes out of their household."
Speaking with reporters after the event, Rosen brushed away criticism from Heller's campaign that she didn't sign on to legislation raising the minimum wage until last February, after promising journalist Steve Sebelius in an interview that co-sponsoring such a bill would be her first move after entering Congress. She dismissed the assertion as a "distraction," and instead called Heller out-of-touch for calling to abolish the federal wage floor, which was last raised in 2009.
"I think someone who's been a career politician for the last 25 years or so doesn't understand anymore what it's like to be part of a real working family," she said. "Does he sit in roundtables like this? Does he listen to these stories? Does he go visit these places?"
Rosen is a co-sponsor of the "Raise the Wage Act," which would boost the federal minimum wage to $15 over a period of seven years and index future increases to median wage growth. In 2016, she declined to put a number on what she thought the federal minimum wage should be, but said a move to a $15 minimum should be made in "increments."
Heller in 2014 voted against bringing a bill to the Senate floor that would have raised the federal minimum wage to $10.10 an hour.
Rosen also told reporters that she was firmly against the progressive rallying cry to "abolish" the Immigration and Customs Enforcement agency, and defended her July vote in favor of a non-binding resolution supporting the agency that most House Democrats voted "present."
"The problem isn't with ICE itself, although it may need some reform," she said. "The problem really is with executive action."
She also said she had concerns with the Energy Choice Initiative, a proposed constitutional amendment that would require Nevada drop its electric monopoly model and switch to a retail market by 2023.
"It seems like prices have been going in places that have deregulated electric, and so I want to be sure that I do all my research because I want to promote sustainability, I want to promote business but I want to make sure we protect the consumer," she said.