The dusty land near Interstate 15 and St. Rose Parkway once promised future visitors a version of the Las Vegas dream — turning a gamble into a sudden windfall. A previous owner planned to build a casino there.
Now, another developer has started building townhomes on the site, offering future occupants a shot at the American Dream. Years ago, industry observers may have called this a gamble, too. Low home prices and rampant construction defect litigation caused home builders to shy away from constructing any attached products, such as condominiums or townhomes, in Southern Nevada.
But a confluence of factors have reversed this trend, breathing new life into the townhome real-estate market. Touchstone Living, a local homebuilder, owns this particular 50-acre parcel where two- and three-story townhomes will rise from the desert in just a few short months.
"We try to think like our customers," said Tom McCormick, president of Touchstone Living. "Where do you want to live, and how much are you willing to pay? And how much can you afford?"
For some prospective buyers, the answer to that final question likely isn't the median sales price for existing detached — often referred to as single-family — homes, which hit $310,000 in September. The median price for new detached homes is even higher at $390,700, according to Home Builders Research.
The affordability issue, McCormick said, is what led his company to overhaul its business model and provide a product that hits a lower price point. Touchstone Living, which has built sprawling ranch-style and spacious two-story homes in recent years, has embarked on three townhome projects in the Las Vegas Valley. Construction already has begun at Mosaic, the 800-unit project located at the corner of Las Vegas Boulevard and St. Rose Parkway in the southern valley. Touchstone Living bought the land for $28 million in April 2018.
The company's two other townhome developments, named Watercolor and Panorama, will be in North Las Vegas and northwest Las Vegas, respectively.
When townhomes at Mosaic hit the market early next year, McCormick said prices will start at roughly $230,000 and max out at $300,000. More than 300 people have joined an interest list, he said, without even seeing a model home or floorplans.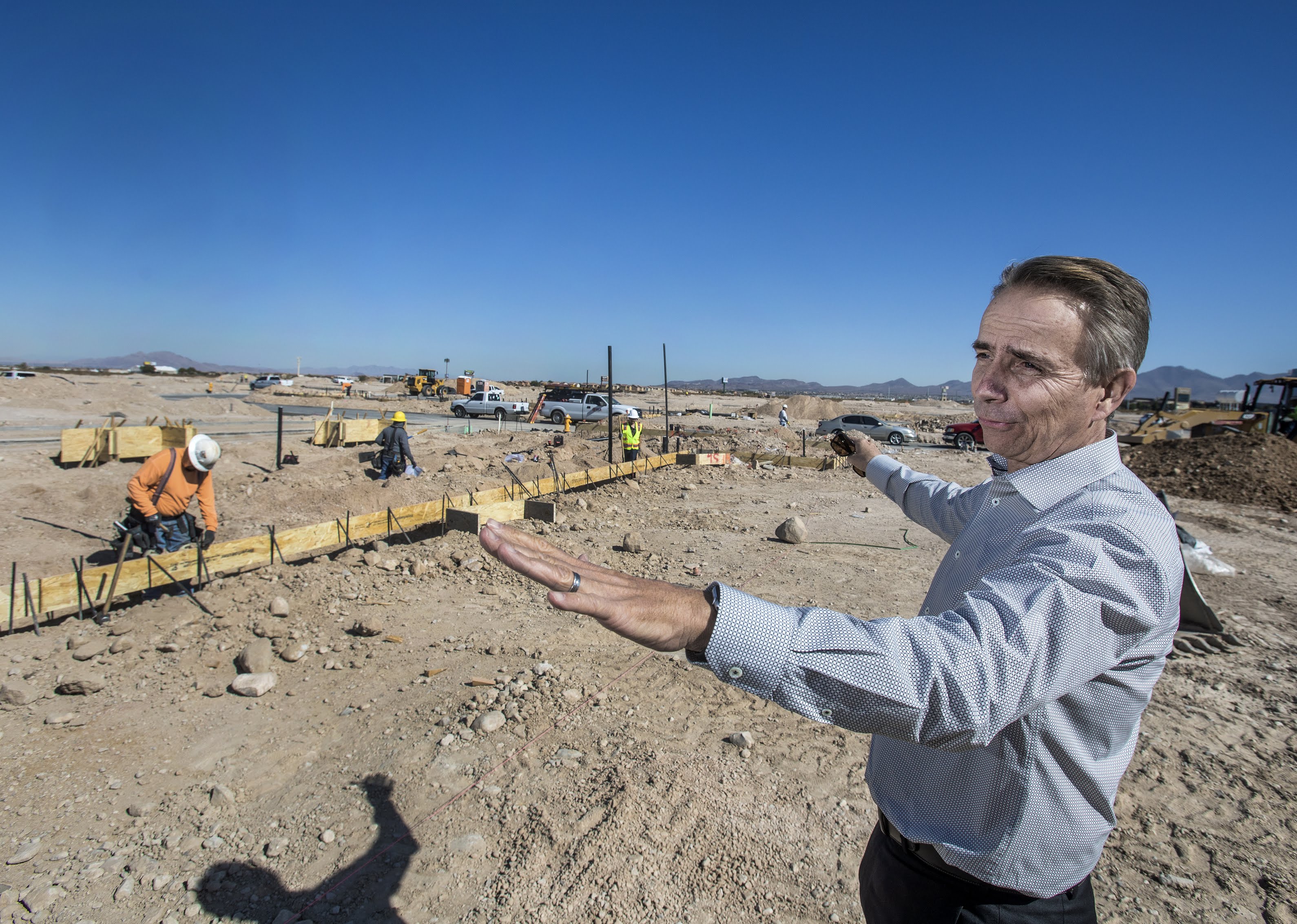 Cause and effect
Touchstone Living is far from the only builder breaking ground on attached-home projects. The head of the Southern Nevada Home Builders Association said they are popping up all over the valley, from master-planned communities to vacant lots in more developed areas.
"If they're not building one now, they have one on the drawing board to build one somewhere in the valley," Nat Hodgson, chief executive officer of the home builders group, said, referring to home builders.
It's a stark contrast from a few years ago. In 2013, new building permits for attached homes had fallen to 141 in Clark County and Pahrump. That number climbed back up to 500 by 2017 and then doubled last year, reaching 1,140. Through September of this year, local jurisdictions had issued 1,124 new permits for attached products, according to Home Builders Research.
Put differently, condominiums and townhomes represented roughly 2 percent of new home permits in 2013 in Southern Nevada. Now, their share is closer to 13 percent.
It's no secret that Las Vegas real estate favors detached, single-family homes. Just look out a plane window, and you'll see a landscape dominated by stucco homes with tile roofs, separated by cinder block walls. Street after street after street. But townhomes' disappearance from the Las Vegas market can be traced back to legal struggles that dogged the industry for years.
Home builders have called construction defect cases frivolous litigation benefiting trial lawyers.
But defenders say so-called Chapter 40 notices, which refer to Nevada's construction defect statutes, protect homeowners from shoddy craftsmanship and mounting bills. In any case, industry officials say the rise of such cases flat-lined the attached-home market earlier this decade.
In 2014, more than 1,200 Chapter 40 notices were filed in Nevada, according to research done by Applied Analysis, a Las Vegas-based economic firm. The total cost to settle construction defect cases from 2010 through 2015 averaged $32.1 million per year.
"What we used to have was horrible," Hodgson said. "Unfortunately, everybody's insurance premiums have that factored in now, and it's a part of the house costs."
The litigation and related costs, however, began to fall after 2015, when the Republican-controlled Legislature passed Assembly Bill 125. The legislation tightened the definition of construction defects, reduced the statute of limitations and repealed a section of existing law that allowed claimants to recover attorneys' fees.
Always a contentious issue, construction defects returned during the 2019 legislative session. Ultimately, lawmakers passed Assembly Bill 421, which loosened some of the 2015 reforms. But several Republican senators credited Democratic Senate Majority Leader Nicole Cannizzaro with working on a compromise that was palatable for all sides. While it's still early, the new legislation doesn't appear to be eviscerating townhome construction like in years past.
"The reality is builders are still bringing forward attached products to the market today," said Brian Gordon, a housing analyst and principal at Applied Analysis. "That would suggest that there are builders that feel comfortable developing that type of product in the post-2019 regulatory market."
Andrew Smith, president of Home Builders Research, agrees. Barring any big legal changes, he expects to see townhome construction continue. He blames the era of construction defect litigation with nearly stamping out attached residential products, but as that situation has improved, so has consumer hunger for townhomes.
"It all goes back to price," he said. "Just like cars, there's always going to be a market for new homes. Someone wants a new home, and they only have a certain amount of money to buy one, then they're going to be stuck with whatever is available, and at this price point, it's going to be townhomes."
Smith said most new townhomes in Southern Nevada are selling for anywhere from $200,000 to $400,000 in more upscale neighborhoods. In September, the median price for new attached homes was $270,630, according to Home Builders Research.
From a business perspective, attached products make financial sense for home builders who are facing steep land, labor and construction costs. The average price for vacant land in Las Vegas bottomed out at $156,889 per acre in 2012, according to Applied Analysis. Five years later, in 2017, the average price had more than doubled to $399,743. Last year, vacant land sold for an average of $391,007 per acre.
At the same time, weekly wages in the construction industry have increased in Nevada.
All these factors make density — more homes per acre — increasingly attractive to home builders. In other words, the bigger the lot size, the more builders need to charge to turn a profit.
"Buyers want to meet the price point that is more affordable for most buyers," Smith said. "They're have to attack that through higher-density projects. Townhomes are part of that."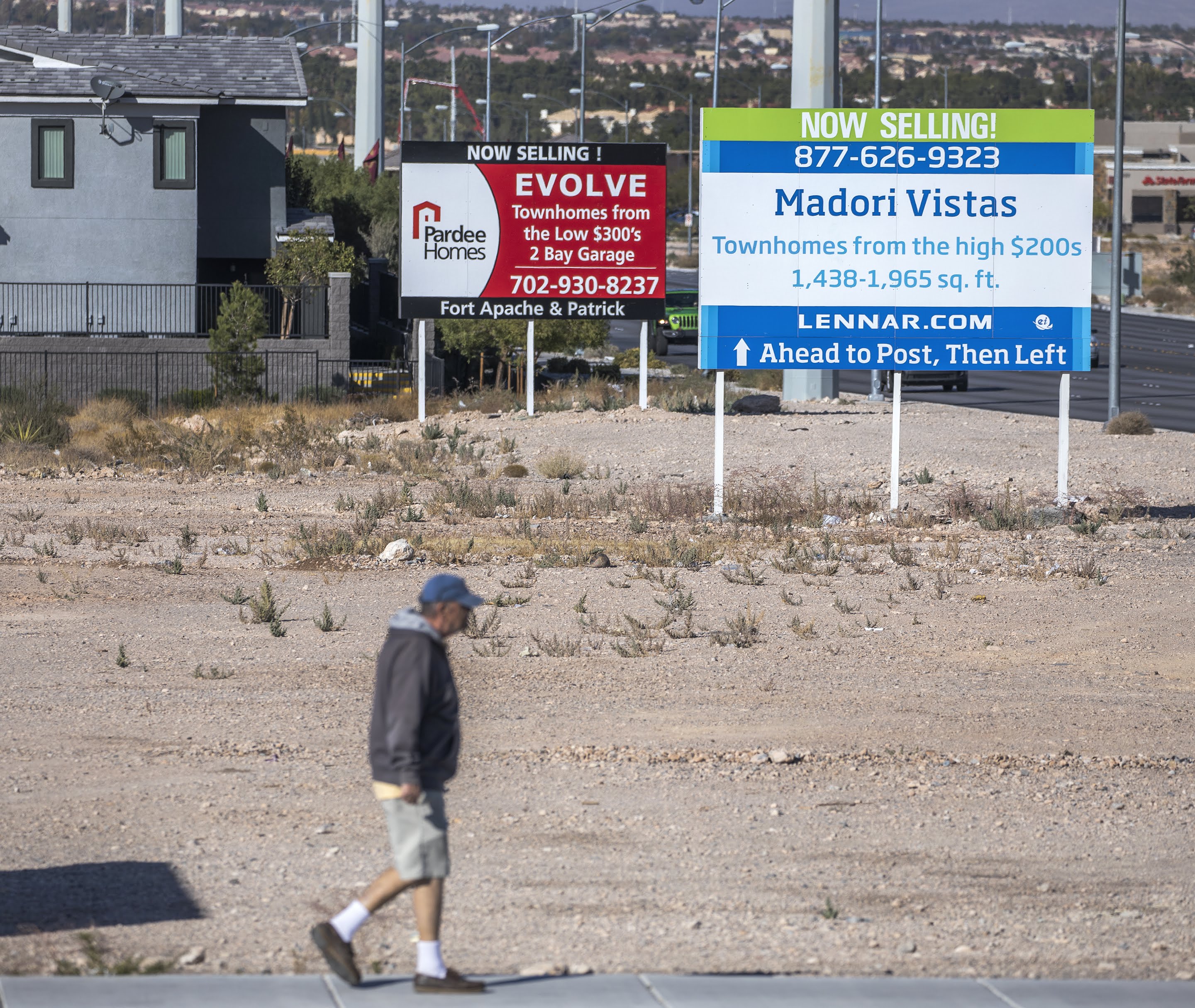 A developer's vision
On a recent afternoon, Tom McCormick of Touchstone Living surveyed the construction activity at Mosaic, where workers were prepping the foundation of a building that would include five townhomes. He wandered the gravel strip that would become a courtyard between two buildings. He pointed across the way to another rectangular gravel patch, albeit much larger in size, that would become the community's park.
Three pools would be nearby, he said, along with a dog park and basketball court.
"I feel like I'm talking about one of my kids," the father of seven said.
Sure, the satisfaction of seeing any project come to life breeds enthusiasm. But for McCormick, it marks a return to a segment of the housing industry he missed. He hesitated to continue, fearful of sounding trite, but he said it's the genuine truth.
"The thing I love to hear is, 'I didn't think I'd ever own a home, but now I do,'" he said. "I just missed that part."
Of course, not all townhome buyers are entering the real-estate market for the first time. Some are "move-down buyers," he said, who perhaps no longer have children at home and want less square footage. Others may gravitate to attached products because of the on-site amenities and maintenance-free lifestyle.
McCormick said his company will complete its existing neighborhoods featuring detached homes and larger lots in six months. From there, Touchstone Living will focus exclusively on attached products, including the combined 2,100 housing units at the Mosaic, Watercolor and Panorama projects.
Based on initial interest, McCormick said he's confident the townhomes will fill a needed niche and sell quickly. If the projects succeed, he considers it a community win as well by converting renters into long-term residents, who may put down roots and raise families here.
"I think we can all see in the world these days that if we need anything, we probably need some more fabric in our community," he said. "It would be good for us."