THE INDY OUTLOOK
by John Restrepo
The latest unemployment and jobs numbers are out, and the stats are pretty rosy -- at least at first blush. The official or "headline" unemployment rate is 5.1 percent in Las Vegas and 4.2 percent in Reno, the lowest since 2007 and 2006, respectively. The state has recovered all of the jobs lost in the recession, and then some. Nevada is fourth in the nation for its job growth rate between December 2015 and 2016. Reno job gains are in the top 10 percent of metros, while Las Vegas is in the top quintile.
Don't pop the champagne just yet, though. Talk to most workers, and they won't say the economy is back to its heyday. Look at the numbers a little bit more, and it's easy to see why.
Our strong job growth is a natural response to a long period of substantial job losses. Now that we've essentially recovered our position from 10 years ago, the question is: What will growth look like moving forward? We think it will continue, but at a more modest pace than it was during the boom years.
It's critical to look past the quantity of jobs to measures of quality. The reported unemployment rate is known by economists as the U-3 rate. We call it the "headline" rate because that's the number you see in the news. A lot of people are not included in this number, including folks who have stopped looking for work, and those who are working part-time for economic reasons, not by choice. The U-6 unemployment rate counts these individuals, and we believe it provides a better sense of the health of the workforce.
In 2007, the average U-6 rate for Nevada was 7.6 percent. In the fourth quarter of 2016, it was 12.2 percent. While down from a high of 23.7 percent during the Great Recession, this illustrates a big gap in workforce recovery. We can argue about the reasons for this, such as the cost to employers of benefits for full-time employees, but the end result is that folks aren't working as many hours or earning as much as they'd like. The average Las Vegas employee works just 33.4 hours a week. If we could restore full-time work to those who want it, our U-6 rate would essentially return to pre-recession levels.
The U-6 rate is also a factor in our state's relatively stagnant pay. The average weekly wage in December was $753.27. In December 2007, it was $734.45. That's a change of less than $20 and about 2.5 percent over almost a decade. The weekly wage is just $655.31 in 2007 dollars; once you adjust for inflation, workers are taking home about 10% less than they were 9 years ago.
This is why the average Nevadan isn't feeling fully recovered from the Great Recession. Creating jobs, especially high-quality, high-wage jobs, is an important objective. But we need to also turn our attention toward policies that will upgrade existing part-time jobs into full-time positions. It will take a lot of talent, time, treasure and political will, but this investment in the state's workforce is the only sane path forward for the economy.
This op-ed is one of three on the Nevada economy published on Sunday, Feb. 5, 2017. The columns are Part One of a series we're calling THE INDY OUTLOOK and that will be written by a trio of Nevada economists.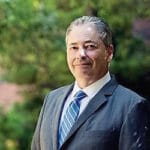 John Restrepo, the author of this op-ed, is an economist and Principal of RCG Economics. He is an expert in regional economics and forecasting. 
Disclosure: John Restrepo co-publishes the Stat Pack, a client of the communications consulting firm owned by The Nevada Independent's managing editor, Elizabeth Thompson.