When the UNLV School of Medicine received preliminary accreditation last fall, a flood of students sought admission, forcing staff to stop accepting applications when the number hit 905.
"It was just too many," UNLV President Len Jessup said. After all, the fledgling medical school could only accept 60 students in its inaugural class.
But university officials consider it a good problem to have and one fueled by its robust fundraising efforts. For the past two fiscal years, UNLV's fundraising team raised roughly $75 million in private contributions — a 22 percent increase from its $61.5 million haul in fiscal year 2014. The university brought in private donations totaling $37.1 million and $59.9 million, respectively, in fiscal years 2013 and 2012. (Those amounts include new cash, pledges and bequest intentions.)
Money donated to provide full-ride scholarships for every student in the medical school's charter class certainly played a role in the application windfall, Jessup said. Beyond covering students' tuition, the donations are paying dividends to a university trying to brand itself as a new but top-notch provider of medical education.
"That's helping us put together a really good first class," he said.
The medical school scholarships aren't the only example of philanthropy's effect on the public university. One sits in the heart of campus: the under-construction hospitality hall that will house the William F. Harrah College of Hotel Administration. The project has benefited from about $22.8 million worth of private gifts, many from gaming companies lining the Las Vegas Strip, in addition to roughly $25 million from the state.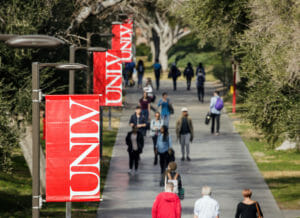 The public university's reliance on private fundraising mirrors a national trend that accelerated during the economic downturn when federal and state governments cut higher-education funding, Jessup said. Realizing that public dollars weren't enough to satisfy universities' aspirations, the higher-education institutions had to look elsewhere for help — and they did in a big way.
Public and private universities and colleges raised an estimated $40.3 billion in 2015, a 7.6 percent increase over the prior year, according to the Council for Aid to Education, which manages an annual survey on the topic.
But it takes work. Just ask Scott Roberts, UNLV's vice president of philanthropy and alumni engagement.
When he started six years ago, only half of the university's colleges had front-line fundraisers. UNLV has been working hard to fill all those holes, but it also created a fundraising team that travels across the country to develop relationships with alumni, Roberts said.
"We're discovering these alumni that have been disconnected with the institution for years," he said. "We are running into people who have been incredibly successful in their careers, but we have not engaged them."
That's changing. Now, when fundraisers come across those alumni, they're inviting them to speak to classes or sit on advisory boards as a way to reconnect with their alma mater, Roberts said.
Jessup said the university's fundraising success the past two years was the result of a "confluence of events" — exciting campus projects, like the hotel college building, that motivated donors, increased outreach efforts and an overall interest in helping UNLV achieve its goal of becoming a top-tier university.
Strong research institutions known as top-tier universities tend to raise more than $100 million in private contributions each year, Jessup said. "We're certainly growing into that kind of university from a fundraising point of view," he said.
UNLV officials are in the planning stages of the university's next comprehensive fundraising campaign. The university's first-ever campaign, which ended in December 2009, raised more than $500 million in eight years.
Coordinated-giving campaigns energize people on and off campus and boost fundraising, Jessup said. The university has not set a money goal, but he said it would be larger than the last campaign.
"It's going to touch all aspects of the entire university, from scholarships to helping recruit the best faculty and helping improve facilities," Roberts said.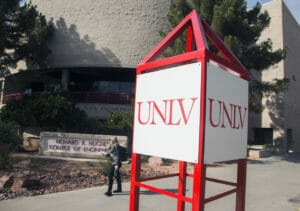 In terms of capital projects, the university needs a new building for the medical school and more space for its growing engineering college, Jessup said. The university has land near University Medical Center for a UNLV School of Medicine building, but it has been looking for a $100 million donor to fund the pricey project.
Jessup declined to speculate on how soon the university might ink a deal with a large donor for that building. "I think there are several really good donor prospects in active cultivation around the medical school," he said.
Ultimately, the university's fundraising efforts revolve around listening and matchmaking — in other words, aligning donors' interests or passions with the institution's needs, whether it be helping first-generation college students afford tuition, bolstering athletic programs, constructing new academic buildings or other initiatives, Jessup said.
"It takes time building the relationship," he said. "Once you find the match, then they've got to trust that you're able to deliver."
Caption: Construction continues on the UNLV Hospitality Hall on Thursday, Feb. 02, 2017. Photo by Photoprises LLC.