Citing the "anger and frustration" expressed by black faculty, students and staff at the University of Nevada, Reno, administrators announced new measures Wednesday to more directly address incidents of racism on campus, including a public review of its policing standards and training protocols.
The changes come as a reckoning with structural racism has struck institutions at all corners of American society since the death of George Floyd at the hands of Minneapolis police late last month.
The proposal for "immediate action" includes pledges to review the university's African Diaspora program, exploring alternatives to test score placement for first-year math and English courses and expanding existing cultural competency programming.
Notably, Wednesday's announcement also calls for the recognition of Colin Kaepernick and other black "social justice pioneers" on campus. Before playing football as a pro — and eventually drawing national controversy over his decision to kneel in protest during the national anthem in 2016 — Kaepernick played for the Nevada Wolf Pack from 2007 to 2010.
Critics of the university have charged that the school has not done enough to publicly present the former quarterback — now one of the most recognizable and widely known activists for social justice in the U.S. — as part of the school's history and image. Last week, two UNR athletes began circulating a petition charging that his image had been "all but eradicated" from campus and calling for its return.
But UNR President Marc Johnson has been publicly supportive of Kaepernick since his protest began, and he has denied the removal of Kaepernick's image or memorabilia from any university spaces.
On campus, Kaepernick's image is still present among the university's athletic spaces, though the Reno-Tahoe International Airport did publicly remove some Kaepernick memorabilia from a case owned and operated by the university in 2016. Officials cited the need to clean the case, but the removal coincided with a social media backlash for the airport displaying any Kaepernick memorabilia at all.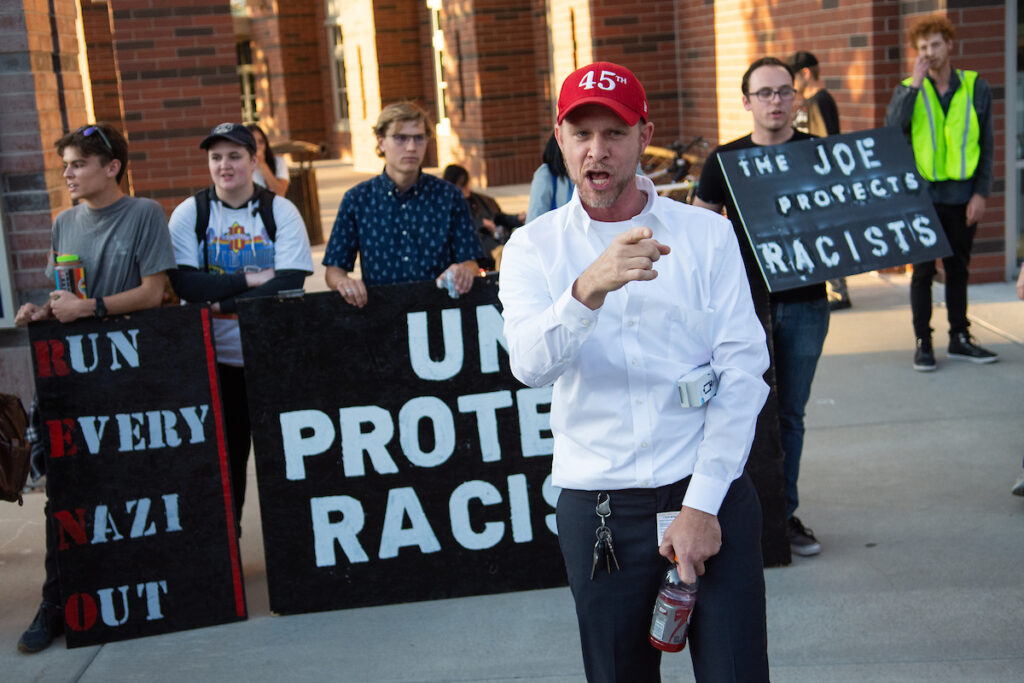 UNR has frequently drawn the spotlight for incidents involving racism or hate speech over the last five years. That includes a 2017 incident where a UNR student, Peter Cvjetanovic, was identified as a part of the now-infamous "Unite the Right" rally in Charlottesville, Virginia that once-again reignited a national debate on racism.
In the time since, the school has faced multiple incidents of swastikas being drawn on UNR buildings, and another incident in which flyers for the white nationalist group Identity Europa were distributed on campus.
UNR's on-campus police have been involved in at least two racist incidents, both in 2017. In one, images circulated on social media showed a UNR police officer dressed in a racist portrayal of Kaepernick for Halloween, while in the other, an officer was caught on a body camera joking to a black male student that he was "just going to shoot him if things go sideways."
Between the state's two four-year universities, UNR has long been less ethnically diverse than its counterpart at the University of Nevada, Las Vegas. Though more than 10 percent of Nevadans are black, just 2.7 percent of Reno residents are black according to data from the U.S. Census. At UNR, the figures are fairly similar; less than 700 of the school's 21,400 students were black as of 2018, or roughly 3.2 percent.