Administrators at the College of Southern Nevada know many of their students have the deck stacked against them.
A large chunk are first-generation college students, meaning they're first in their families to pursue a higher education and don't know how to navigate the system. Many are also parents or work full-time jobs. Some are homeless or lack transportation. Others aren't academically prepared for college courses.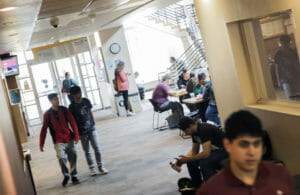 "Fundamentally, one of the biggest issues is we're not a one-size-fits-all sort of intervention institution because every student has different needs and different barriers," said James McCoy, associate vice president for academic affairs at CSN.
Given the barriers, it's no surprise, then, that many students struggle to graduate on time — if at all. The commuter college's 2015 graduation rate was 7 percent, according to data the state reports to the federal Integrated Postsecondary Education Data System (IPEDS). It's the lowest graduation rate among CSN's peer institutions across the country, which include Broward College (32 percent), Montgomery College (18 percent),  Portland Community College (15 percent), Cuyahoga Community College (9 percent) and Austin Community College (8 percent).
But the graduation rate comes with a big caveat: It only includes first-time, full-time students who complete their programs in six years for bachelor degrees, three years for associate degrees and one and a half-years for certificates.
Seventy-four percent of CSN students attend school part time, so that entire population isn't counted toward the graduation rate reported to the federal government, McCoy said.
That's why college officials prefer to focus on actual numbers of students graduating. During the 2015-2016 academic year, 4,341 students exited CSN with some sort of degree or education certificate. That's up from 4,029 students two years prior and 2,179 students in the 2011-2012 academic year; however, CSN didn't report skills credentials to IPEDS until the 2013-2014 school year, hence the sharp increase in more recent years.
Number nuances aside, they know degree completion is vital given the changing nature of the state's economy. Fifty-four percent of the state's jobs require some sort of advanced education, but only 30 percent of Nevada residents age 25 or older have a post-secondary degree, according to a report recently released by the United Way of Southern Nevada. And the number of skilled jobs in Nevada is expected to continue growing.
So the community college, which has three campuses in Southern Nevada and about 45,000 students annually, has been focused on increasing its student-engagement efforts, McCoy said. Staff started by doing research — collecting data and hosting student focus groups — to identify ways the college could better help students stay on course.
For the past few years, the college has been piloting a three-pronged approach to set students on the right path before they even set foot in a classroom. The plan requires that new students participate in an orientation, take academic placement tests before scheduling college courses and meet with an academic adviser.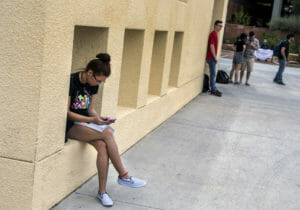 Starting in the fall, all incoming students must do those three things before classes begin, McCoy said. College officials hope the process eases any confusion and ensures that students enroll in the right classes based on their educational goals.
Roughly 60 percent to 70 percent of CSN students need remedial math, reading or English classes before enrolling in college-level courses in those subject areas, he said. In the past, some students would be nearing degree completion and then find out before taking a required math or English class that, because of their test scores, they needed remedial coursework — hence the new push to have students take placement tests right off the bat.
"We need to shorten the path of remediation," McCoy said. "We need to make the path to remediation accessible quickly, and we need to make sure we provide wraparound services so that the student's not alone in that remediation."
Within a year or so, CSN hopes take a much bigger leap toward student engagement. It's building an online tool that should serve as a GPS-like system for students, McCoy said.
A computer system will spit out a so-called guided pathway for each student based on his or her answers to questions such as these:
What's your major?
What's your work schedule like?
Do you have child-care needs?
What part of the county are you living in?
"It will optimize an actual schedule" — complete with the correct sequencing of classes — "that will match not only what they need, but based around their life circumstances," McCoy said. "We're in the midst of this build right now. It's a huge lift."
The community college also has plans to build student unions at its West Charleston, Henderson and North Las Vegas campuses. CSN didn't have the capital funds necessary for the project, so it surveyed students to see if they would support a student fee increase for the new buildings.
"Overwhelmingly, they said they would really like to see these new facilities," said Sherri Payne, CSN's senior associate vice president for facilities management.
The student government and Board of Regents have approved the fee increase, which will cost CSN students $8 more per credit for fall and spring courses and $3 more per credit for summer classes, Payne said. The three buildings, which will be identical and include lounging areas, study space and food options, are estimated to cost a combined $80 million.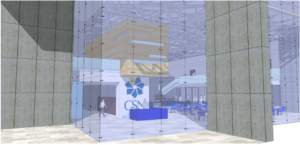 The college hopes to begin construction next year and debut the student unions in fall 2019, she said.
"The idea is student engagement starts in the classroom and continues on campus," McCoy said. "If we miss that 'it continues on campus' piece, they don't feel a sense of connectedness to their campus, like university students do, (and) it becomes very challenging."
CSN's efforts come at a time when community colleges are under greater scrutiny within the state. A group of retired community college presidents and Republican Assemblyman Ira Hansen have proposed legislation that would that would take the state's community colleges out of the purview of NSHE. CSN and the state's three other community colleges would be governed by a new board if the measure passes — although it remains unclear how far the bill will go in the Democratic-controlled Legislature.
Even so, the forthcoming changes at CSN received an enthusiastic response from second-year student Vy Nguyen, who transferred to the college's West Charleston campus after spending one semester at University of Nevada, Reno. She's working toward an associate's degree in science and then plans to complete her bachelor's degree in mathematics at UNLV.
Nguyen said she had a difficult time scheduling a an appointment with an academic adviser when she was trying to transfer to CSN and found the process to be somewhat disorganized. More help navigating the system upon arrival would be helpful for students, she said. But, unlike some of her peers, she didn't let those obstacles get in her way.
"It's honestly just the more logical option to come here and take pre-requisites," she said recently while studying with a friend on campus. "Hypothetically, if I could stay here, I honestly would. I like it."
Feature photo caption: Students walk between classes at the College of Southern Nevada Charleston Campus on Wednesday, March 22, 2017. Photo by Jeff Scheid.