Back in May, Mayor Ken Tedford of Fallon issued a simple challenge to Mayor Debra March of Henderson — whichever mayor's community has the lowest participation in the census by the end of the count has to give the other mayor a key to the city.
The deadline for that challenge is rapidly approaching as the country nears the Sept. 30 date that marks the end of counting for the once a decade U.S. census. Although response rates throughout the state aren't as high as officials hoped, the mayors' moves in Fallon and Henderson may have made an impact as both of these cities have response rates higher than 70 percent, and Henderson is one of only five large cities in the U.S. to surpass 75 percent.
"It's extremely important that every single household participate in the 2020 census … to help determine where tax dollars should be used to fund education, healthcare, transportation, public safety and other programs that contribute to every resident's quality of life," March said in an email to The Nevada Independent. "Henderson is leading the state of Nevada in the self-response rate … In May, I accepted Fallon Mayor Ken Tedford's invitation to a friendly census response rate challenge and if these results continue, Mayor Tedford will soon owe me a key to the city!"
The mayors' friendly competition was meant to inspire community participation in the census in a year during which response rates have been much lower than they were in 2010 and officials fear a potential undercount. Kate Marshall, Nevada's lieutenant governor and the chair of the Complete Count Committee charged with promoting the census, thinks this kind of involvement from local politicians and the community-bonding that comes with friendly competition can only be beneficial to raising census response rates.
"Just think about when UNR and UNLV play," Marshall said on Sunday, during the committee's Census Weekend of Action. "There's a very happy competition, right?"
More than half of the state's counties have not hit response rates from 2010 with just over a week remaining to complete those counts. Local leaders across the state have been implementing programs that help them engage in the community in order to encourage participation in the census and educate residents about what the purpose of the census is.
In addition to its competition with Henderson, Fallon officials have put notices in the local newspaper and set up tables at community pools to increase participation — efforts that have resulted in a response rate of over 70 percent.
"The mayor is taking it seriously and we've tried, I guess, about all the tricks up our sleeve that we could think of," said Robert Erquiaga, the city's legal and administrative director.
While Marshall has indicated that operations by the national Census Bureau have been slowing in the state throughout the past month, local initiatives have been ramping up as Nevada's leaders try to ensure as many residents as possible provide information on their households in the last week of the census count.
"That spirit of community and collaboration … is going to take us over the finish line in a better place than we are today," Marshall said.
The lieutenant governor herself took part in some of these programs over the weekend. On Saturday and Sunday, Marshall, joined by several community leaders including Assembly members Selena Torres and Edgar Flores and Las Vegas City Councilwoman Olivia Diaz, held outreach events in East Las Vegas, where response rates to the census are at 29.4 percent, far lower than the overall county response rate that is more than 65 percent.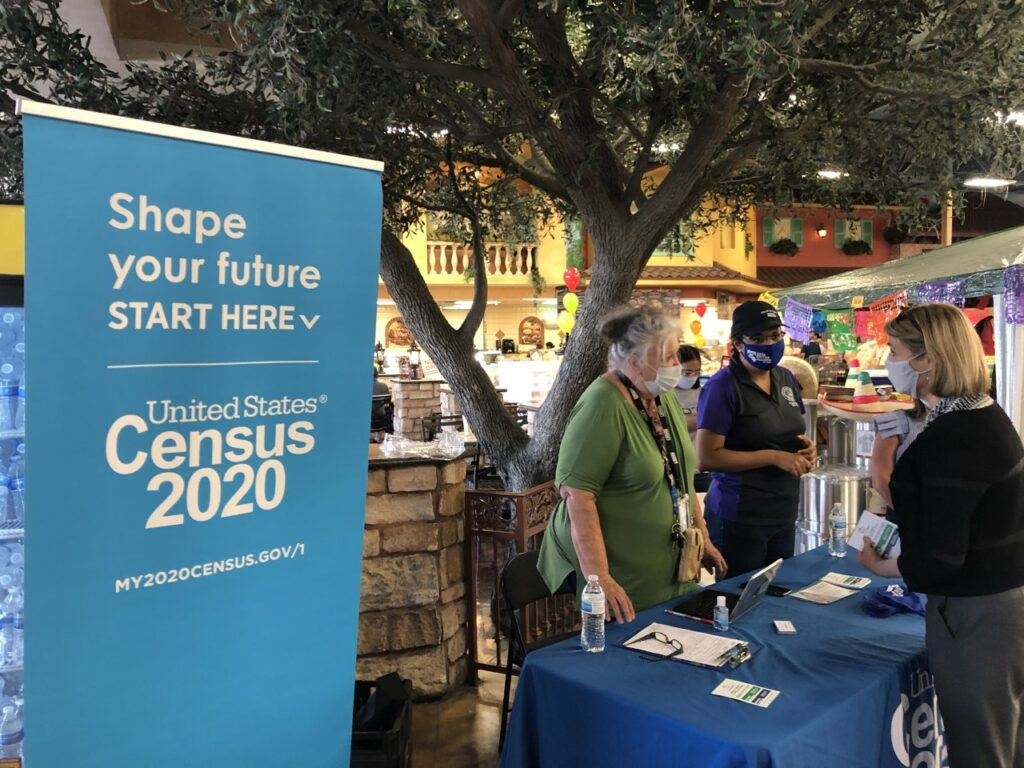 The leaders were joined by census takers and volunteers who helped residents fill out their census forms. Marshall says that the weekend's efforts in East Las Vegas pulled in around $1 million as each person who completes the census means $20,000 for the region's budget over the next 10-year period.
Communities with demographic makeups similar to East Las Vegas consistently have lower response rates than more affluent communities, but it is exactly these communities, according to Marshall, that need to be counted correctly the most.
"The people in East Las Vegas need health care, education, infrastructure," said Marshall. "So the very people who don't have time to focus on things outside of food and shelter are the very people we need to be counted so that we can lift up this state."
While the census may not take a long amount of time to complete, it is less of a priority in busy households where working multiple jobs, grocery shopping, and helping children with school take precedence.
"In the Constitution when it says life, liberty, and the pursuit of happiness ... those are in order," she said. "And also, quite frankly, there has been a politicalization of this process."
Courts have blocked attempts by the Trump administration to include citizenship questions on the census and exclude undocumented immigrants, but according to Marshall and others, the damage has been done and uncertainty is rampant in Latino communities, where people fear any information they give may be used against them by immigration officers.
"I can talk about how safe it is, but when you have people like the president of the United States making a lot of political statements with respect to the census, that distorts the process," Marshall said.
East Las Vegas and other urban communities have very high Latino populations, but they are not the only regions in the state facing this issue. Nevada's population is approximately 30 percent Latino, and many rural communities have large numbers of immigrants, resulting in similar problems with fear and uncertainty regarding the census and the perceived possibility it may be used to deport Nevada residents.
"One in five of our residents is foreign born, and, you know, we really believe that the rhetoric that came out of the White House leading up to the census really discouraged a lot of folks from completing the census," said West Wendover Mayor Daniel Corona.
West Wendover is located in Elko County on the eastern border of the state with a population of approximately 4,200. The city's response rate for the census is 52.8 percent, which is higher than its 2010 response rate. However, Corona says it's still not as high as the city is hoping for.
"We can no longer rely on 2010 numbers to fund our needs in 2020 and until 2030," he said. "It's so important that everyone takes the census as we were undercounted in 2010. And we can't afford to have that big of an undercount again in 2020."
West Wendover has been sending out census reminders with every household's water bill and implemented a program in March which offered residents $20 off their next utility bill if they filled out the census and brought proof of completion to city hall. According to Corona, the vast majority of those who did fill out the census took advantage of the offer, but participation in it has dwindled as the city's response rate has flatlined over the last month and a half.
As the city's response rate has largely settled at that 52 percent mark, the city and its census takers have largely focused on educational outreach, Corona said. Messaging has been largely focused on how census data cannot be used for immigration purposes or to deport any Nevada residents.
A lot of that educational messaging has been aimed at schools, with the hope that students who learn about the census and its purpose will relay that information to their parents and encourage them to provide information.
With just over a week left of the count, the city is expanding its education outreach in schools with public service announcements put together by the West Wendover High School journalism program. A similar video filmed by Marshall is being shown to students in the Clark County School District.
"They plan to show throughout the day in different classes, while the kids are doing their virtual learning," Corona said. "And the hope is that if the parents are home, they're paying attention to what their kids are doing at school and, you know, parents might catch that and some of that might observe and absorb it and go and take the census."
Fighting misinformation isn't the only challenge Corona and other rural leaders face in increasing census participation. It is often difficult for census forms to be delivered in rural areas where many citizens have P.O. boxes. Census forms cannot be delivered to a P.O. box and instead a form must be delivered by a field operative. According to Marshall, the pandemic has "compounded" already limited field operations this year.
The mayor himself told Marshall that he received his census packet but some of his own neighbors did not, and Marshall says she has heard from Lovelock, Carlin, Fort McDermitt, and basically all of Esmeralda County that forms have not been delivered there. As of Sept. 8 in Esmeralda, the smallest county in the state with less than 1,000 residents, the response rate was only 14.7 percent, the lowest of any county in the state and less than half of what it had been in 2010.
West Wendover is also planning to host a virtual town hall over Facebook in the next week as a final attempt to educate residents and encourage them to fill out information about their households. Using social media to encourage residents to complete the census is something other cities have been trying as well.
"We're working under a completely different landscape, which is challenging, right? We've never seen this before," said Hillary Schieve, the mayor of Reno. "That's why we really look to social media because we believe more people are using technology to communicate."
Officials in Reno have been making use of the Nextdoor app among other forms of social media to spread the word about the census. Nextdoor allows neighbors who live in the same community to share information with each other as well as connect with businesses and public agencies.
"There's a lot of residents that are paying attention, and they're engaged," Schieve said. "We've seen in the past, certainly, when we're working on messaging to the community that those are really effective ways."
The response rate in Washoe County is slightly higher than that of Clark, at over 68 percent.
In addition to improving response rates in inner-city and rural areas, from Sept. 22 to Sept. 24, the state will be conducting outreach to unsheltered and transient populations. Nevada's homeless population was undercounted in 2010, and Marshall expects the same to occur this year, but hopes that efforts made by non-profits will at least improve the rate of response.
Counting of Nevada's transient populations will take place through service providers as census takers are not allowed and not trained to visit encampments and other locations where homeless individuals are known to congregate.
The state has also been making an effort to leave forms at temporary housing units in order to get as accurate a count as possible.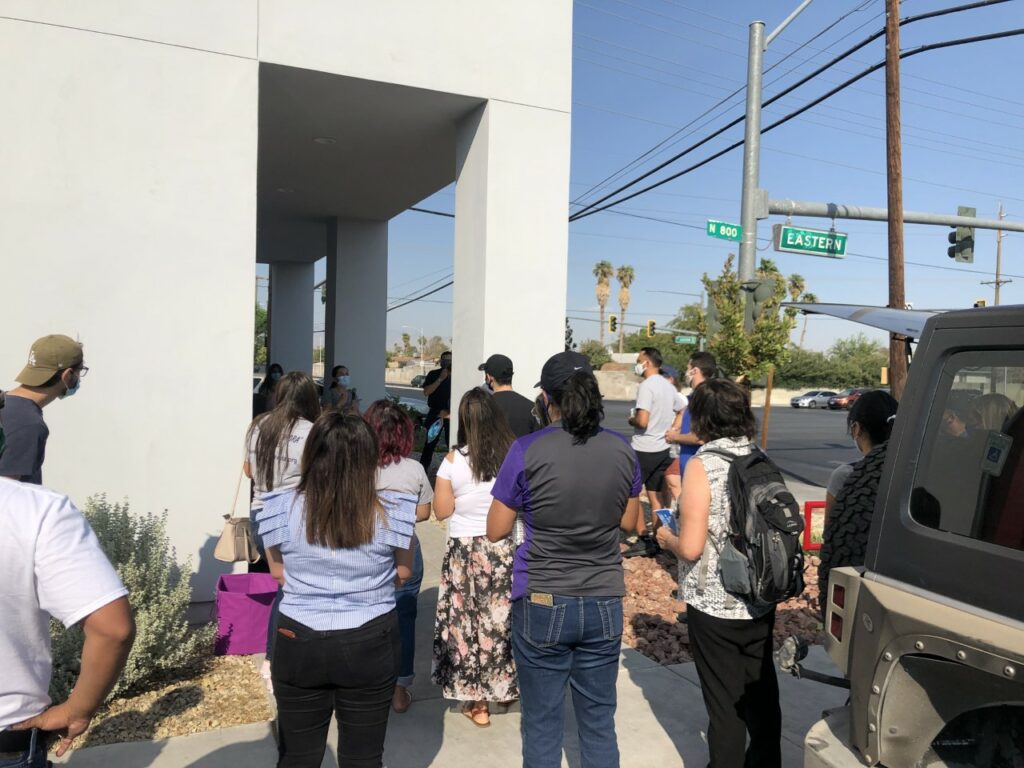 Although attempts have been made to further extend the counting deadline for the census, with officials arguing that finishing the count at the end of the month would result in a flawed count, Marshall does not anticipate receiving any additional time. Even if time were extended, census operations have been winding down and would have to be ramped up again.
"We learned [Saturday] that there are only about 12 census takers in the entire state of Nevada right now," Marshall said. "One of the reasons that I called for the push this weekend is because quite frankly, if we in the state of Nevada had not called for that, it wouldn't have happened."
But Marshall says that even while operations have been slowing, she's grateful for the work the Census Bureau did during its time in the state. She also says she is grateful for the work local politicians and community members have done to try and get as accurate a count as possible.
"I am overwhelmed with the community that we have shown and grateful, and it gives me hope," she said. "It gives me a feeling that when we come together, we can achieve the things we need for our community, that really we talk about Nevada as our Nevada, right, and we matter."