On a recent morning, a colorful banner appeared on a fence outside Abston Elementary School in the southwest Las Vegas valley.
"The building office is officially open," according to the message printed in blue letters. "We invite families to register children. We are excited to serve you!"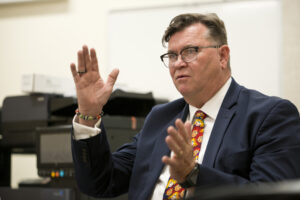 The banner serves as a friendly reminder to neighborhood families who may not realize a new elementary school — featuring sparkling computer labs, large windows and a spacious courtyard — is opening this year. But it also speaks to the numbers watch occuring at campuses across the Clark County School District each year: If schools don't reach their projected enrollment, they risk losing staff members.
So every summer, educators such as Principal Jeff Hybarger wait with bated breath and a touch of optimism as they monitor their enrollment numbers. The district's projected enrollment for Abston — one of its two new elementary schools welcoming students in August — is 724. As of Thursday, 672 students had registered, leaving a gap of 52.
"It's hard to say what we'll get," said Hybarger, who, as principal, is shepherding Abston through its debut. But he struck a more hopeful tone later in the conversation: "I'm confident that we'll be where we need to be."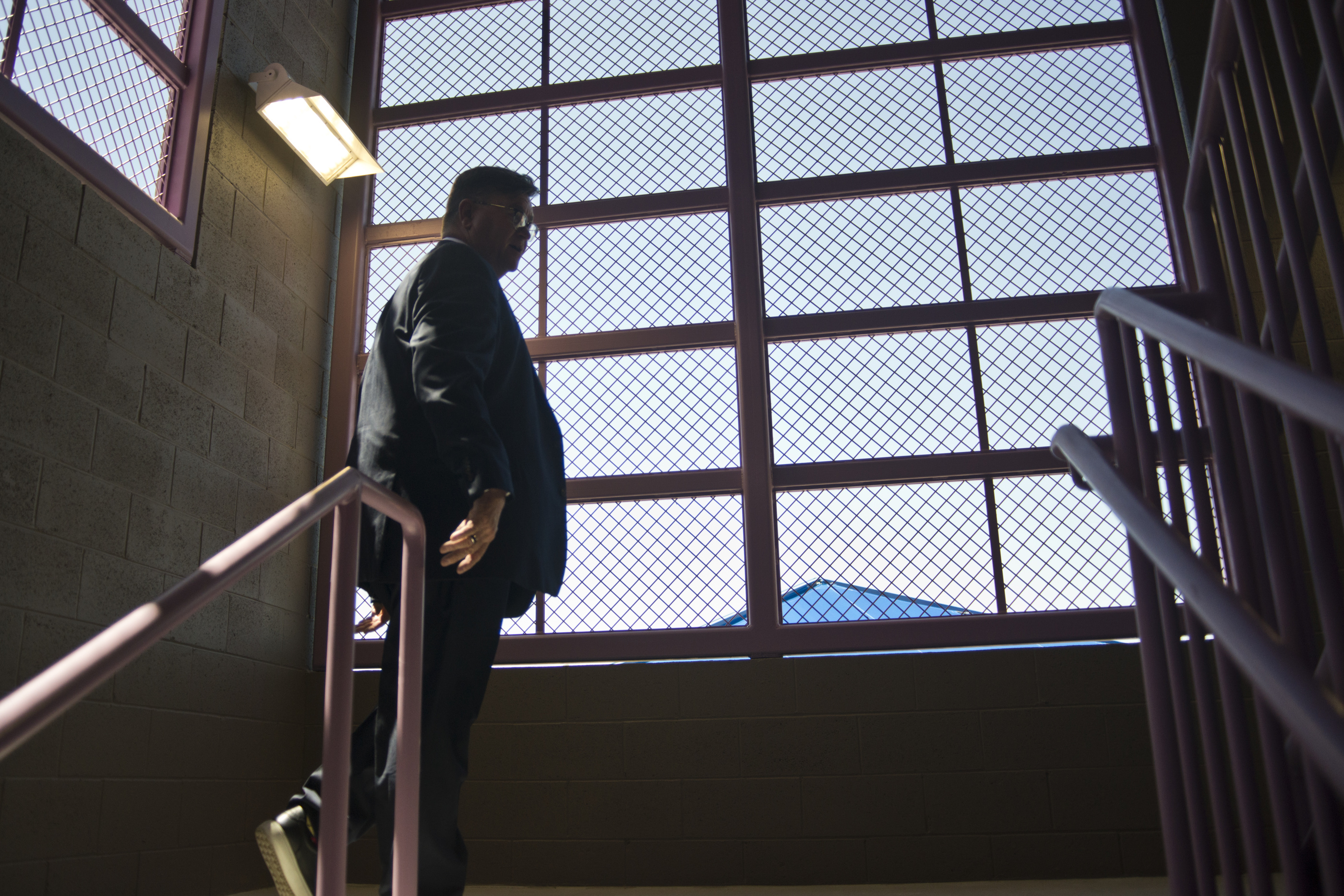 Forecasting enrollment
The 724 number didn't just fall out of thin air. It represents months of planning and calculations that happen throughout the year as the nation's fifth-largest school district tries to predict how many children it will be educating. The process falls somewhere between an art and a science given the many factors at play — the economy, family moves, and charter schools, to name a few. Simply put, there's always some fluctuation.
"We'll gain just in elementary almost 3,000 students from the beginning of the school year until May 1," said Rick Baldwin, the district's director of demographic zoning and geographic information systems. "We have some schools that will gain 70, 80 additional students in that time frame."
The process starts with a districtwide enrollment projection, which is calculated in October or early November, Baldwin said. It involves analyzing existing enrollment numbers and factors that may cause numbers to shift. 
For instance, the department has one staff member whose entire job revolves around tracking residential communities in Clark County, Baldwin said. New housing developments or apartment complexes mean more children, many of whom will enroll in traditional public schools.
On average, 100 single-family homes yield about 17 elementary-age students, while 100 apartment units or condos generally contain about 14 children who attend elementary school, Baldwin said. Separate calculations exist for middle and high schools.
The district's enrollment count for the 2018-2019 school year was 320,703 students, but that figure doesn't include pre-kindergarten because those children are not included in state apportionment funding. Early childhood programs receive funding through state categorical grants and federal money. 
Still, the school district must find space to accommodate pre-kindergarten students. That's why Baldwin — essentially the chief enrollment guru — likes to say the district served about 326,000 students, including 5,363 pre-kindergarteners, last year.
Baldwin said the school district expects to serve 321,021 students in the upcoming school year.
After forecasting districtwide enrollment, Baldwin's team tackles its next task — estimating the number of students who will attend each school. Principals and school organizational teams learn the projected enrollment numbers when strategic budgets arrive in January. 
The staffing levels based on projected enrollment, however, could change after what's called "Count Day," which occurs several weeks into the school year and determines staffing and state funding. Baldwin said the "Count Day" will happen shortly after Labor Day this year.
Why the delay? The district tends to see 20,000 fewer students than projected during the first two weeks of school, perhaps because families haven't pre-enrolled their children or they're busy moving to new residences, Baldwin said. So a "Count Day" in early September often produces more accurate enrollment numbers.
"With anything, of course, there are drawbacks and side effects," Baldwin said. "You potentially have students sitting in school for four weeks and then potential changes to staffing after students have been in class."
Enrollment trends
Three decades ago, the Clark County School District's student population was about one-third of the size it is now. Rampant growth in the 1990s and early 2000s pushed enrollment from 105,151 students in the 1988-1989 school year to more than 300,000 by 2006. 
Enrollment growth continued until the Great Recession, when it dipped and leveled off for a few years. Then, as the economy improved, the number of students started climbing again.
The school district's enrollment fell by .5 percent in the 2018-2019 academic year, marking the first decline in seven years. Baldwin said the district's elementary enrollment is decreasing, while middle and high school enrollment is increasing. 
Some of the elementary decrease can be attributed to the expanding portfolio of charter schools, which are public schools that operate under a performance contract issued by a public entity.
About 42,000 students across Nevada attended state-sponsored charter schools last year, and officials expect that number to increase for the 2019-2020 academic year. Four new state-sponsored charter schools, which likely will enroll a combined 2,500 students, are opening this year in Southern Nevada, said Pat Hickey, executive director of the Charter School Association of Nevada. (Another charter, Nevada Virtual Academy, closed its underperforming elementary program at the end of the 2018-2019 year, displacing several hundred students.)
The Clark County School District has increased its marketing efforts to curb the flow of students fleeing for charters — a situation that carries a financial implication given that state per-pupil funding follows those children. Charter growth also led to the district abandoning plans to build a new elementary school in North Las Vegas. After a few charters popped up, enrollment numbers dropped in nearby traditional public schools.
Baldwin said he told his boss, "Pull this project. We no longer need it."
But dialogue between district and charter officials has improved in recent years, he said, making enrollment projections and capital planning easier. Baldwin said the district doesn't have an exact tally of how many students it has lost to charters. Last year, the district blamed $4 million of its deficit on revenue reductions tied to students leaving for charters.
While more charters are coming into the fold, the four new schools are the first to open since 2017. Hickey said charters have helped with overcrowding at traditional public schools and provided families with another option.
"The four this year represent a process that takes time," he said. "There's a lot of charter schools that never open because they don't make the cut. It's not easy to open a charter school, nor should it be."
Charter schools certainly aren't the only cause for decreasing enrollment. Other factors, such as Millennials starting families later and the fallout from the Great Recession, are playing a role, Baldwin said. Clark County births peaked at 30,584 during the 2007-2008 school calendar year (measured from October through September for school-eligibility purposes) and then dropped by roughly 5,000 within five years, according to district data. There were 25,771 births in the 2012-2013 school calendar year.
As a result, the incoming cohorts of sixth- and seventh-graders — all the pre-recession babies — are noticeably larger than lower grades.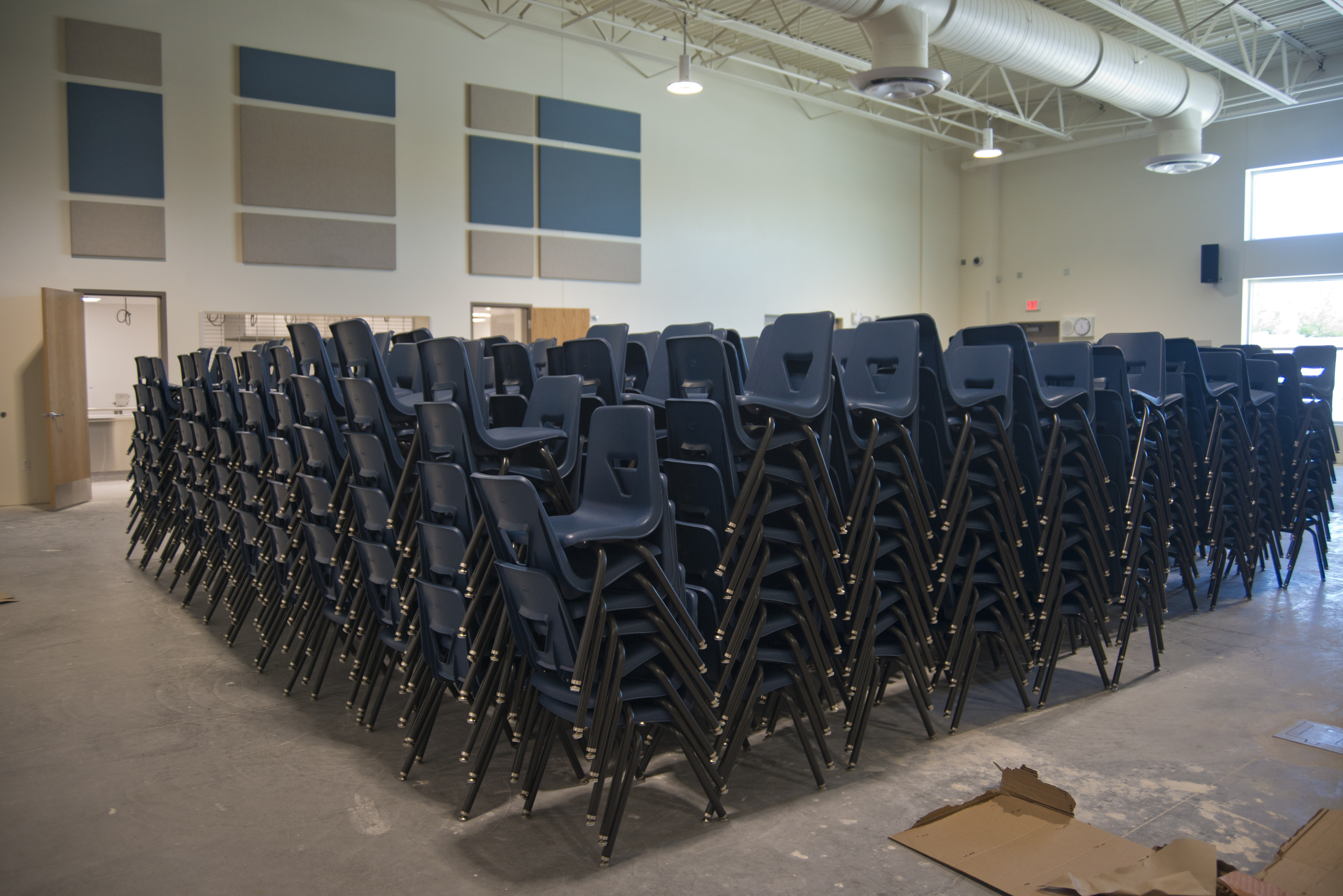 Prepping for a debut
Hybarger, the principal of Abston Elementary School, knows he has competition. The school was built to relieve overcrowding at three nearby elementary schools — Rogers, Goolsby and Hayes — but that doesn't make enrollment an automatic. Families could enroll their children in private, charter or online schools rather than take a chance on a new school. 
The veteran educator said he has a plan to make Abston — home of the astros — a desirable choice. His long-term vision includes reaching a 1-to-1 ratio for students and technology devices and developing a robust STEM (science, technology, engineering and math) program. 
A goal more difficult to measure, of course, is creating a welcoming environment.
"You have to build a community, a school, that is really an inviting place for children but also an inviting place for their whole family," he said.
As murals go up on walls and furniture moves into classrooms, Hybarger and his office staff are busy checking enrollment totals each day. But he's confident hundreds of blue chairs stacked recently in the cafeteria will be occupied by students come Aug. 12, the first day of school.