Nevada's system of regulating marijuana was born in the halls of the Legislature. So perhaps it isn't surprising that many who wander those halls, sit through hours of hearings to develop a regulatory structure and stay current on the latest twists and turns of cannabis law wind up involved in the industry themselves.
Records released through SB32 this spring reveal a number of former lawmakers and lobbyists on the list of owners and board members of marijuana companies. Among them are two who reached speaker, the highest post in the Assembly, but had become lobbyists by the time the Legislature authorized dispensaries.
"The experience that former elected officials, former lawmakers, former bureaucrats have with state agencies and how they operate, I think is helpful in advising and moving things forward in a way that is actually appropriate for our state," said Democratic former Assembly Speaker Richard Perkins, who served in the Legislature from 1992 to 2006.
Nevada shifted from having the Department of Health and Human Services oversee dispensaries to the Department of Taxation in 2017. Understanding the differences between those two agencies was an important skill, he said.
John Oceguera, also a former speaker who left the Legislature after the 2011 session, is a board member with Las Vegas Wellness and Compassion LLC and represented 11 different cannabis companies in the 2019 legislative session. He said he thinks the company sought him out as a board member because of his knowledge in the regulatory arena and his public safety background as a firefighter.
There are also former mayors and council members whose skill sets could be helpful in navigating local government approvals. Municipalities have the power to enact moratoriums and approve local permits for individual businesses, so the fate of a business can sometimes hang on how well its leaders navigate local government politics and processes.
"You want people on your team to help you in the guidance through the rough water, and cannabis is a rough industry," said Rebecca Gasca, a lobbyist and owner with Wendovera LLC. "So you want to rely on people who know how to get you where you want to go. They have the compass. They're the compass holders. You're the boat. And you trust them. And it makes sense because you haven't been in their shoes."
Also on the list are at least three people with intimate knowledge of marijuana regulation — one is Deonne Contine, who until February 2018 headed the Department of Taxation that oversees marijuana businesses. Although she is listed as a board member for Sierra Well, she says she was never a bonafide board member and was listed as a potential secretary while working as a private sector lawyer on Sierra Well's unsuccessful applications for five dispensary licenses in 2018.
Reporting from the Nevada Current suggests there may have been a lapse in communication about Contine's status that resulted in her name still being on a list that says it's current through Aug. 1, 2019. She says that had the company won a dispensary license, it would still need to update its records and confirm bona fide board members.
Critics have questioned the propriety of Contine being involved in the industry at all because of her close ties to the regulation-development process. But Contine, who served as head of the Department of Administration in Gov. Steve Sisolak's cabinet until her abrupt resignation last week, insists that she's not running afoul of ethics law that calls for a "cooling-off" period for former public employees.
"No. I was working as a lawyer in the private sector and was thinking about issues that were active at the department (in any area) and if there were any conflicts related to my private sector legal work," she said in an email to The Nevada Independent.
She added that she is no longer interested in working in the private sector and hopes to someday return to the public sector.
"I have spent much of my life dedicated to public service and ultimately realized rather quickly after working as a lawyer in the private sector for a few months that I am more suited to making sure systems and processes run smoothly and my heart is in public service and policy," she said.
Below are some notable names in the political realm who are leaders in the cannabis industry.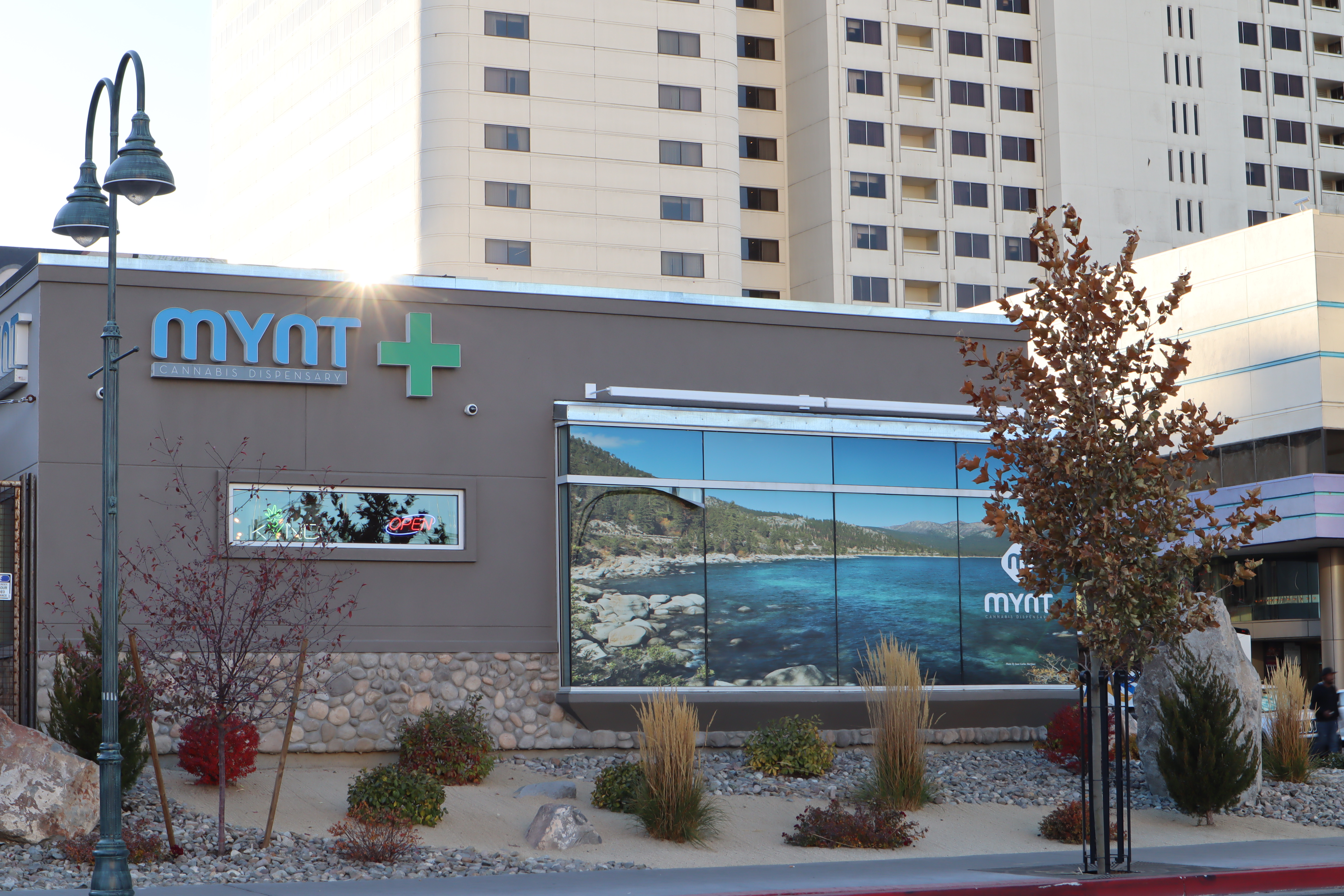 Several former state legislators have a stake in the industry, including David Goldwater, an owner at Inyo Fine Cannabis Dispensary LLC. He is a former Democratic member of the Assembly and now a lobbyist.
Former Assemblywoman Lucy Flores, a Democrat who ran an unsuccessful bid for Congress in 2016, is a board member at GreenMart of Nevada.
Then there's Sandra Tiffany, an owner at GWGA LLC and a former Republican state senator who served 14 years in the Legislature. She's a businesswoman who established a nuclear medicine image processing company and worked at a large computer-aided design and engineering firm.
One-term Republican Assembly member Scott Sibley, an owner at Nevada Holistic Medicine LLC, is a real estate broker and a reporter with Nevada Legal News, a subscription-based website that publishes news stories, public notices and other public records.
Mark James is an owner with LVMC C&P LLC and LVMC LLC. He served in the Legislature from 1992 to 2002, and on the Clark County Commission from 2003 to 2007. In 1995, James wrote Nevada's "Truth in Sentencing Law," reducing the possibility that prisoners could get early release. He also authored Nevada's "Megan's Law" to notify the community when a sex offender has been released from prison. His time as CEO of Frias cab company was marked by a contentious breach of contract lawsuit. He is now is CEO of Integrity Vehicle Solutions, which developed the Ride Genie app that allows passengers to hail cabs.
Former Assemblyman Chad Christensen, a Republican who served from 2002 to 2010 and ran an unsuccessful bid for U.S. Senate in 2010, is an owner with Fidelis Holdings. He told the Las Vegas Review-Journal in 2014 that although he is a member of The Church of Jesus Christ of Latter-day Saints, which opposes the use of marijuana except for medicinal use, he became a supporter of medical marijuana after seeing his wife's friend suffer from using prescription painkillers.
Josh Griffin, a former owner with Livfree Wellness LLC who has since left the industry, served as a Republican member of the Assembly in 2003 and is a lobbyist whose clients in the 2019 session included the City of Reno, City of Elko and casino companies MGM Resorts and Eldorado Resorts (casino companies are strictly prohibited from involvement in the marijuana industry). He is the son of Jeff Griffin, who served as Reno's mayor for eight years.
High-ranking legislative leaders on the rolls include Oceguera, a former owner at Exhale Brands Nevada II LLC and current board member at Las Vegas Wellness and Compassion LLC. He is a lobbyist and the former speaker of the Assembly who ran unsuccessful bids for Congress in 2012 and 2016.
And then there is Perkins, an owner at Nevada Holistic Medicine LLC and Nevada Natural Medicines LLC and the former Speaker of the Assembly. He worked as a police officer starting in 1984 before becoming chief of police in Henderson and retiring in 2008. He is now president and chief lobbyist for The Perkins Company, a firm whose clients include Newmont Mining and the City of Henderson.
Perkins said he's long supported medicinal marijuana after his stepson battled cancer in the early 1990s. But coming around to support recreational marijuana was a longer evolution. After conversations with narcotics officers, he has come to believe that marijuana is not a gateway drug when it's brought out of the shadows and isn't only available through criminal activity.
Family members of political figures include Ross Goodman, an owner with Paradise Wellness Center LLC. He is a criminal defense attorney and the son of Las Vegas Mayor Carolyn Goodman and former Mayor Oscar Goodman.
Mayor Carolyn Goodman has been known to abstain from marijuana-related policy discussions, such as a debate about cannabis consumption lounges in the city, because of her son's involvement.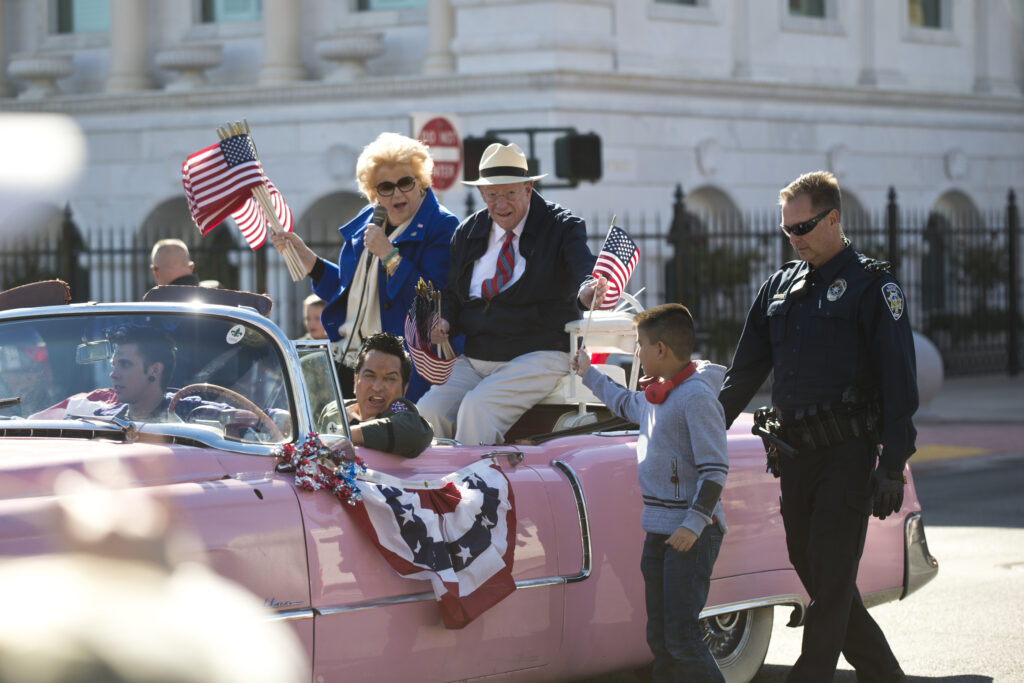 On the other end of the state, Catherine Cashell-Mannikko, daughter of former lieutenant governor and Reno Mayor Bob Cashell, is an owner at Livfree Wellness. She told the Reno Gazette-Journal she got into the business because medical cannabis has helped her daughters, and as an investment opportunity.
John Griffin is a former owner at Livfree Wellness LLC who said in 2014 that his father had relied on medical marijuana to alleviate the symptoms of Parkinson's disease. Griffin is a lobbyist whose clients include casino companies.
Lori Rogich, a Las Vegas-based attorney, is a former officer with Deep Roots Medical LLC. She is married to Sig Rogich, a Republican political consultant, the founder of prominent advertising and lobbying firm R&R Partners, and a former U.S. ambassador to his native Iceland.
In 2014, the revelation that Sig Rogich was a minority owner in a marijuana company was one of the most surprising that came out of a license application period in Clark County. Rogich was a senior White House adviser to President George H.W. Bush from 1989 to 1992 and also advised President Ronald Reagan, who in 1980 said marijuana "is probably the most dangerous drug in the United States."
"It was 30 years ago, a lot has changed," Sig Rogich said in 2014.
Former local government figures include Larry Scheffler, an owner at MM Development Company Inc. He is a former councilman for Henderson who founded the commercial printing company Las Vegas Color Graphics, Inc. in 1978. He also has served as a commissioner on six major commissions in Southern Nevada government.
His business partner Robert Groesbeck, an owner at MM Development Company Inc, served as the mayor for the City of Henderson from 1993 to 1997. He has practiced law for more than 25 years.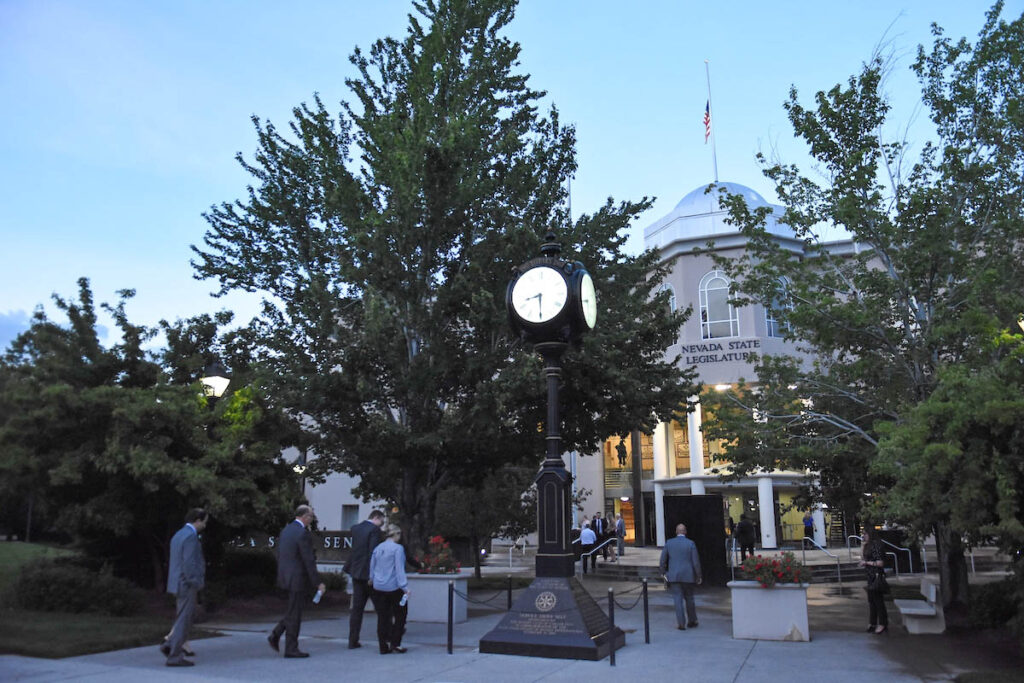 Lobbyists who have a stake in the industry include John Sande III, an owner at Nuleaf. He's an attorney at the firm Fennemore Craig, and previously was chairman of First Independent Bank of Nevada. He played football for four years at Stanford.
Legislative observers may remember Rebecca Gasca for her past work as a lobbyist for the ACLU of Nevada. She is now CEO at the lobbying firm Pistil + Stigma, which helps businesses navigate the cannabis regulatory process, and is an owner at Wendovera LLC.
Other lobbyists include Tia Dietz, who works with government affairs firm The Griffin Company and was a registered lobbyist in 2017, and Piper Overstreet-White, who was a lobbyist for Uber in 2018. Both are board members at Livfree Wellness.
Amy Ayoub, an officer with Deep Roots Medical LLC, is a former political fundraiser and public speaking coach.
Two lobbyists for Barrick Gold are part owners of a marijuana company. Judith "Be-Be" Adams is an owner with HSH Lyon LLC (High Sierra Holistics), as is Sean Gamble, who also lobbies for a coalition of Boys and Girls Clubs.
Serial participants on state boards round out some of the ownership. Luther Mack, an owner at Nevada Wellness Center LLC, was a longtime operator of McDonald's and Popeyes franchises. Previously, he held positions in several state government agencies, served on the Nevada State Athletic Commission for 13 years, served as the chair of the University of Nevada, Reno Foundation and on the board of Boyd Gaming.
He said he got into the marijuana world as a business opportunity, but also appreciated the benefits he found when using CBD cream for muscle soreness after workouts, and finds many former athletes are customers at his business.
Tisha Black, a Republican who ran unsuccessfully in 2018 for the Clark County Commission seat held by Justin Jones, is a board member at Clear River LLC. She is a lawyer in Las Vegas, and the founding partner at the Black & Lobello law firm. After years of involvement in the state's medical marijuana program, developing regulations and helping companies file applications for their marijuana business licenses, she took the helm as president of the Nevada Dispensary Association in 2019.
Former state employees who are now involved in the industry include Chad Westom, a board member at Forever Green LLC who was previously the bureau chief of the Nevada Division of Public and Behavioral Health until October 2017, according to his LinkedIn profile. As such, he oversaw the state's medical marijuana program before it was transferred to the Department of Taxation.
On the website for his company, Westom touts that experience to potential clients, saying "built Nevada's first-ever marijuana regulatory structure from 2013 through 2017, and oversaw the licensing and opening of all of Nevada's marijuana establishments."
Lisa Vick, who works as a compliance officer and board member at Clark Natural Medicinal Solutions, notes on her LinkedIn profile that she was an auditor with the Nevada Department of Taxation until February 2018. In that job, she said she would "audit all inventory and procedures for Dispensaries, production, cultivation, and laboratories for medical and recreational marijuana in the State of Nevada."
Jodie Snyder, Riley Snyder, Michaela Chesin, Taylor Avery, Trey Arline and Zach Murray contributed research to this project.