Jacky Rosen says her first priority upon being sworn in to the U.S. Senate next year will be to protect insurance coverage for people with pre-existing conditions, while promising to work with Senate Republicans and President Donald Trump on infrastructure and cybersecurity issues.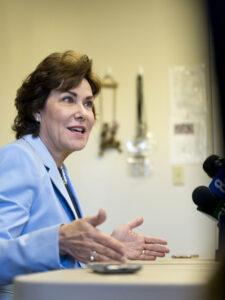 Fighting through a post-election cold, Rosen also told reporters during a Friday press conference that she wasn't sure Trump's appointment of Matthew Whitaker as acting attorney general after the resignation of Jeff Sessions was constitutionally valid, but that Whitaker should recuse himself from special counsel Robert Mueller's investigation into Russian interference in the 2016 presidential election.
"We need to let that move forward in the way that comes to its logical conclusion," she said of Mueller's investigation. "And the president has to think about who he is as Uniter in Chief. He's not constantly on the campaign trail; he has a real job to do."
"We do not want to go into a constitutional crisis," she added. "This is bigger than any one president."
But Rosen, who may end up being the lone freshman Democrat in the Senate depending on still-pending results in Arizona and Florida, said she had already identified issues that she hoped to work on with Republican senators and the president in the upcoming Congress, namely infrastructure improvements, career and technical education issues and enhanced cybersecurity. But she said her foremost priority — echoed countless times on the campaign trail and in ads — would be to further enshrine the Affordable Care Act's mandate that insurers don't discriminate against people with pre-existing conditions.
"Every single person I've talked to in the state of Nevada, whether they're a Democrat, Republican, young or old, anyplace in between no matter where they come from or what religion they are, is panicked about not being able to get insurance for their pre-existing condition," she said.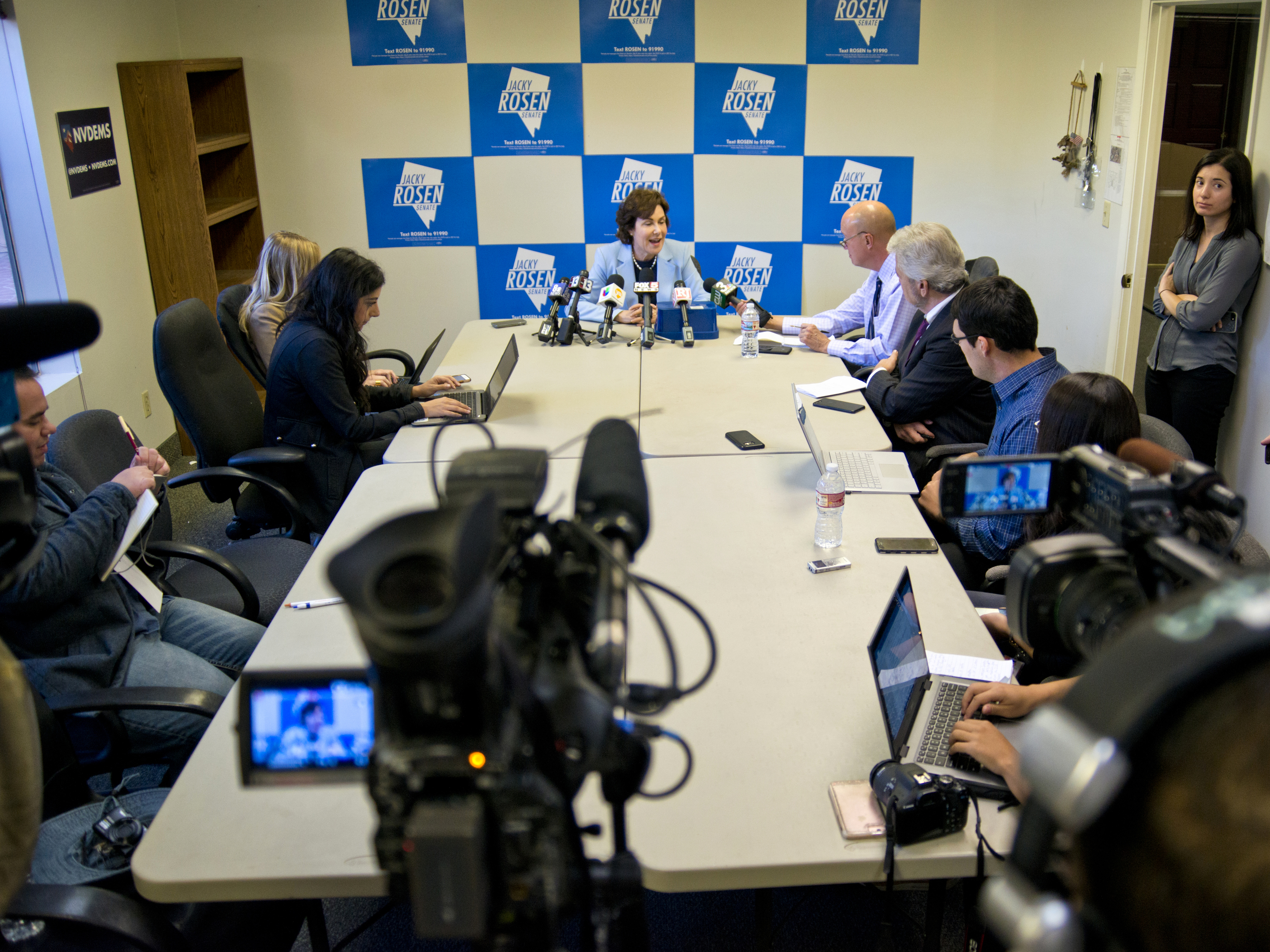 Rosen's five-point defeat of incumbent Sen. Dean Heller on Tuesday kicked off a good night for Democrats in Nevada, who held two swingy House seats and won five of six statewide constitutional offices, including governor and attorney general. She said Heller was gracious in his concession call and promised to help with her transition to his office to avoid any lapse in constituent services. She also said former Sen. Harry Reid, still recovering from pancreatic cancer surgery, sent her a congratulatory text message the day after the election.
But Rosen — a relative political newcomer who emerged from political obscurity to win the state's 3rd Congressional District in 2016 and Senate seat in 2018 — tried to dispel any notion that Nevada's political tides had shifted permanently in favor of Democrats.
"I think Nevada is an independent state," she said. "I think that we sure are purple, but I do think that people look to the personalities of who they're going to elect. We're still a small state, less than 3 million people, so you do have a good chance to go around and sit in the coffee shops and meet lots of people everywhere you go."
Rosen also said she wants Trump to tone down his incendiary rhetoric and work with members of both parties more frequently and to stop making large-scale policy changes through executive order.
"I think the president of the United States is a position that is respected around the world, and  he needs to respect it and he needs to treat it with dignity and stop the politics of divisiveness and bring us together in ways that we can look forward and things we certainly agree on right away," she said. "Things like infrastructure, things like career and technical education, we have to do something about immigration, but trying to do that through executive order isn't' the way to do that. Help us find a legislative solution."
She also said she has no current plans to sign on to bills creating a "Medicare for all" or single-payer health insurance system, championed by Vermont Sen. Bernie Sanders and other progressive members of the party. Rosen said she supports a Medicaid-buy in and public option for health insurance marketplaces, and wants to pass legislation reining in prescription drug prices, but wants any changes to the nation's healthcare system to be done slowly.
"When you make a sweeping change, you can't wait to see what falls through the cracks, because what could move through the cracks is somebody's life," she said. "So you need to move thoughtfully, carefully, with a plan incrementally."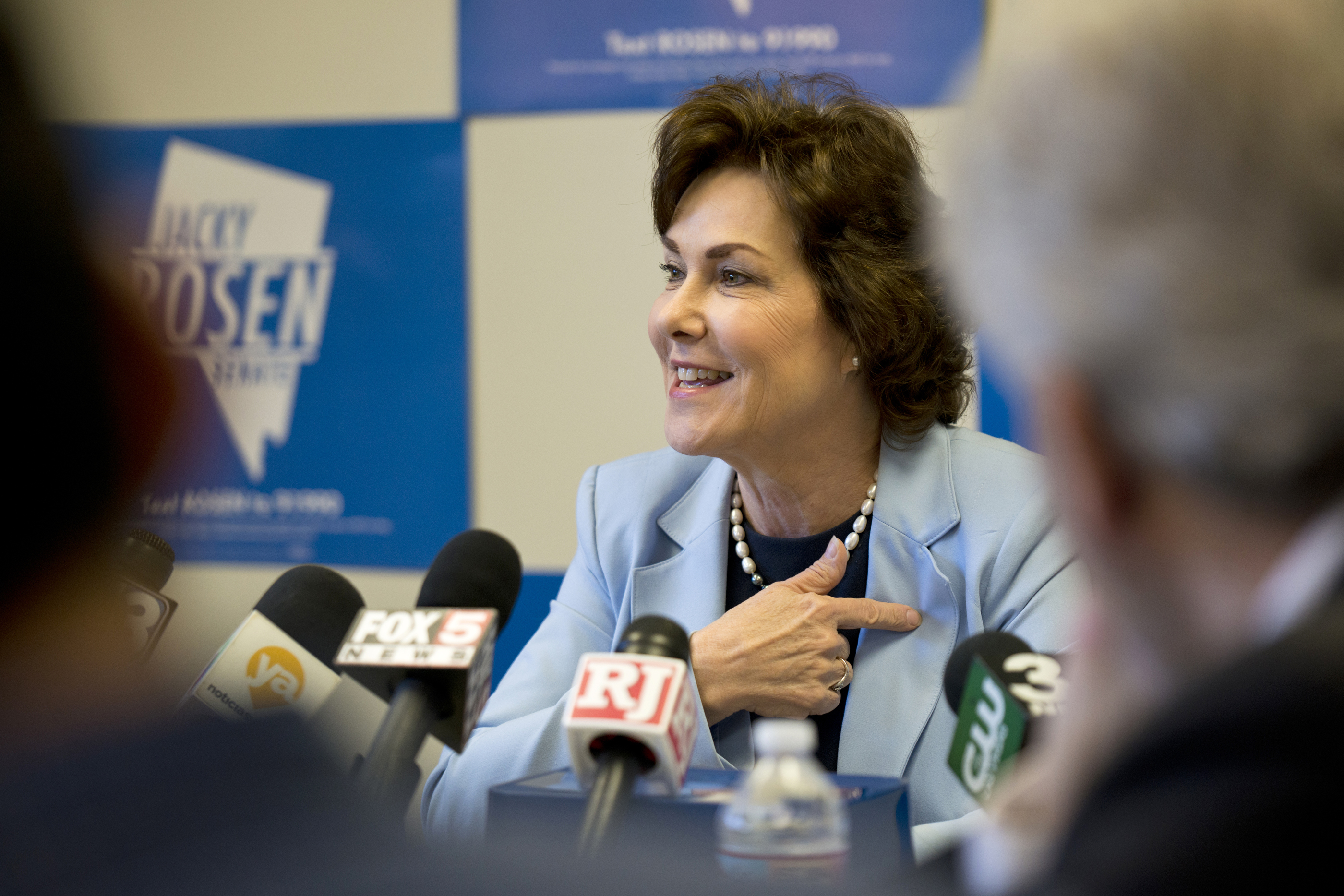 Rosen also said she wants to reintroduce her House legislation that would prohibit the Department of Energy from moving forward with funding for the long-stalled nuclear waste repository at Yucca Mountain before the Office of Management and Budget studied the economic impact of alternative for the site. But she acknowledged the state's best chances of blocking movement on the facility was the new Democratic majority in the House, and the removal of pro-Yucca forces such as Illinois Republican Rep. John Shimkus from committee leadership.
Rosen was also asked about the group of thousands of migrants from Honduras and Guatemala traveling to the U.S. border to seek asylum — a topic that Trump and other Republicans seized on before the midterm elections as proof of a need for more border security. She said the country should show them empathy.
"There's about 5,000 people there — we're a country of over 300 million people," she said. "I think what we need to do, as I've seen pictures of people who are coming in this caravan, as the president calls it, they're women, they're children, they're babies. I think we should have compassion. I think we should be able to deal with them as asylum seekers and really find next steps forward. Because if you look at the people who have traveled thousands of miles, they're coming because they're fleeing something that is so awful for their families that they're willing to carry their baby on their back for a thousand miles. That says something about why they're coming. I think we need to have some empathy."