The chairman of the state Senate Finance Committee threw cold water on Republicans' proposal to overhaul the state's unemployment insurance system, saying he agreed with the need but that the proposal itself was a "stunt" unlikely to get a hearing because of its payment mechanism.
The bill introduced on Wednesday with a month left in the session, SB419, is sponsored by Republicans as an emergency measure and proposes modernizing the system that processes jobless benefits as well as making other changes such as creating the position of an ombudsman for claimants. But it also makes a multimillion-dollar appropriation from the state's general fund at the same time budget committees are cutting general fund spending from previous levels and still haven't been cleared to spend federal aid dollars.
"There's a $40 million price tag associated with that bill they introduced," Senate Finance Committee Chairman Chris Brooks (D-Las Vegas) said in an interview on Friday. "They don't have any $40 million ideas for revenue."
The measure calls for a single computer system that connects all state-administered, extended benefits and federal programs such as Pandemic Unemployment Assistance (PUA). A lack of communication between two separate computer systems has bedeviled claimants whose work history includes some traditional employment that qualifies for regular benefits and some self-employment income that would qualify them for PUA.
The bill also requires a hearing before claimants are denied benefits, creates the Office of the Ombudsman for Unemployment Benefits, requires weekly benefits be paid by check and would grant attorney's fees to claimants who prevail in a case against the Department of Employment, Training and Rehabilitation (DETR). The latter provision is aimed at addressing the hesitance of lawyers to take on unemployment cases because the potential payout is so low.
Republican bill sponsors say there hasn't been enough of a sense of urgency from Democratic leadership on the unemployment issues identified by a governor-appointed strike force and a special master appointed by a court reviewing a lawsuit from PUA claimants.
"Fundamentally, DETR has not had one bill to address any of the recommendations that were put forth either by [Strike Force Leader Barbara] Buckley or by the [court-appointed special] master. I find that problematic," Senate Republican Leader James Settelmeyer (R-Minden) said on Wednesday. "Problems were identified. We should try to fix the problems that have been identified. And obviously, we're not done having emails sent to legislators from concerned citizens who have yet to be paid."
Brooks pointed out that Democratic leaders and the governor's office prioritized an unemployment system modernization project — expected to take several years to complete — in a framework document they released in early April about how to spend forthcoming federal funds from the American Rescue Plan relief bill. The federal government has not released guidance on allowable uses for the $2.9 billion the state expects to receive from the bill, but Brooks said he's confident such an upgrade would be allowable.
"That is job one for us when federal funds become available, and they will be available soon," Brooks said. "A bill that spends $40 million in the general fund right now is just not real."
ID.me identity verification to be expanded to regular claimants
Claimants filing through the regular unemployment program may soon have to verify their identity through the third-party vendor ID.me as officials suspect that fraudsters zeroing in on the gig worker program — foiled by newer, stringent verification protocols — have turned their attention to the regular program.
Elisa Cafferata, director of the Department of Employment, Training and Rehabilitation, said the process is going through testing and could become a requirement in the next few weeks. The number of regular initial claims last week was 11,054, the second highest raw number in a week since August 2020, while the number of Pandemic Unemployment Assistance (PUA) claims was 279, down from about 112,000 in a peak week earlier this year.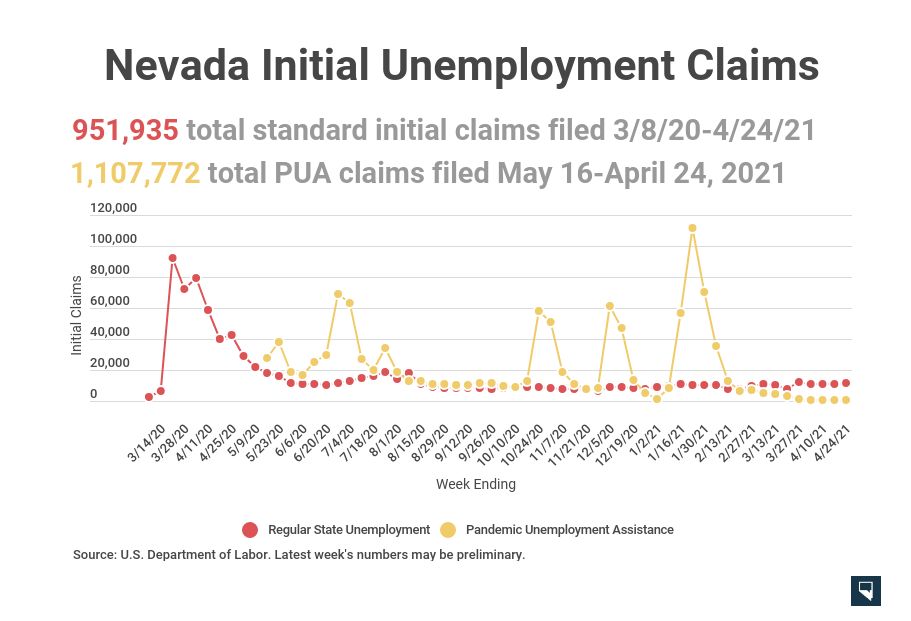 "Our take is that ID.me has definitely reduced the amount of fraud that we're seeing in PUA," Cafferata told The Nevada Independent on Thursday. "We have seen a little bit of an increase in UI applications. So we think some of the imposter claim activity has moved there."
One condition of the late-December federal aid bill was a requirement that states begin certifying the identity of PUA claimants. Nevada contracted with vendor ID.me, which requires claimants to submit photos of original documents and sometimes do a live video interview with the company to prove they are who they say they are.
Claimants reported hours-long delays in the initial days of implementation a month ago and concerns that the process required a high level of technology literacy. Cafferata said the vast majority of claimants have since cleared that step.
The number of continued (weekly) claims to unemployment programs went up last week to 239,548 — the highest level in at least a month, when ID.me was implemented for PUA claimants and the number of claims dropped sharply.
DETR officials said they expect that broader reopening of businesses — including increased capacity limits at public venues in many counties — as well as a requirement effective next week that claimants demonstrate they're searching for work could reduce the number of claims.
PUA appeals
DETR still reports a major backlog in PUA appeals — when a claimant is denied PUA benefits and seeks to challenge that determination. Hundreds of thousands of the more than 1.1 million PUA claims filed during the pandemic have been denied.
Cafferata said that as of April 19, there were 25,183 requests for appeals that still needed to be reviewed by DETR staff to determine whether they are suitable candidates for appeal. Staff evaluate the requests to see whether they can be resolved by action short of an appeals hearing, and Cafferata said only about 5 to 10 percent advance to a hearing after that review. (Critics say this very screening ebbs away at claimants' due process.)
An additional 2,123 PUA appeals were waiting to be scheduled for a hearing as of April 19.
She said the agency has added five appeals referees to conduct the hearings, and they are proceeding at a pace of about 500 appeals per week.
"It's gonna take us a little while to get through … that backlog there," she said. "But it is where we've added five appeals refs, and are really making good progress through them."
Meanwhile, DETR has warned that a wave of legal challenges by people who want a district court to review their denial is just beginning, and there could be 10,000 such cases originating from PUA alone in a caseload that could take years to work through.
Implementing American Rescue Plan
While DETR reported it has fully implemented the extensions from the American Rescue Plan — the COVID relief bill passed in March — some claimants in the regular unemployment program report they haven't yet seen payment from that bill.
Cafferata said some disruption may happen because claimants have reached the end of their "benefit year," meaning that it's been a year since they started filing and need to reapply to keep their benefits going.
"A lot of folks, they have not gone to work. So they continue on the extended benefits. But the team does have to take a look at that," she said. "We do have a team that's dedicated to looking at those so people can get through it quickly … there might be a very short delay of you getting those benefits while we take a look at that."