After receiving more than two million unemployment claims and counting since the pandemic began, Nevada officials say they believe they're just seeing the beginning of legal work from claimants challenging instances when they were denied benefits, and they expect it could take a decade to resolve all the cases.
Lawmakers on Thursday gave preliminary approval for the Department of Employment, Training and Rehabilitation (DETR) to hire a staff attorney to handle an uptick of legal work in the agency. The number of "petitions for judicial review" — a request for a district court intervention after a claimant is denied benefits and loses administrative appeals — was double during the first two months of 2021 than it was in all of 2019.
The agency, which has never had more than 300 cases in a year, expects it might have 10,000 such petitions stemming from denied Pandemic Unemployment Assistance (PUA) claimants alone. Right now, the agency has one senior attorney and two contracted attorneys working on the petitions.
"The agency indicates it anticipates the increase in legal activity would last for ten years, since legal activity from the Great Recession lasted five years after the peak of the recession, and the increase in unemployment activity associated with the current pandemic has been much greater," legislative budget analysts wrote to sum up the situation.
In 2020, the agency reported denying 259,632 unemployment insurance claims and 393,074 PUA claims. Hundreds of thousands of additional claims have flowed in during calendar year 2021.
"The agency further indicates it is aware of 16,000 Pandemic Unemployment Assistance appeals and anticipates 2% of the appeals will result in Petitions for Judicial Review, generating an additional 321 cases," budget analysts wrote.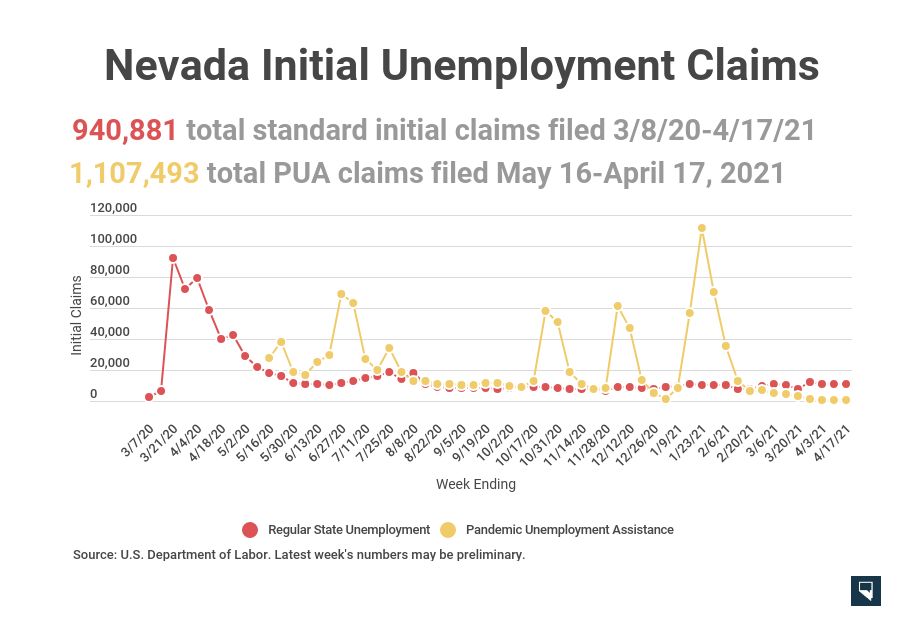 Agency officials said that the extra work would likely continue well past the current surge of activity, with collections and other tasks ongoing for years to come.
The move to ramp up the DETR legal team drew criticism from Mark Thierman, a Reno lawyer who is spearheading a large and ongoing lawsuit against the agency on behalf of claimants who have been delayed or denied benefits. He said few are lawyers willing to take the cases of destitute claimants because there's so little to gain.
"Instead of hiring in house lawyers to fight claimants, the Legislature ought to allow attorneys fees to successful applicants who battle DETR and win," he said. "The government, DETR, is fighting against the citizens of our state."
One of those PUA claimants who was disqualified and is still waiting for an appeal to be scheduled is Las Vegas musician Mike Powers. He said his claim is still stalled even after he passed an identity verification step through ID.me.
"This all but confirms my worst thoughts about DETR, which is that they are not to be trusted," said Powers, who resumed work in February and has since stopped filing. "Still, I would love to see the five figures worth of money that has been withheld."
ID.me troubles
DETR said in response to an inquiry from The Nevada Independent that "nearly all current PUA filers" have verified their identity through ID.me as of Thursday, although the agency did not offer specific numbers of claimants who have cleared the hurdle.
As part of an extension of the PUA program late last year, the federal government required applicants to the fraud-prone program to confirm their identity. Nevada and some 20 other states have used third-party service ID.me that involves presenting documents and sometimes a live video interview; some claimants reported long wait times and concerns that it would be an insurmountable barrier for other, less tech-savvy applicants.
Several claimants who spoke with The Nevada Independent earlier this month to say they were having trouble getting through the system reported back later that they have since cleared the hurdle.
"Claimants can contact the PUA call center to report any problems they may still be experiencing with identity validation," said agency spokeswoman Rosa Mendez.
Implementation of extensions
After months of delays, Mendez told The Indy that it has implemented all provisions of the late-December stimulus package, the Continued Assistance Act, except for a weekly additional benefit for the "Mixed Earners Unemployment Compensation" program within regular unemployment.
That program provides an additional $100 a week for people who are collecting benefits through regular unemployment or extension programs such as Pandemic Emergency Unemployment Compensation (PEUC) or extended benefits, but also earned $5,000 or more in net earnings a year from self-employment.
"A small number of UI claimants will meet the qualifications to receive this benefit, and we expect to have this completed in the coming weeks," Mendez said.
DETR says it has implemented extensions from the American Rescue Plan — the COVID relief bill Congress passed in March — for all groups of claimants.
Modernizing unemployment infrastructure
Though an independent review recommended a sweeping overhaul of the unemployment systems IT infrastructure, the governor's recommended budget for the next two years does not include funds for the entire project. Portions of the existing system contain code dating to the early 2000s and components that are outdated and not supported.
Instead, the governor's budget envisions $500,000 in each of the next two years for "system enhancements and defect resolution" by contracted programmers. In its last update, DETR reported it had a backlog of 1,706 defects and change requests of varying sizes and complexity that it addresses based on priority.
Members of a joint Assembly-Senate budget subcommittee approved the spending on Thursday.
The full overhaul would likely convert the system to a cloud-based operation so it could be scaled up or down, and the improvements are expected to make the system faster and more secure. The project could take some 4 ½ years to complete and will cost $30 million to $43 million.
DETR officials say it could take six months to a year to outline all the business requirements it has in a request for proposals (RFP) before putting the project out to bid.
"We're actually looking at possibly hiring an agency to help us build the RFP itself, which then requires going through purchasing as well," DETR Director Elisa Cafferata told lawmakers during a Thursday hearing. "We think that's going to coincide well with the guidelines around the federal funding from the American Rescue Plan. So we'd like to get started as soon as we can on that process to be ready once the funding is identified."
This story was updated at 12:40 p.m. on April 25, 2021 to add comments from PUA claimant Mike Powers and lawyer Mark Thierman.