Some lawmakers argue Nevada shouldn't spend money on an NFL stadium because the state's facing a shortfall in the coming year. Others argue that the budget "hole" of $200 million to $500 million is a fiction. So who's right?
Here are some things to know about Nevada's finances heading into the new biennium.
Nevada will have more tax revenue in the upcoming two-year cycle than in the current two-year cycle.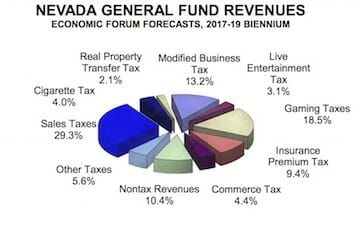 Just over $8 billion will flow to Nevada's general fund from mid-2017 to mid-2019, according to a December estimate from the Economic Forum, a panel of five private sector economists and tax experts who analyze the state's revenue streams. That's about $400 million, or 6 percent, more than the state is expected to collect in the current biennium. The biggest chunk, 29 percent, comes from sales tax, while about 19 percent of general fund revenue comes from gaming taxes. The Modified Business Tax (also known as the MBT or payroll tax) accounts for about 13 percent of the revenue, and the new Commerce Tax created in 2015 is expected to make up 4 percent of the general fund's revenue.
State agencies requested more money than Nevada's tax revenue streams are expected to yield.
Agencies that draw on the general fund made $8.5 billion in requests in their proposed budgets, which is $500 million less than projected revenues. Gov. Brian Sandoval's office asked them to also show what they would cut if they had to reduce their budget by 5 percent, so agencies submitted pared-down requests totaling $8.2 billion. While some call the gap between requests and revenues a budget hole, officials note that the agencies' requests include both needs and wish-list items, and that a gap is a normal part of the budget development process. Agencies requested $7.7 billion in the last cycle, for example, and the final budget was about $7.4 billion. "I don't think we have a budget hole," Republican Senate Minority Leader Michael Roberson said in an interview with The Nevada independent. "I think we're in the best position we've been in since the recession as far as the budgetary basis goes."
Costs climb as Nevada's population grows, prescription drugs get more expensive and more people need government-provided health care.
Just as costs go up each year in a household budget, it's normal for the state's costs to grow as time passes. State agencies expect about $94 million in inflation in the next two years — almost all of it from rising medical costs. There's also caseload growth, which is pushing up the state's costs by about $446 million. Nevada's K-12 student population is expected to grow by about 0.5 percent each year, and college enrollment is growing. More people are enrolling in health care programs like Medicaid and Nevada Check-Up, which provides health benefits for children in low-income families, and Nevada must pay a portion of those costs. Nevada's overall population is growing by about 1 percent each year, and the burden the newcomers put on the system doesn't always match the tax revenue they bring to the system.
"I don't think you could ever create the perfect tax policy that coincides exactly with the amount of growth unless you just charged an entrance fee for people who move here," said Republican Assembly Minority Leader Paul Anderson. "I don't think that's going to work."
The governor is required to come up with a balanced budget proposal.
Sandoval's staff members have been combing through state agencies' requests since October to determine whether they agree with agency leaders' program plans, new spending proposals and predictions about caseload. The governor is required by law to propose a balanced budget — one where costs don't exceed projected revenue — that becomes public on Jan. 17, the same day as his State of the State address. Last time around, he proposed a $7.3 billion budget even though the Economic Forum had only predicted $6.3 billion in revenue, but that was because he proposed a tax package worth at least $1.1 billion to close the gap. He's not expected to propose a tax increase this time around, according to his chief of staff, Mike Willden.
Lawmakers vet the budget throughout the 120-day session.
Legislators on money committees will work throughout the session to review and revise the governor's budget recommendation. While lawmakers slashed state programs in 2009 and 2011 as Nevada suffered through the recession, they're optimistic that their work this year won't bring the pain of years past.
"I don't want to have another debate about how many adult diapers someone gets," said Democratic Assemblywoman Maggie Carlton, who will chair the Assembly Ways and Means Committee. "That's going backward. The state needs to look forward."
Nevada isn't starting the biennium "in the hole."
The state is in a stronger financial position than in recent history. The general fund was more than $400 million in the black as of mid-2016, and Nevada made a $67 million contribution to its emergency savings account — the "rainy day fund" — at the end of the most recent fiscal year. That's something hard-hit Nevada hasn't been able to do in years. Willden's team expects to make a similar contribution to the rainy day fund in June, at the end of the current fiscal year.
Critics say Nevada is still underfunding its programs.
While legislative leaders say the gap between agency requests and expected revenue is no major issue, progressive leaders are skeptical about rosy assessments of Nevada's budget.
"It's all kind of a game of sugarcoating our real vexing problems in Nevada," said Bob Fulkerson of the Progressive Leadership Alliance of Nevada Action Fund. "All those human services budgets should be increased tremendously and so should education. We've never spent serious money on this in the first place."