Gov. Brian Sandoval's budget calls for closing a Las Vegas psychiatric hospital for youth and putting the dwindling number of patients in a unit within the adult psychiatric hospital on the same campus.
Sandoval's proposed budget would close the 58-bed Desert Willow Treatment Center, saving $3.2 million over two years and opening the building up to other uses. Twenty beds for youth — including a 10-bed acute care unit and a 10-bed residential treatment unit — would be placed in Rawson-Neal Psychiatric Hospital, segregated from the adult patients.
The move comes as Desert Willow and other state-run mental health facilities such as Rawson-Neal watch their client rolls decline. Nevada's expansion of Medicaid has attracted more mental health providers to urban areas and clients are seeking more consistent treatment through their insurance, rather than falling back on state-run psychiatric hospitals when they have serious mental health episodes.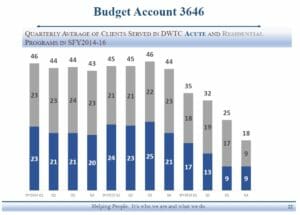 Desert Willow's client load has dropped from an average of 44 patients in the spring of 2015 to an average of 18 in the spring of 2016. Some lawmakers at Tuesday's budget subcommittee hearing wanted an even more detailed breakdown of the patient count, worried that the state was cutting it too close by replacing the 58-bed site with just 20 beds.
The closure of Desert Willow is expected to eliminate the equivalent of 53 full-time positions, but  Nevada Division of Public and Behavioral Health Administrator Cody Phinney said many of those employees could be transferred to similar positions within the division or within the Department of Health and Human Services. She said the agency has been holding positions vacant in anticipation of the shifting needs, and the department should be able to avoid any layoffs.
Workers who are classified as mental health technicians when they work in a civil mental health hospital would be classified as forensic specialists when they fill a more in-demand position serving inmates with mental illness.
"It's similar work," Phinney said. "There's quite a bit of overlap."
She said patients who run in with the law and end up at a place like Stein Hospital, the state-run forensic psychiatric hospital, aren't much different than the civil population at a place like Rawson-Neal.
"Maybe it escalated, maybe they threatened the wrong person -- someone who really pursued it," Phinney said. "These folks are sick, and they're not necessarily behaving this way purely by choice."