Metro police officials have a message for the immigrant community: We are not conducting random raids or coming for your families.
In interviews with The Nevada Independent, various law enforcement officials sought to reassure residents that they have nothing to fear in cooperating with police to solve crimes. They acknowledged that it is difficult to obtain trust in the immigrant community because there are undocumented residents who think the police is going to ask them about their legal situation here in the United States.
Officer Michael Rodríguez, spokesperson for the Las Vegas Metropolitan Police Department said that while police are kept up to date with President Trump's policies on immigration, the immigrant community must have a clear understanding that the people prioritized for deportation are those that are violent, those who are committing crimes against the community.
"If we have a very violent person, obviously nobody wants this person in our community committing horrible crimes, homicides, sexual assaults or robberies. We are focusing on these people," Rodriguez said.
Rodríguez said that Metro is not conducting raids or patrolling the streets in search of undocumented residents and that they are only verifying the immigration status of people who are already facing criminal charges.
"We realize that  there are people who are working hard to provide for their families. Our goal is not to pull families apart or to deport parents, uncles and aunts... we do not operate like Immigration (ICE)," he said.
And law enforcement representatives stated that the immigrant community can approach them to report crimes, where Rodriguez also indicated that the police has opened cases where the victims have been undocumented residents and out of fear, due to their immigration status, they are not reporting these crimes.
"We know there are people who are taking advantage of our victims and undocumented residents and this is what we don't want," Rodriguez explained.
Rodriguez said that, although Metro, the city of Las Vegas and Clark County do not consider this area as a sanctuary city, they have the obligation to investigate all cases in the same way and to protect the entire community, which is made up of citizens and undocumented residents.
Meanwhile, Cedric Kerns, chief judge of the Municipal Court of Las Vegas, made it clear that the stance of the court is not to focus on the immigration status of residents and that they will not go looking for anyone because they are undocumented, whereas they only want to keep the community safe.
Kerns also said that undocumented residents should not worry about standing before the court unless there is a bench warrant issued by the judge for the arrest of a person who had not complied with the court's orders, since they could be taken into custody for not appearing at court.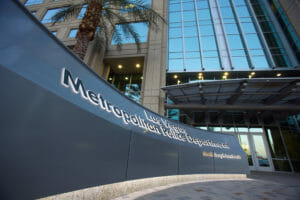 If people have a complaint or prefer to approach police officers more directly, the authorities have various free programs available and they also participate in community activities, said Chuck Callaway, director of Intergovernmental Services at Metro.
Callaway mentioned that one of the objectives of the Metropolitan Police Department is to build a relationship with the community through various mechanisms, where officers are involved on community forums, HART (Hispanic American Resource Team), which is comprised of Hispanic officers who work closely with the Latino community, and the Hispanic Citizens Academy, where people can attend to learn more about the work of the Police.
"We do not want to create an atmosphere where people are afraid to call the police or to report crimes," Callaway stated.
He also said that his current duties require that he work in the Legislature during the current session, so as to collaborate on all matters that have an impact on public security.