They dream of staying in the United States, these youngsters who arrived here as children, undocumented through no fault of their own. They grew up without knowing of any walls or any borders. The Spanish-language version of The Nevada Independent will publish interviews with three young dreamers from Las Vegas, who provide insight into their lives before and after the recent immigration measures imposed by the federal government.
This is the first of these interviews.
Dulce Valencia, Director of the Organization for Civic Engagement of the Progressive Leadership Alliance of Nevada (PLAN).
She never stops smiling. This is the first thing that anyone notices when they talk to Dulce Valencia. At the age of 21, she is not afraid of the world. She has overcome the fear of being left amongst the shadows of silence. To have gotten this far, to show her face and let the public know her name has not always been easy.
Valencia came to the United States with her mother on a Christmas Day.
"I had just turned 11 years old," she recalled. They left behind the town of her parents, Antón Simón, and the beaches of Ixtapa Zihuatanejo, in the State of Guerrero, Mexico, where she was born. They came as undocumented immigrants.
A phone call from her father changed her life. He was already in the country and that December he called Dulce to tell her that they should go see him.
"My mother told me that I was crazy - how we were going to go?" Valencia recalled. In other words, it was the men and not the women from her hometown that usually migrated to the US.
At her early age, even though she still didn't understand what not having "papers" meant, Valencia did already know that on that day in December, in that car, she had begun a journey of farewells - she was leaving a part of her life behind.
"When you drive to the ranch, our house is the first you see. I remember watching out of the window until I couldn't see it anymore. What I felt was... it was very difficult, because it was my home," she remembered.
Valencia explained that her first years in the United States were happy times and she felt that a bright future was ahead of her. It wasn't until she won a scholarship at JD Smith Middle School for being the best student of the year when she began to understand her immigration status. She needed a Social Security number to access the grant.
"What do you mean you don't have a Social Security number? That's not possible. Everyone's got one," a principal told her, she recalled. When she got home she spoke to her parents about it and the answer was: "Oh child, what did you expect?"
Days later, instead of a scholarship, she received a gift card.
"I realized what it meant to be undocumented," she said.
Loneliness. Not being able to go to college, not being able to apply for a driver's license, not being able to work like the rest of her classmates had planned to do. Valencia began to notice the circumstances of her life - and they weren't matching with those of her dreams.
"Why did we come to the United States?" she began to ask herself.
She remembers, at that time, watching undocumented residents on television who were conducting protests and other youngsters who had arrived in the country under very similar conditions to her own. "That's me. I'm a DREAMer. How is it that they are out there and I'm here, in hiding?" she thought.
This was the turning point of her life.
Valencia also recalled that when DACA (Deferred Action for Childhood Arrivals) was announced in 2012, her hopes returned to be able to formalize her immigration status; however, even though her parents tried, she did not meet the requirements.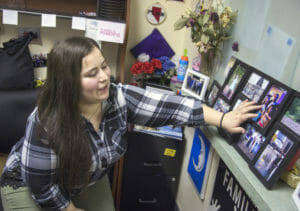 Months later, she heard about the Progressive Leadership Alliance of Nevada (PLAN), an activist group that began in 1994, where she started an internship, although she didn't mention her immigration status because she was afraid to do so. It was when she was asked to conduct an interview on Telemundo, to discuss her support for immigration reform, that she first publicly revealed her status as an undocumented resident. Her work colleagues never questioned her.
A red future
Amidst an atmosphere of a political handover, the night of the general elections had arrived, where Donald Trump was elected as the country's president. That day, Valencia was with her PLAN workmates after a long day of community service. What she saw on television began to make her feel uncomfortable.
"It's something that I don't talk about much, because to this day I could not say the word president and the word Trump in the same sentence. I saw that everything was red and they told me that this was how the results were for the first states. I watched and it didn't get any better. Everyone was silent. I went to my car, I was crying," she said.
While explaining that her immigration status has now been formalized on the basis of a U Visa having been granted to her mother, who was a victim of a crime, Valencia admits that she is not entirely at ease following the recent immigration executive orders signed by President Trump.
"We are technically out of harm's way," she said, "yet I am still afraid while driving and I see the police - although I am abiding by the rules - because I think 'what if someday they turn any little thing into a crime and they revoke my visa?"
She said that when she publicly announced her status as an undocumented resident, she received criticism and insults on social networks, but now she doesn't bother to read the comments.
"There are always very negative people who say we are criminals and that we do not deserve to be here," Valencia said. "But, I showed my face, because for a long time I was afraid and I know what it feels like not to be able to speak out. There are many people who feel the same and have no way of legalizing their immigration status, so I have a commitment. I do not have much to lose like they do."
Valencia has not stopped dreaming. She also said that she has always wanted to be an actress and - in a perfect world - she could have started studying acting at college a while ago, but her previous immigration status had not allowed her to.
"Right now, I'm in this fight and it wouldn't feel right to leave it and go off to study being an actress," she said. "This is my dream - to see immigration reform passed, so that my family and my community are safe... to write plays, especially on the stories of immigrants."