Immigration. Border. Raids. Work. Family. These are the words bouncing around in the minds of the millions of undocumented immigrants who live here in the so-called land of opportunity.
Uncertainty about their future has hung over them for some time as our national immigration policy debate played out, but since Jan. 25 the concern for many is much greater. On that date, President Donald Trump signed an executive order subtitled "Border Security and Improvements to the Application of Immigration," a hastily assembled measure that generated questions and confusion in and among U.S. citizens, tourists, visitors, green card workers, state and local agencies, activists, and members of the immigrant community at large.
Reports of raids and hundreds of detainees followed in six states. National Public Radio (NPR) reported that it's not known how many people were detained across the country. The New York Times said immigration agents arrested 600 people across the U.S. in the course of one week. Univision in San Antonio reported on February 12 that in the prior five days, the U.S. Immigration and Customs Enforcement Service had detained at least 361 undocumented immigrants across the country. An article published on Feb. 11 by Mexican newspaper La Jornada also said 361 undocumented immigrants were arrested.
So how should members of the Latino community behave in the event of an immigration raid, and what are their legal rights? The Nevada Independent - En Espanol asked a couple of immigration attorneys.
Constitutional rights
Even undocumented immigrants have constitutional rights "and nobody can take that away," said Amy Rose, an immigration lawyer and Legal Director of the American Civil Liberties Union (ACLU) of Nevada.
Rose said those rights include keeping silent. There is no legal obligation to discuss one's immigration status with anyone, whether the police or other law enforcement agencies. She added that people also do not have to answer questions about where they were born, whether they are U.S. citizens, or how they first entered the country.
If a person is not a U.S. citizen, he/she must produce documents, but only if a federal immigration officer requests them. Moreover, if the police or immigration officers knock on the door of a residence, there is no obligation to allow entry unless they have a court order.
"If you are in Las Vegas and ICE knocks on your door, ask them if they have an order, and if they do, ask them to let you see it," said Rose. "And if you can, ask them to pass it under the door or show it through the window to see what it says, because if it is a search warrant, they are allowed to enter to search... areas that are in the list of that order."
Undocumented residents should not lie about their immigration status, nor show or carry fake documents. They also should not sign any documents without first consulting a lawyer, she said.
Deportation priority
Though President Trump has issued an executive order that broadens the parameters for deportation, that order is to some degree in question in the U.S. legal and judicial systems and even within the Department of Homeland Security, according to attorney Kathia Pereira, who has been practicing law in Las Vegas for nearly 15 years.
When will we know more?
"Not until we see the memorandum from the Department of Homeland Security and, so far, the memorandum has not been released," said Pereira. She added that she hoped the memo would be issued soon, so attorneys could best determine who can be helped, and how.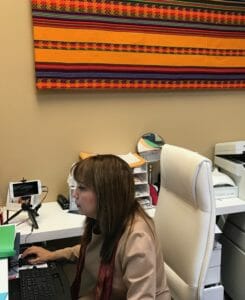 Pereira clarified that at present, under the new executive order, anyone who has an aggravated felony on his/her record is ranked as a top deportation priority. This includes "all those who have committed a crime of violence [and] have been given a sentence of one year or longer, and this includes drug trafficking, sex offenses, crimes involving firearms, aggravated robbery and car theft."
There is no consideration for how far a legal case goes back or whether the person has complied with a subsequent sentence or court order.
Pereira went on to explain that, according to the new executive order, people who have been arrested or have had a conviction of any kind are also being scrutinized.
Pereira emphasized -- and thinks the Latino community needs to emphasize -- that across the nation, there are millions of undocumented immigrants who are doing good things including raising children who go on to college, learning English under difficult of circumstances, and running or working at U.S. businesses.
The community and its representatives
On Saturday, Feb. 18, at the East Las Vegas Community Center, a "Know Your Rights" informational forum was convened and held by the Hispanic Legislative Caucus of Nevada with the participation of some nonprofit organizations.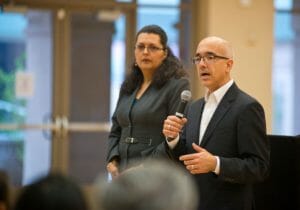 The purpose of the event was to provide the immigrant community with first-hand information about the available resources and support services create a space for the public to seek answers for their doubts and fears.
The five-member panel was composed of Rebeca Ramírez, Honorary Consul for Protection from the Consulate of Mexico in Las Vegas; Silvia Esparza, immigration attorney; Amy Rose of the Nevada ACLU; Jacinto Rivera, a police officer with the Las Vegas Metropolitan Police Department; and Isaac Barron, a councilman for the City of North Las Vegas.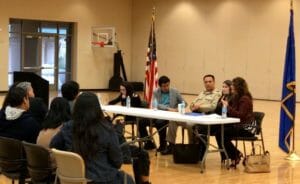 During the panel discussion, Ramírez mentioned the double citizenship process for Mexican nationals and stressed the importance for members of the Mexican community to register their children as Mexican nationals even though they are also Americans, because it gives them double protection and additional legal rights.
Ramírez explained that the Information and Assistance Center for Mexican Citizens, or CIAM, provides its nationals abroad the telephone hotline 1-855-463-6395, which is available 24 hours a day, seven days a week, for services such as locating a family member who has been arrested, immigration status information, and upcoming community forums.
The following Democrats were present at the briefing: Catherine Cortez-Masto, the first Latina senator from the United States for the State of Nevada; Ruben Kihuen, Federal Congressman for Nevada; Olivia Diaz, Assemblyman for District 11; Mo Denis, State Senator for District 2, Yvanna Cancela, State Senator for District 10; Dina Neal, Assemblyman for District 7, and William McCurdy II, Assemblyman for District 6 of Las Vegas.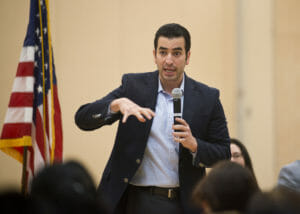 Local law enforcement
During a brief interview with The Independent Nevada - En Espanol after the panel discussion, officer Jacinto Rivera explained that there has always been communication about immigration policies between the federal government and local agencies and that working with U.S. Immigration and Customs Enforcement (ICE) is nothing new. Procedures require agreement at all agency levels, he said.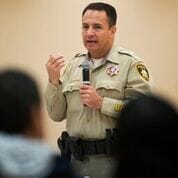 Regarding the so-called 287(g) agreements, Rivera said that since 2009, the Las Vegas Metropolitan Police Department has opted to collaborate with ICE on one of the two primary aspects of the program -- the Detention Center in Clark County.
The 287(g) program, one of ICE's top partnership initiatives, allows a state or local law enforcement entity to enter into a partnership with ICE, under a joint Memorandum of Agreement. The state or local entity then receives delegated authority for immigration enforcement within their jurisdiction.
"This is where we have an agreement with ICE. Basically, the agreement grants 20 officers, who work exclusively in the detention facility, the permission to access the ICE database," said Rivera. "This means that it is an extra step, a part of the process for being imprisoned, where we simply do a background check at ICE for that person so we can better understand who we have in custody."
Rivera added that the other aspect of 287(g), in which the Las Vegas police force does not participate, involves the patrol officers themselves. "This means that an officer on the street, in a patrol car, cannot detain a person simply to conduct an immigration investigation. Obviously, we are going to respond to calls regarding local and state crimes, but nothing else."
Rivera clarified that 287(g) has not been formally been suspended, despite what has been reported by some media outlets. The program has been in place since 2009. He explained how things worked in the past, and what has changed.
"What usually happened was that the person was arrested on a local charge and, when the police realized that they were dealing with an undocumented individual, ICE was informed explaining that this person was under our custody," said Rivera. "ICE told us 'detain them for us so we can respond and interview them,' but now, according to our lawyers and the Department, we prefer not to continue with these arrests because we believe that they are an act against the Constitution."
Rivera said no local agency will detain anyone solely because the person is undocumented, and that Sheriff Joe Lombardo has been very clear that local officers are not going to act as federal agents would on deportation matters. This is because the police are focused on criminal matters, and they do not have the resources or the space at the Clark County Detention Center to get involved with such efforts, he added.
"I have concerns"
In a brief interview with The Nevada Independent, U.S. Senator Catherine Cortez Masto, who attended the informational forum, said one of the first things she did after being sworn in as a senator was to meet with ICE in Nevada so as to understand their priorities and ensure that a relationship was forged between her office and the agency.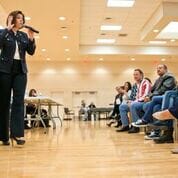 Cortez said that following her conversations with ICE, her understanding was that they will continue with their endeavors to prioritize the deportation of those who are violent criminals and individuals who are a threat "to our communities."
The Democratic senator said she was happy with what she had learned on a local level. However, she is concerned about what she was seeing in other states and throughout the country. For this reason, several senators are interested in holding talks with the ICE in Washington D.C., she said, as they can learn what the agency is telling its various local and state agents.
"What worries me the most," Cortez said, "is this uncovered draft memo that the Department of Homeland Security was considering using our National Guard, since it is clear, even if it has been implemented or not, that the mentality of the current administration is to go after our immigrant community, whether they are criminals or not."
Cortez said we shouldn't be going after people to make them hide in their homes and be afraid to go out, because that does not reflect what this country is, nor is it addressing real security issues. The senator added that the country has a crumbling immigration system and that a comprehensive immigration reform needs to be implemented, rather than the deportation of families and children.
This story was updated at 8:40 a.m to clarify Assemblywoman Olivia Díaz represents District 11.